The static power of the asana
En el verdadero hatha yoga siempre hay una fase estática en la ejecución del asana. Se hace, se mantiene y se deshace con lentitud y mucha atención, pues permite mantener el estiramiento, aumentar la presión del masaje, estabilizar el cuerpo, sedar el sistema nervioso, concentrar la mente e interiorizarse.
Calle Ramiro writes.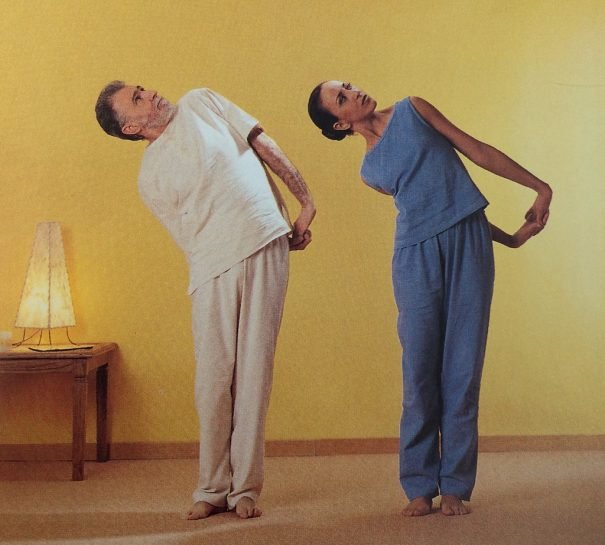 El asana se realiza entonces de adentro afuera y de afuera adentro, utilizándose el cuerpo como un instrumento para introvertirse y desarrollar la inspiradora perceción interior.
La corporeidad es un medio para conectar con lo más profundo de uno mismo y detener el pensamiento mecánico. No solo se trata de una somatecnología, sino de una psicotecnologia de enorme importancia, puesto que corporeity is put at the service of elevation of consciousness and the meeting with the more intimate self.
Se trabaja en tres niveles; el corporal, el energético y el mental. Cuando el asana se ejecuta adecuadamente, se torna una técnica de contramecanicidad y ayuda a desautomatizarnos y ser mucho mas conscientes. La respiración también sirve de soporte a la mente, que así va combatiendo la dispersión.
El asana mantenido, aunque se realicen series, permite una estrecha captación de las sensaciones corporales y a través de ellas se profundiza en uno mismo.
Con motivo de mis primeros viajes a a India, siempre recibí clases en las que los asanas observaban insoslayablemente la fase de detención. Por la inmovilidad del cuerpo se llega a la de la mente. El verdadero hatha yoga no es una gimnasia exótica ni una exhibición de barato contorsionismo, sino un método de gran solvencia para ir mas allá del cuerpo y del ego.
That is why in my Spiritual autobiography declaro que cada día que pasa me percato más, a través de mi propia práctica, de lo esencial que es el hatha yoga, aunque tanto se haya falseado o deformado en Occidente.
El asana es una técnica no solo para el bienestar psicosomático, aunque también, pero sobre todo para poder explorar otros estados de consciencia mediante ese vehículo de nuestro ser profundo que es el cuerpo y que por algo los grandes maestros le han considerado "el templo del Divino".