Appointments for a weekend of inner peace
Have you made plans for this weekend? In YogaenRed We have selected some courses, retreats and workshops that can bring you a great time, while you keep growing your indoor garden.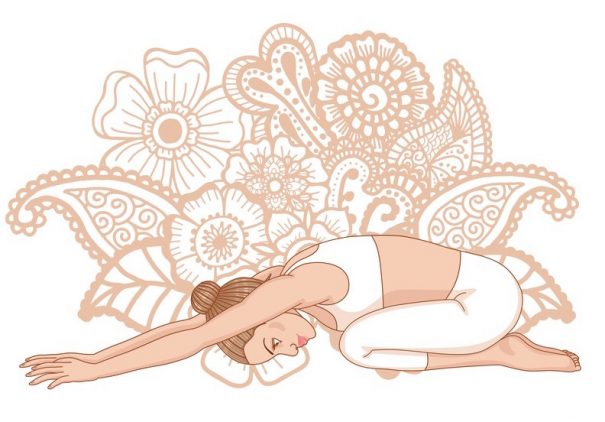 Friday, October 27
Solidarity yoga workshop
Kiabi, French company of the textile sector joins the Pink October campaign with the collaboration of the Association of patients with cancer to perform in the a supportive yoga workshop. The teacher who taught this class will be Ainània Tècul Torres. https://www.instagram.com/ainania_yoga/
Bring your mat and comfortable clothes. All the raised anger aimed entirely at the Association.
Where: Shopping Centre Baricentro (Barberá de el Vallés, Barcelona)
Intensive Kundalini Yoga Retreat with Inipi
27-29 October. We meet a small group of only 9 people to do a deep work of healing and opening an intensive weekend in contact with nature. We will do Kundalini Yoga, meditations and different rituals, including a powerful Inipi to change our energy and raise our vibration. The diet will be vegan, depurative and keep me a surprise for you...
CA La Toná will be our home during these days in rooms of maximum 3 people. A well-kept House with all amenities. Tona, the owner of the House, medicine woman, we will cook and guide the Inipi.
Price: €250
Registration: T 630039098 / info@sabinewolff.com
Where: Santa Maria de Besora (Barcelona)
More information: https://sabinewolffterapias.wordpress.com/
Yoga and healthy diet: a weekend in nature
From 27 to 29 October. It organizes a Granada-afiliado Sivananda Yoga Center weekend in nature practicing Yoga and learning recipes and tricks to make a pleasant and nutritious diet.
Yoga classes: for all levels
Meditations and inspirational conferences
Healthy vegetarian cooking workshop
Walks in the countryside
Price: €180 single room; Double room €150; Triple €130
Contact: Gauri T 660288571 | sivanandagranada@gmail.com
Where: Hotel Rural Huerta Nazarí, Illora (Granada)
More information: http://sivanandagranada.es/
Saturday, October 28
Introduction workshop course on Yoga and Chakras 2017-2018
El próximo curso que comienza en octubre, daremos paso a un taller de profundización en la práctica del Yoga a través de nuestros principales centros síquicos, conocidos también como chakras, permitiendo crear de esta forma un mapa que nos permita conocernos, disolver lo que no nos permite ver y de esta forma despertar todo el conocimiento que ya habita en nosotros.
Where: Escuela de Yoga de Las Tablas. Isabel Colbrand 10. Madrid
More information: https://www.escueladeyoga.org/index.php/talleresc/curso-de-chakras-2016-2017-detail
Workshop cleanses your body
In spring and autumn all beings, naturally, are preparing for the summer or the winter. Although our modern life not be too to see what happens to your around, it is not uncommon to that past winter or summer we feel eager to rest and cleaning. In this workshop you will learn to identify the symptoms that the body shows when you need a debug and how this can help us to feel more energetic, achieve our ideal weight or improve our skin. We'll talk about the toxins to which we are exposed in the modern world and how we can reduce our contact with them, we will see what are the natural methods that have the body to eliminate them and enhance them naturally and guidelines will be for carry out a clean soft and balanced for two weeks, with menus designed for autumn and specific support plants. This workshop consists of two parts, a theoretical part and a practical part of yoga.
They offer: Cristina Giner Leal, journalist and teacher of Hatha Yoga and Marta Celada Cividanes, architect and nutritionist.
Opening hours: 11 to 13.30
Price: €25 partners and €35 non-members
Where: THE Gong Yoga Club. Paseo General Martinez Campos 24. Madrid
Contact: T 911992954 | recepcion@elgong.es
More information: https://elgong.es/taller/depura-tu-cuerpo/
Yoga and diet workshop: improving your practice!
Yoga is an ancient practice and from its origins includes food as primary factor to obtain all the benefits that this wonderful practice offers. In this workshop you will learn how your diet can improve your asanas (postures) and enhance the connection with your practice.
Content * basics and fundamentals in the diet. * Food and physical exercise. * Yogi diet. * Focus on Ayurveda. * Food and meditation. * Preparations more common. 11:00 hour. Price: €25 includes: certificate of attendance and tasting of preparations. Limited places! Teaches Dra Yajana Kings physician internist specialist food and nutrition Ayurvedic.
Contact: 657 224 232 T | dralananutri@gmail.com
Where: Calle Espoz y Mina 3. Madrid
More information: https://www.meetup.com/es-ES/conexionsalud/
Start training dynamic Yoga with José Luis Cabezas
28-29 October 2017. Course / immersion methodology unique awareness and awakening the intelligence and integrity of body, mind and consciousness. A brilliant revival of postural practice as somatic level, meditation in action. Professional dynamic Yoga and Personal training is a presentation and experience full of Yoga method based on the natural principles of learning and teaching, which enables that Yoga can be practiced and taught from the intelligence of the body. Suitable, recommended and adapted for everyone from total beginners to experienced teachers of all styles, all are profound benefits.
Continuous training. Courses of 200, 500, and 750/1000 hours
Thematic dives Open City Yoga
Retreats in nature
Workshop with Godfrey Devereux
Abundant training materials and Virtual Classroom
Ongoing advice
Bolsa de Trabajo
Courses and certification internationally endorsed by Independent Yoga Network
Contact/registration: info@city-yoga.com www.city-yoga.com www.yogadinamico.com
Where: City Yoga. Madrid
More information: http://yogadinamico.com/ | http://www.city-yoga.com/
Start training instructors Yoga Nidra
Training course to train to be instructor of Yoga Nidra. Seven workshops, 1 Saturday per month of October 2017 April 2018. Yoga Nidra is a discipline of conscious and deep guided relaxation which provides us access to an expanded and meditative state of consciousness. The purpose of this training is to prepare instructors trained to teach Yoga Nidra session correctly.
Throughout the course will be given sheets with the most important contents of the training, as well as different examples of scripts to teach Yoga Nidra. At the end of the course the student will be a sound file with a short and a long session of Yoga Nidra. Origin, methodology, training voice, brain, mind, detailed knowledge of the elements of practice, etc., see complete program on the web.
Price: €30 tuition + training €540 (in two payments, October and December). Limited places: 15 participants.
Contact: info@escolayogavida.com | T 932093398
Where: Escola Yogavida, C / Villarroel, low 65-67, Barcelona
More information: http://www.escolayogavida.com/actividades
Acroyoga workshop
Intense 3 hour workshop in which you will discover the possibilities for your body and the benefits that this discipline has for you. The acroyoga is defined as a practice that blends yoga, acrobatics and therapeutic arts. Within the practice of the acroyoga can find: a therapeutic part, which includes stretching and massage, and cultivates it listen, love and detachment; an acrobatic part cultivated confidence, empowerment and joy; and practice yoga, which is the link which cultivates consciousness in breathing, balance in life, and the connection.
Contact: T 679822137 / diwaliyogaintegral@gmail.com.
Price: €33 / person or 55/2 people
Where: Diwali. Yoga and holistic wellness center. Avenida del Manzanares, 58. 28019 Madrid
More information: https://www.diwaliyoga.es/
Second Conference of deep Yoga, Karma & reincarnation with Eva Klimberg
28 and 29 October. I offer you these practices in accordance with your desire to continue discovering and studying. On this occasion we will give one step further with deeper practices, those that come to the soul. All welcome. Practices will suit you. Those teachers who are dedicated to sharing our practice, we need to drink and refresh ourselves with new knowledge.
Price: €80. Loose session: €35
Contact: Sylvia T 647647747
Where: C/Fernán Gonzalez No. 57, under B - 09003 Burgos
More information: http://yogaartstudio.com/
Tibetan Bowl concert
GEMA Martín and Juan Fernández offered us the opportunity to enjoy a wonderful experience. Their concerts are focused on producing a deep relaxation, as well as a beginning of healing in which more may need at that moment. Instruments that use produces vibrations that penetrate throughout the body at the cellular level, vibration is going to the part that you need, and heals at the physical, emotional and spiritual level.
For this purpose use Tibetan bowls, bowls of quartz, alchemical bowls, gongs and other ancient healing instruments, some of them are the oceanic tambourine, shamanic drum and the rainstick. An experience for the senses and the heart.
Contact: T 679822137 / diwaliyogaintegral@gmail.com
Contribution: €10
Where: Diwali. Yoga and holistic wellness center. Avenida del Manzanares, 58. 28019 Madrid
More information: https://www.diwaliyoga.es/