Madrid Yoga Congress, final evaluation
Exhausted all entries, 23 workshops held, dedicated practitioners and... Second Congress already in preparation. It is a summary of the first Madrid Yoga Congress held last weekend.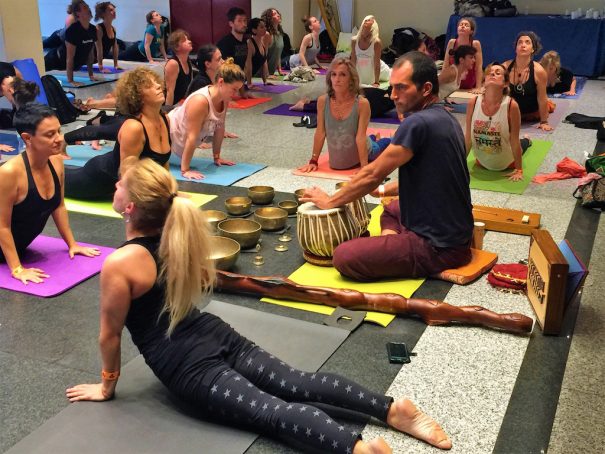 In the photo of YogaenRed, Cayetana Rodenas during their workshop "Yoga in motion"
"We are very pleased of the final result - says Victor de Miguel, the main promoter of the event, together with FEDA-. The feedback from the people at the end of the Congress It has also been very positive, as face-to-face comments and messages for social networks. "There have also been criticisms, which are very welcome and we will try to take note to improve face II Madrid Yoga Congress".
Victor is quite clear: "our main objective was that the story would not be in this first Congress and have a continuity, and thanks to the response of the people we have managed to have a second and hopefully many more".
In effect, they put 150 tickets on sale and all were sold. 75 euros, practitioners of yoga could take good advantage to your investment, attending six activities on Saturday further three Sunday. The most enthusiastic practiced yoga to advanced for several hours... ending exhausted to attend the kirtan with which closed the day on Saturday.
All workshops were held with punctuality and its drivers (more than instructors), with a vocation for innovation, most were used to fund to make sweat shirt to the (mostly) young participants. There was a lot of creativity, much vigor and desire to have fun: Yoga Flow, Yoga movement, vinyasa Yoga, Yoga & Roll, Yoga Party... Obviously, the attraction that has integrated into the practice of asanas physical work, music and rhythm for the young fans.
Looking at the II Madrid Yoga Congress
For the next Congress, which no doubt will increase its number of activities, we would like that the traditional yoga adapted to all ages was most represented, as well as meditative practices, and (positions to want) to invite veteran teachers. Although the fact that there were quite a few young and creative instructors served to the intention of the organizers of framing the encounter in the circuit of yoga "updated" and playful (not without quality), in the style of other international yogic appointments.
"We have already started with the II Madrid Yoga Congress, and we have confirmed three professors that we know for certain that they will surprise and much like people." We will try to bring a teacher from India. We don't know if we will keep the place or look for someone else who have better facilities than the latter, although we have been very pleased with the services provided by the AR Hotel. But if our goal is to grow and offer something better we have to do it."
Goal accomplished. Thanks to Victor and all the professors and participants of the Congress because eetween all created an encounter with very good yoga.
Here, a selection of photos from the past Madrid Yoga Congress: www.madridyogacongress.com