Conscious TV, mobile application
Televisión Consciente es la aplicación móvil definitiva para disfrutar de clases guiadas de yoga, meditación, alimentación saludable y desarrollo personal sin límites ni limitaciones
. Nunca volverás a llegar tarde a clase porque el dónde, cómo y cuándo lo decides tú. Así nos lo explican desde Televisión Consciente.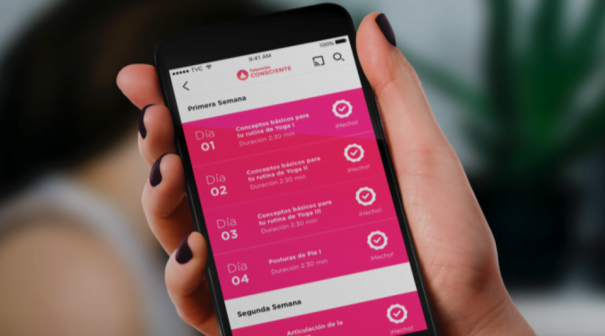 Download the Conscious TV app supone abrir la puerta a una transformación personal. Cientos de clases explicadas paso a paso con vídeos demostrativos divididos por diferentes temáticas, estilos de yoga y propósitos. Los mejores profesores guiarán tu práctica adelantándose a tu postura para ajustarla y que interiorices cada movimiento. Deja que su conocimiento llegue a ti.
The selección de contenidos personalizados es muy amplia. Cada uno de ellos está diseñado para abordar diferentes problemas como el insomnio, estrés, ansiedad, dolor menstrual (especial endometriosis), bloqueos emocionales, fortalecer la espalda, perder peso, mindfulness "Reto 30 días", rutina de yoga desde cero, entre otros.
Estos programas duran entre 4 y 8 semanas. Los usuarios sentirán que han adquirido el compromiso de esforzarse por sus objetivos. Todo está pensado para que el usuario tenga una experiencia integral sea cual sea su momento, nivel, objetivo. Un customized calendar les permite hacer seguimiento de cada clase, comprobando en todo momento su evolución.
We add to this cursos completos sobre superalimentos, alimentación ayurvédica, plantas medicinales, filosofía yogi, conocimiento de los grandes maestros y ciencias alternativas.
Conscious TV App te da las claves para adentrarte en un mundo consciente y pleno donde alcanzar el equilibrio vital que necesitas.
La suscripción a la plataforma OTT (funcionamos igual que Netflix) Conscious TV allows you to consume content from any device (móvil, tablet, ordenador, Smart TV y ahora también la apliacación móvil).
La aplicación está disponible para iOs (https://itunes.apple.com/us/app/tv-consciente-clases-de-yoga/id1268599108?l=es&mt=8) y Android (https://play.google.com/store/apps/details?id=com.fractal.tvc.televisionconsciente). Los planes de pago son monthly Premium for €9,99 o Annual Premium for €68,99.