Vegetarian recipes / Nori rolls (Temaki sushi)
We share great and sanisimas recipes blog 'Eat to live'. Type and kitchen Gauri, Professor of vegetarian cuisine of the Sivananda Centre of Madrid and the affiliated Centre Sivananda Vedanta of Granada.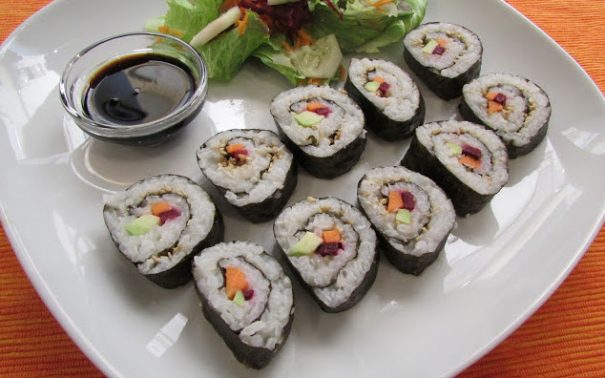 Es una receta japonesa, como siempre adaptada, pues hemos suprimido el vinagre de arroz. Estos rollitos son fáciles de hacer, se comen con las manos y son ideales para las fiestas.
Ingredients:
1 taza de arroz redondo (200g)

2 tazas y ½ de agua

6 láminas de algas nori

½ pepino cortado en tiras

½ aguacate cortado en tiras

½ zanahoria cortada en tiras

Sésamo tostado

Soy sauce
Preparation:
Lavar el arroz y poner a hervir con la medida de agua. Llevar a ebullición y a continuación bajar el fuego y dejar cocinar hasta que se consuma el agua.

Extender el arroz en la lamina de alga, dejar la parte brillante para afuera, esparcir el sésamo encima del arroz. Y a continuación colocar la verdura en el extremo del alga enrollar con cuidado el alga apretando suavemente.

Cortar y servir con la salsa de soja. Se come con las manos mojando un poquito en la salsa.
Yoga Sivananda Vedanta Granada-afiliado. T 660-288-571