A special and different journey through the South of the India
Este verano, del 1 al 15 de septiembre, volvemos al Sur de la India, la India más tropical, milenaria y exótica, para compartir un viaje muy especial que nos llevará a Tamil Nadu y Kerala. Nos sumergiremos en la historia, la espiritualidad, las tradiciones ancestrales y la animada vida cotidiana.
Escribe Sita Ruiz.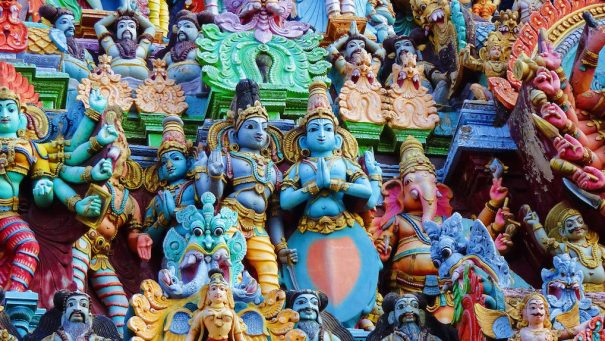 Será un escenario incomparable formado por templos y santuarios milenarios, la sabiduría del Ayurveda, una hermosa naturaleza que incluye playas tropicales, el legado colonial y el mundo de las especias, y cómo no, la alegría, simpatía y amabilidad de sus gentes.
Durante 15 días, te proponemos un viaje en grupo alternativo, cercano y diferente combinando visitas culturales, espiritualidad y misticismo en lugares sagrados, aventura en paisajes naturales increíbles, clases de Yoga y Meditación, siempre que el ritmo del viaje lo permita, y tiempo libre de relax para que cada persona lo disfrute a su manera.
En Tamil Nadu, cuna de la "cultura drávida", visitaremos Mahabalipuram and his famous reliefs and temples carved into the rock, go up to Tiruvannamalai, una de las ciudades santas del dios Shiva y del Monte Arunachala donde también se encuentra el Ashram de Ramana Maharsi, uno de los maestros, santos y yoguis más respetados en la tierra del Ganges.
We will continue our path towards Pondicherry para conocer su pintoresco barrio francés y acercarnos al Ashram de Sri Aurovindo, otro de los grandes maestros, yoguis y pensadores indios. Y también haremos una escapada a la vecina Auroville "la ciudad de la Aurora", una ciudad única donde se trabaja por un cambio de consciencia y la paz universal.
Desde aquí, bajaremos hasta la sagrada Madurai y su venerado Meenakshi Temple, y continuaremos más al sur hasta Kanyakumari and the Cape Comorin, el punto más meridional del país, en el que se unen la Bahía de Bengala, el Mar Arábigo y el Oceáno Índico. Aquí se encuentra el Memorial de Swami Vivekananda y el Sri Pada Mandapam dedicado a la diosa Kumari, patrona de la ciudad.
En pocas horas habremos cruzado a Kerala, que en malayalam significa "tierra de cocos" y que ha sido bautizada como "la tierra de los dioses". Nos recibirá el Ayurveda (la Medicina Tradicional de la India), los cocoteros y las playas de Kovalam. También visitaremos Varkala para ver sus impresionantes acantilados y después viajaremos hasta Kochi, con influencias chinas, árabes, holandesas y portuguesas y que durante siglos fue el centro internacional del comercio de especias. Nos acercaremos a sus iglesias, mezquitas y sinagogas, descubriremos antiguas danzas clásicas como "Kathakali" y conoceremos parte del pasado de la ciudad en el Palacio de Mattancherry.
Finalmente, en Allepey, "la Venecia del Este", tendremos la oportunidad de navegar y relajarnos en las bellas backwaters, los canales de agua que serpentean y se adentran en el corazón de este hermosa, exuberante y salvaje región.
Una ruta completa, variada y poco turística que recomendamos tanto como primera toma de contacto con la India como en el caso de que ya se haya viajado con anterioridad a otras zonas del país. En ambos casos, sorprenderá, enamorará y seguramente hasta cambiará la opinión sobre India y algunos de sus estereotipos.
¿A qué esperas? ¡Ven a descubrir las maravillas del Sur de la India con nosotros!
Fechas: 1-15 de septiembre 2017
Límite para apuntarse: hasta el 1 de julio de 2017
Small group: 8-12 personas
Más información, precio y reservas: Boom Shankar journeys (José Ferrer and Sita Ruiz)

T 910 840 652 / 620 916 039

info@boomshankarviajes.com