'The night is worth it,' an evening of poetry and music
A book of poems that touch the heart, of the hand of Gopala was born. Born to a musical work, inspired by the Tibetan text of the 37 practices of the Boddhisatva, by the hand of David Gonzalez and Arturo Soriano. Born at the right time and meet them, in two unique concerts, July 1, at space round in Madrid.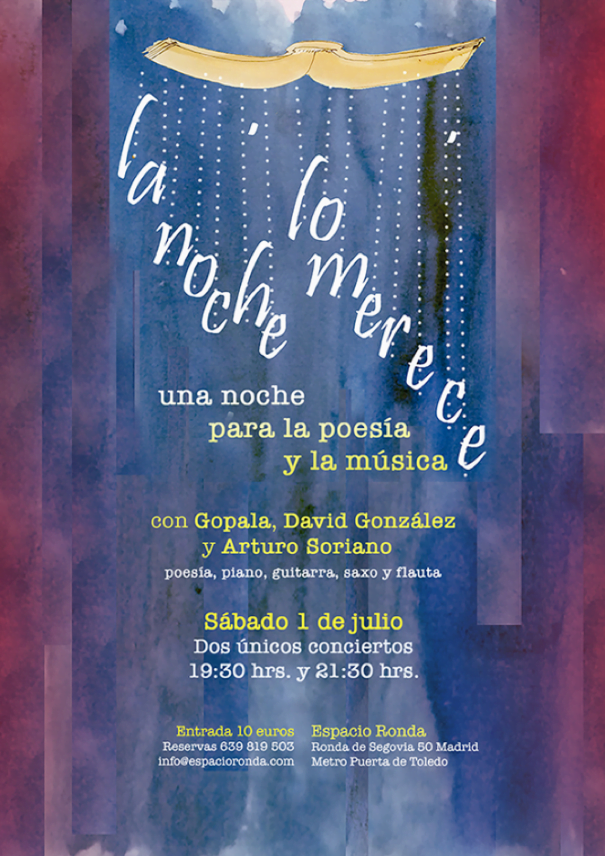 It will be a night for poetry and music that we give away Gopala, David Gonzalez and Arthur Soriano. Gopala will present their poems, and David and Arthur his musical work of piano, guitar, saxophone and flute.
Sign up for it: Saturday, July 1, presentation of 'The night is worth it' in two unique concerts: 19:30 hrs and 21:30 hrs
In space round Madrid. C / ronda de Segovia 50, Madrid
Admission: €10
We asked Gopala will be like the poetic part of the evening.
"We called this evening The night is worth it as the title of the collection of poems that we present. It will be a great night for the poetry and music, ranging from hand as usual. Tonight the evening will be pure poetry as the night, because the night always deserve it. Iran emerging poems to music we wrap.
My first poems were born with music. Not for my soul to laugh, Slowly and Contemplating the Moon they have the magical notes of David Gonzalez, who composed the music for all the poems and other musicians such as Lorenzo Solano and Arturo Soriano, among others, that accompanied us.
We present two projects: the first is a musical vision of the 37 practices of the Boddhisatva. Pearls of wisdom with the strings of the guitar and the caresses of the saxophone and the flute. Surely the poetry slipped through the hollow of the flute. The second, the new book of poetry that gives title to the evening. Pure poetry. To listen, to read, to dream".
Can you tell us something more of this book of poems? Is it new?
"Life has taught me that if we had our last transcendent thought, we increase the humanity above the highest mountains of the known universes. I learned that if for a moment we were able to feel our be deepest pain of all beings in the universe... we generate so much love to get drunk the hearts of thousand generations.
I think that life is more is life if we squeeze our love and give it constantly, using the skills that are offered and find in our daily walk. Sometimes in format of words, others silent, bitter smiles or sweet tears.
The night is worth it es una colección de susurros, de aromas de silencio, de sorpresas, de fábulas ensoñadas y de cuentos ilusionantes. Está lleno de novedad y de historia. Es la primera vez que mis poemas tienen la forma de libro. Por eso es nuevo, aunque haya susurros y aromas de silencio que han nacido en diferentes tiempos de los que me ha tocado vivir.
¿Por qué crees que esa noche merecerá que no nos la perdamos?
"Porque se vuelven a encontrar en el escenario sueños, caricias y aromas que envuelven palabras de Amor, el principal motor de la Vida, con V mayúscula, que crece. Porque queremos entregaros lo mejor de la música y de la palabra para llenaros de calma, de esperanza y de gozo".
Los intérpretes
–La afición de Gopala por la poesía le viene de lejos y está relacionada íntimamente con su práctica de Yoga. Gopala es discípulo directo de Swami Vishnudevananda desde 1975, ha impartido cursos de Yoga y de Meditación en diversos países y en los Cursos Internacionales de formación de profesores de Yoga Sivananda. Es autor de tres poemarios musicados de reflexión consciente sobre la vida, en colaboración con el compositor norteamericano David González: No para mi alma de reír, Despacio and Contemplar la luna.
Los tres poemarios están inspirados en su experiencia con el yoga y han sido presentados en numerosas audiciones públicas. Entre ellas: Alianza para la Nueva Humanidad con Deepak Chopra, Foro Espiritual de Estella, Contigo Somos + Paz, en el Palacio de congresos de Madrid, con la Fundación Ananta, Barcelona Yoga Conference, Congreso Ciencia y meditación en Gran Canaria, Congreso de Yoga de la Costa del Sol, Congreso de Yoga del Mediterráneo, Satsanga, acompañado de músicos como Luis Paniagua, Lorenzo Solano, Arturo Soriano, Carlos Guerra, Javier Paixariños, Om Namah, Miguel Villaescusa, Andreas Olaegui, Tokuko Naramura, Nantha Kumar, Flaco Barral, Claudia Leyva, Oneness Sound, Ravi Ramoneda, Alberto Gallo entre otros y de bailarinas como Lalita Devi.
http://gopalaweb.blogspot.com/
–David González, músico, poeta, terapeuta, dramaturgo y narrador. Su poesía ha sido presentado en el Lincoln Center de Nueva York, en la National Public Radio de Nueva York, en el documental de televisión Playing with Words, en el Festival Mundial de la Ciencia y en otros muchos lugares.
Ha sido el presentador de New York Kids en la radio WNYC durante ocho temporadas y es doctor en Musicoterapia por la Universidad de Nueva York.
David ha actuado como músico en el Festival de Jazz de Montreaux, el Vision Festival y en teatros y salas de espectáculos y de conciertos en los EE.UU. y de Europa. David es autor de 14 producciones teatrales, 3 DVDs y 6 de
CDs. Tres de ellos en colaboración con el poeta español Gopala.
David González es el director artístico de la Alianza para una Nueva Humanidad, una organización internacional dedicada al servicio de la paz y la sostenibilidad. En este marco ofreció un concierto con Deepak Chopra y con Gopala en la reunión de esta organización en Barcelona.
www.davidgonzalez.com
—Arturo Soriano es autodidacta y da sus primeros pasos como saxofonista de Jazz. Se dedica profesionalmente a la música desde principios de los 80. Tras varias giras, grabaciones, colaboraciones, realiza la primera producción discográfica (De ley, Rosario 1992), lo que le aportará nuevas perspectivas a la carrera de instrumentista. Después de una preparación exhaustiva de cara a las nuevas tecnologías, comienza a consolidarse como compositor, arreglista, y programador.
Ha hecho producciones para diferentes artistas: Rosario (tres primeros discos), Elíades Ochoa, Raimundo Amador (dos primeros discos), Pastora Soler, Chonchi Heredia, Raphael, La Piel, Alis Dee, Virginia Gluck, Lemon Fly, Juan Maya, Victoria Gastelo, Athanai, Antonio Flores, Vanessa, Homenaje a Serrat, Homenaje a Antonio Flores, We Will Rock You (Musical de Queen). Remixes para Remedios Amaya, Carlos Jean, etc.
Reservations: Teléfono 91 366 1041 y móvil 639 819 503 / info@espacioronda.com
http://info@espacioronda.com