Arcane No. 9: Vrksasana, the hermit
The sense of the asana touches the essence of magic origin of Yoga. As with the arcana of the Tarot, the asanas have much more than what they are. 22 weeks will be presenting the arcane and his correspondence with asanas to end reflect on the sacred geometry of our body and its hidden language. Write this series Carmen Viejo.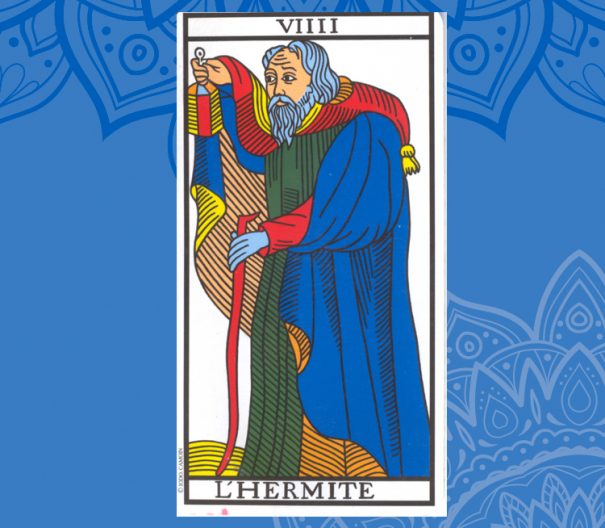 Palabra clave: "Maestro"
"Dije: ¡no habrá quien alcance! Y abatime tanto, tanto, que fui tan alto tan alto, que le di a la caza alcance". (Juan de la Cruz)
En lo alto de la montaña, entre la soledad de los picos y el silencio del aire, el ermitaño alcanza su objetivo, que es el Sí mismo, la máxima soledad entre esas siete nadas de las que habla San Juan de la Cruz: "Senda del monte Carmelo, espíritu de perfección, nada, nada, nada, nada, nada, nada y aún en el monte, nada".
ES el nueve un número curioso, mágico donde los haya. Los pitagóreos le llamaban con el sugerente nombre de "horizonte", pues no hay más números elementales más allá de él. Pero también "océano", porque los contiene a todos: si sumamos todos los elementales, tendremos 45, que se reduce, sumando los dos dígitos, a nueve.
Efectivamente, el ermitaño ha realizado el Camino, y éste le ha hecho poseedor de los otros ocho conocimientos. Es un perfeccionador que ha llegado al magisterio. Y logrado el magisterio, se encuentra al margen de sus semejantes y de sus pesares, por no poder ser entendida su sabiduría.
Es además impersonal y universalista: cualquier número sumado a nueve, vuelve a ser él mismo (9+2=11 que suma a su vez de nuevo dos y así sucesivamente), pues ha perdido todo egoísmo; pero también es un aliciente y un ejemplo a seguir, de ahí que sea maestro, y cualquier número que se multiplique por él, se perfecciona y convierte en nueve (2×9=18 que suma nueve y así sucesivamente).
The es el practicante que ha escalado la montaña y se ha convertido en un reflejo de la sabiduría de la que ha bebido. Los efectos de la práctica le han perfeccionado y, sin embargo, aparece como un humilde ermitaño, sin nada que lo delate a ojos profanos, si no es el brillo de su mirada y la completa paz de su corazón. Ya no tiene edad ni urgencias propias; ahora está al servicio de los que quieran, como él, caminar.
Correspondence in asanas
In Vrksasana, "El árbol", el practicante se convierte en ese ermitaño que, como un árbol solitario e impasible, se alza en la montaña, aislado pese a estar entre otros, únicamente apoyado en el equilibrio alcanzado. Puede entonces recordar las palabras del maestro Juan de la Cruz: "Para venir a gustarlo todo, no quieras tener gusto en nada; para venir a saberlo todo, no quieras saber algo en nada; para venir a poseerlo todo, no quieras poseer algo en nada; para venir a serlo todo, no quieras ser algo en nada".
Eka Pada Utthita Ardha Dhanurasana, la "Postura del medio arco elevado sobre un pie", semeja una fuente que viene a saciar la sed de otros o el mascarón de nave que abre las olas para los que le siguen. Grácilmente sostenido sobre un pie, el ermitaño toma el otro por detrás generando esa forma de nueve. Cuando una de las manos no ata el tobillo, sino que se alza hacia delante, parece portar el farolillo del ermitaño, faro para aquellos que ya pueden ver y distinguir la luz tenue en medio del bosque de la mente.
Pero el ermitaño no termina su tarea y se retira, sino que llegado al monte ya no ansía retorno alguno. Solo le queda un camino, que es hacia dentro, representado en Karna Pida Mulasana, "Postura del Reposo en sí mismo" o Atmaramasana. Dice Juan de la Cruz en la cúspide del gráfico del Monte Carmelo: "Ya por aquí no hay camino porque para el justo no hay ley. Él para sí es ley".
Antar Mouna o "Silencio Interior" es el colofón en la práctica de esta maestría representada por el nueve. Adoptando la postura de meditación, encamina la mente a ese silencio que surge de la séptuple nada. "Cuando menos lo quería, téngolo todo sin querer" (Juan de la Cruz).
Nota: Estudio y efectos de Vrksasana, Eka Pada Utthita Ardha Dhanurasana, Karna Pida Mulasana y Pratyahara, en páginas 211, 217, 157 y 298 de

Yoga. Theory, practice and methodology, Manuel Morata.
Carmen old heir (Ahimsa)

Yoga teacher, a degree in information sciences and entitled by the Yoga Vedanta Academy (School of Sivananda) and by the Spanish Association of practitioners of Yoga (school Manuel Morata).

Information: ahimsayogandalucia@yahoo.es

"Yoga and arcane: understanding and practice":

1st removal: from 24 to 30 July

2nd removal: 7-August 13

In "Casa de los Telares", value, Granada.

Information: ahimsayogandalucia@yahoo.es