III international photography contest on Yoga and meditation
The Instituto Andaluz de Yoga
(IAYoga) y la revista online
Yoga network
convocan el III Concurso Internacional de Fotografía sobre Yoga y Meditación con ocasión del III Día Internacional del Yoga, con el patrocinio de la
Editorial Kairos
y la colaboración de
Cuentamealgobueno
, publicación online de buenas noticias.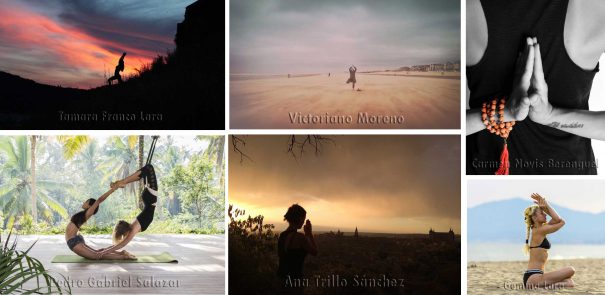 Con motivo del III Día Internacional del Yoga, según declaración de la Asamblea General de las Naciones Unidas, para el día 21 de junio de 2017, se convoca un nuevo Concurso Internacional de Fotografía sobre Yoga y Meditación.
En cada edición de este certamen se van sumando más concursantes, procedentes de diversos países, con fotografías de alta calidad. En la convocatoria del año pasado la fotografía galardonada fue Asana, de Tamara Franco Lara, de Huelva, España, que recibió un lote de libros sobre yoga publicados por la Syrian editorial, entidad patrocinadora de la segunda edición del certamen. Además se seleccionaron las siguientes fotos: Fly High Yoga, de Pedro Gabriel Salazar, Calm, de Ana Trillo Sánchez and Yoga is Friendship, de Carmen Novis Berenguel.
En esta tercera edición del certamen, el galardón estará dotado por la Editorial Kairos, con un lote compuesto de cinco libros:

The IAYoga dotará también el premio con el envío del Manual formativo Dominio de las Técnicas Específicas del Yoga Vol. I. (en la actualidad en fase de edición).
Además, la revista YogaenRed, publicación online de referencia en el mundo del Yoga en castellano, se compromete a divulgar la obra galardonada en su portada, entre sus 12.000 suscriptores y en las redes sociales, para que así obtenga la máxima notoriedad.
En este certamen no se exige que las obras presentadas sean inéditas, si bien sí se requiere no hayan sido premiadas con anterioridad ni que sus derechos no hayan sido cedidos a terceros.
Si te gusta la fotografía, ¡participa! Es una ocasión muy bonita para compartir tu homenaje personal y creativo al Yoga.
Lee aquí las Bases of the contest
Y aquí, para rellenar el Participation form