Arcane No. 5: Vajrasana, the Hierophant, or high priest
The sense of the asana touches the essence of magic origin of Yoga. As with the arcana of the Tarot, the asanas have much more than what they are. 22 weeks will be presenting the arcane and his correspondence with asanas to end reflect on the sacred geometry of our body and its hidden language. Write this series Carmen Viejo.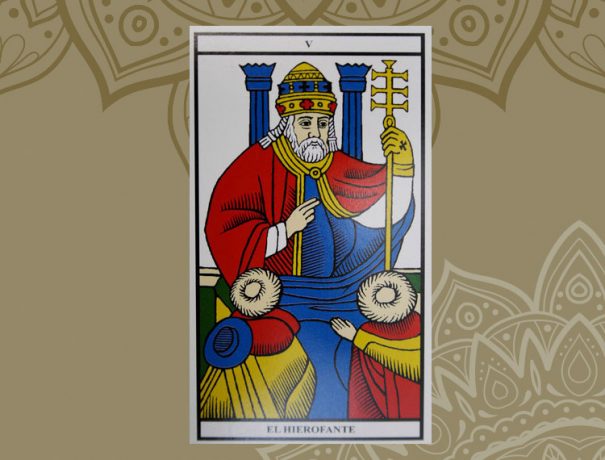 Palabra clave: "El diamante"
"He ahí el Grial", susurró Merlín. "El desarrollo de su búsqueda los ha llevado hasta una visión de la meta: el punto de luz pura, la esencia diamantina que alumbra dentro de su alma". (Deepak Chopra)
El Hierofante es, etimológicamente, "aquel que explica las cosas sagradas". Revelador de la ciencia mistérica, guía a los iniciados y realiza los ritos que comunican el mundo divino con el humano. En hebreo, el término es "peter", el que revela y abre la puerta. De ahí que el Papa sea el sucesor de San Pedro.
El cinco arábigo-europeo (5) mantiene esa forma de llave. Y esta llave abre la puerta del Conocimiento. La espiritualidad no puede evolucionar directamente del plano material si no es a través de ese conocimiento o inteligencia superior. Lo cual queda simbolizado en la Estrella de cinco puntas, nominada pentagrama, pentalfa o Estrella de los pitagóricos, quienes la relacionaban con el hombre que busca el orden divino (el cinco participa en la proporción áurea).
Por ello, la estrella de cinco puntas es asimismo la forma final de "El hombre de Vitruvio", de Leonardo da Vinci, con el que ilustró las teorías sobre la "divina proporción o razón áurea" en el ser humano y en las estructuras naturales.
En su forma romana, el V une dos caminos, el vital y el mental, hacia una misma meta de evolución, por eso también es el número del matrimonio místico. Y del éter, en el que se encuentran reunidos los otros cuatro elementos.
El pentágono está relacionado con el diamante como símbolo del cristal en su estado de perfección, que partiendo de materiales humildes y sometido a la presión de la tierra y de su calor, se purifica hasta generar el alma inmortal.
Es la "piedra cúbica en punta" que corona la cúpula del templo desde arriba, el cubo unido a la pirámide, generando la forma del diamante.
Correspondence in asanas
Vajrasana, "El diamante", es una postura aparentemente sencilla que implica flexibilidad de empeines, tobillos, rodillas y caderas, generando humildad y serenidad; así como una columna bien alineada hasta la parte alta de la cabeza, dibujando la silueta del diamante. El hierofante era un sacerdote elegido por su alto nivel de pureza y conocimiento, y representaba en cada iniciado el modelo a alcanzar de perfección interior y de trabajo constante y transformador, hasta revelar la auténtica naturaleza diamantina del Ser.
Janu Parshvatanasana, "la postura de rodillas, de estiramiento lateral", genera la forma conocida del cinco y de llave, con su amplia curvatura lateral, produciendo gran flexibilización de la columna y armonización energética, al tiempo que prepara la apertura interior.
The Postura Anatómica del hombre de Da Vinci, con las piernas abiertas, es la forma bisagra de muchos de los ásanas de pie, y recrea la estrella de cinco puntas, poniendo el cuerpo en relación con la citada proporción áurea y mostrando a la persona evolucionada, pulida, que busca el conocimiento espiritual en armonía con el Cosmos.
In Utthita Hasta Merudandasana, en equilibrio sobre las caderas, las piernas elevadas, las manos se unen a los pies produciendo el alargamiento de "Meru" o monte sagrado de la columna vertebral. Su forma recuerda el V romano como esa unión simbólica de los complementarios conciliados en el vértice. Con los ojos cerrados y la concentración requerida, es un ásana inductora del conocimiento sin palabras y del silencio revelador, al que induce el matrimonio místico entre las dos energías, solar y lunar, en cada persona.
Nota: Estudio y efectos de Vajrasana, Janu Parshvatanasana y Utthita Hasta Merudandasana en páginas 248, 85 y 220 de Yoga. Teoría, práctica y metodología aplicada, de Manuel Morata.
Carmen old heir

Yoga teacher, a degree in information sciences and entitled by the Yoga Vedanta Academy (School of Sivananda) and by the Spanish Association of practitioners of Yoga (school Manuel Morata).

Information: ahimsayogandalucia@yahoo.es

Retiros de "Yoga y arcanos: comprensión y práctica"

1st removal: from 24 to 30 July

2nd removal: 7-August 13

En Casa de los Telares, Válor, Granada.

Information: ahimsayogandalucia@yahoo.es
https://casalostelares.blogspot.com.es