In search of the sacred India
Desde hace cuatro o cinco décadas, muchos han mirado a la India en busca de unos valores espirituales adogmáticos que no se hallaban en Occidente, defraudados, de algún modo, por una sociedad que apuntaba solo hacia el exterior y con el exterior nos engatusaba haciéndonos creer que ahí residía la felicidad.

Writes Ramiro Street.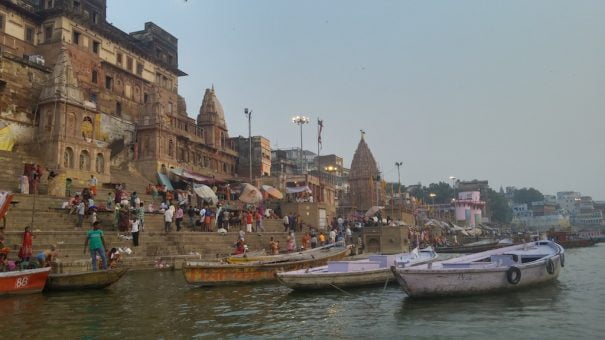 Anhelaban hallar en la India enseñanzas métodos y claves para hacer el viaje interior y encontrar respuestas a esos grandes interrogantes existenciales que no pueden resolverse tan solo con el pensamiento común ni un amasijo de conceptos metafísicos o de abstraciones filosóficas, y menos aún con las prescripciones de una religión acartonada cuando no degradada.
También yo, hace más casi cuarenta y cinco años, volví mi rostro hacia el subcontinente indio por estas razones y muchas otras, y convertí la India en mi aventura, viajando a ella en noventa y nueve ocasiones, deseoso de rastrear en este gran país de enormes contrastes técnicas para la libertad interior y la realización de sí.
Aunque la India espiritualmente vive de talentos pasados, no podemos pasar por alto que es la cuna del yoga, el hinduísmo, el budismo, el vedanta, el samkhya, el tantra y otras elevadas místicas y métodos de autorrealización. Pero no es fácil encontrarse con la India eterna y sagrada porque también este país corre en pos de un desorbitado materialismo y se ha desgajado en gran parte de las raíces de su sabiduría mística.
Parvati y también Kali
Sin embargo, en la India, con mayor o menor fortuna, se han perpetuado un buen número de procedimientos para el autodesarrollo y la liberación de la mente. Tres sendas se han seguido tradicionalmente para ir más allá de los velos y oscurecimientos mentales: la de la inteligencia primordial y el discernimiento claro (gnana-marga); la de la devoción y la entrega al Absoluto (bhakti-marga); y la de la acción desinteresada y amorosa (karma-marga).
También en la India, y más quizá que en ninguna otra parte, hay que aprender a distinguir entre la supersticion (que es enorme) y la genuina Enseñanza, entre la religión mecanizada y degradada y la mística más refinada.
No es fácil comprender la India. La India es la tierna y entrañable Parvati y la brutal y aterradora Kali. Hace sufrir y hace gozar; vela y desvela; convierte el viaje exterior en un viaje interior, la observación de lo externo en observación interna. Es como una pantalla donde se refleja el gran juego de lo cotidiano y los supracotidiano; ese juego es a veces pavoroso y aterrador y otras veces reconfortante y esperanzador, pero siempre sorprendente (un verdadro "choque adicional" para la consciencia) y embriagador. La India es la borrachera cósmica, la vida constelada en un descomunal caleidoscopio, el juego incesantemente cambiante de la Mente Universal. La India es el laberinto, el círculo de los círculos, pero también la puerta de acceso a lo Otro, la llave hacia el tabernáculo secreto del corazón, el ojo de buey al Infinito.