Vegetarian recipes / cream of peas
We share great and sanisimas recipes blog 'Eat to live'. Type and kitchen Gauri, Professor of vegetarian cuisine of the Sivananda Centre of Madrid and the affiliated Centre Sivananda Vedanta of Granada.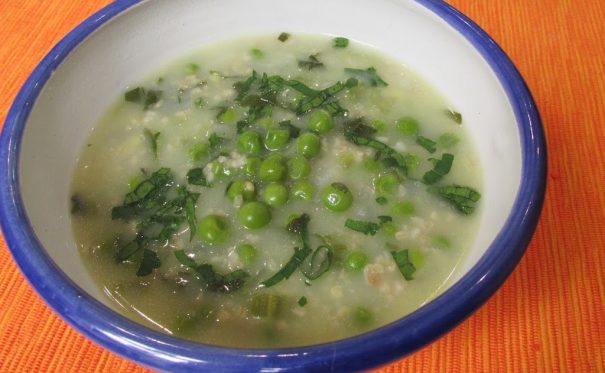 La comida debería ser simple, agradable, ligera, sana y nutritiva, decía Swami Sivananda. Y además rápida… Si ha habido algún exceso las pasadas fiestas, esta crema te devolverá el equilibrio. ¡Que la disfrutes!
Ingredients (4/6 people):
400 g de guisantes

6 cucharadas soperas rasas de copos de avena suave

1 litro y ½ de caldo vegetal

2 tablespoons of olive oil

1 rama de apio verde picada (incluyendo las hojas)

1 nabo picado

½ teaspoon of ginger fresh grated
Salt
Freshly ground black pepper

1 cucharadita de perejil picado

Levadura de cerveza (opcional)
Preparation:
Poner en la olla el aceite y saltear ligeramente el jengibre, el nabo y el apio.

Añadir los guisantes, la avena, el caldo de verduras y la sal. Llevar a ebullición a fuego alto (vigilando que no rebose el líquido).Cuando empiece a hervir, bajar el fuego al mínimo y cocer lentamente 15 minutos.

Antes de servir decorar con el perejil picado y pimienta negra recién molida.
More recipes: http://comemosparavivir.blogspot.com
Yoga Sivananda Vedanta Granada-afiliado. T 660-288-571.