Course of initiation of technique of meditation integrated Amrita (IAM)
La técnica de meditación IAM (Meditación Integrada Amrita) combina suaves ejercicios de relajación con un método de meditación eficaz y fácil de practicar que cualquiera puede realizar cómodamente. El 18 de diciembre de 9:30 a 20h en Madrid. Imparte el curso Shánkara (Javier Ruiz Calderón)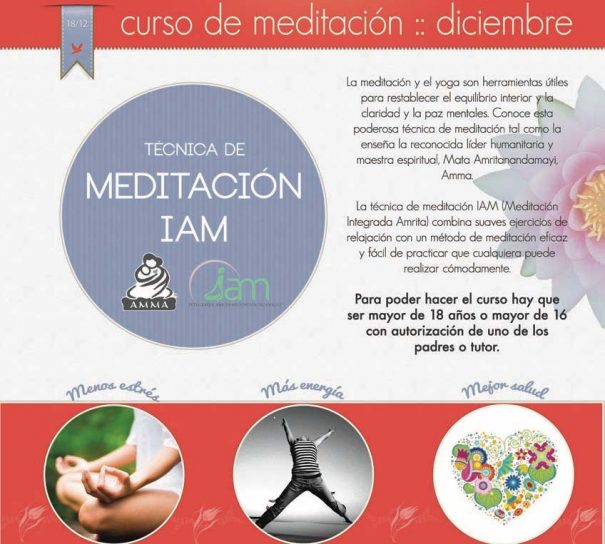 The Técnica de Meditación Integrada Amrita es una sencilla combinación de yoga, pranayama y meditación que puede hacerse en 30 minutos cada día. La técnica es una síntesis de métodos tradicionales y bien testados adaptados a la condición mental, limitaciones de tiempo y necesidades del hombre moderno. La IAM no tiene ningún simbolismo religioso en concreto ni profesa fe hacia ningún Dios o persona. Es una práctica saludable para personas de cualquier religión o fe, incluso agnósticos o ateos. Ha sido desarrollada por la reconocida líder humanitaria y espiritual, Mata Amritanandamayi, más conocida como Amma.
Amma explica así los beneficios de la IAM:
"A través de la meditación se puede conseguir felicidad y gozo, pero también longevidad, vitalidad, salud, carisma, fuerza e inteligencia.
La práctica de la IAM de manera diaria ayuda a ganar control sobre la mente y a recuperar el equilibrio en nuestras vidas. Un estudio realizado en India sobre esta técnica en particular concluyó que las personas que la practican de manera regular consiguen bajar sus niveles de adrenalina y de cortisol, generalmente altos en personas con estrés".
¿Por qué meditar?
Meditación es una palabra que engloba una amplia serie de técnicas que ayudan a las personas a calmar sus mentes y a redireccionar la energía de manera positiva. Por lo general se relaciona con el budismo y el hinduismo, pero en realidad es una práctica universal que se ha usado tanto en Oriente como en Occidente durante miles de años.
Durante la última década se han realizado estudios como este (en inglés) que demuestran que la meditación afecta a la actividad del cerebro, generando más emociones positivas y felicidad. Recientemente se ha publicado que no sólo ayuda a generar pensamientos positivos, sino que también bloquea áreas relacionadas con el autismo o la esquizofrenia.
En palabras de Amma, "la meditación eleva el alma del cuerpo, la mente y el intelecto, hacia la paz y la felicidad absolutas. Cuando meditas consigues equilibrar la mente, ganar confianza en tí mismo y controlar las emociones".
The course
Place: Escuela de Yoga de Las Tablas C/ Isabel Colbrand 10-12 (Las Tablas). 5ª planta, local 131. Acceso por Alfa III-A1. Madrid (metro Las Tablas, línea 10)
More information and registration: Lakshmi T 635346088 / info.inscr@yahoo.es (del 15 de noviembre al 15 de diciembre)
Contribution: €10 en concepto de gastos de la actividad. El curso se imparte de manera gratuita.
Se agradecen los donativos para la obra Humanitaria de Amma en el mundo, Embracing the World: http://es.embracingtheworld.org