Book / Yoga and Ayurveda, of the anxiety to the health integrated, of violet Arribas
This book of violet Arribas is an innovative project, together with the ayurveda yoga practice, because one cannot exist without the other, and with applications in day to day. Published by: Publishing Alliance. RRP: €19.95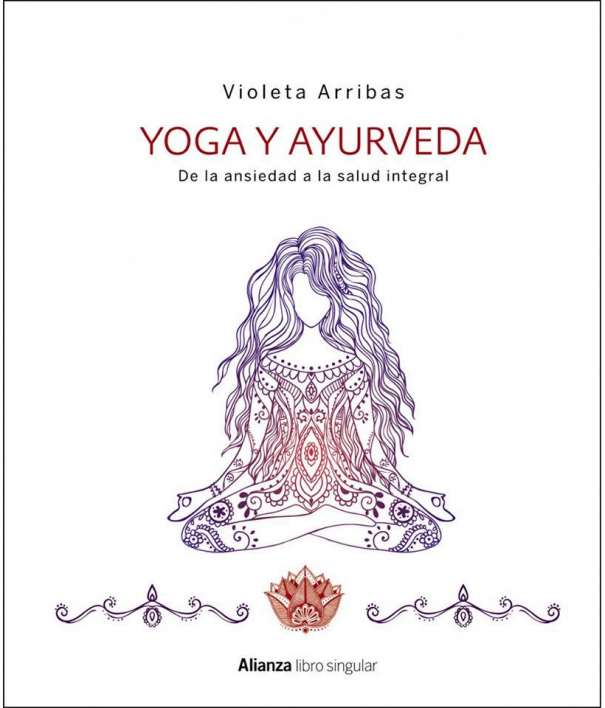 Says the author: "in its 304 pages I wanted to give a very practical approach that anyone can implement the teachings and methods of Yoga and Ayurveda in their day to day, with lots of images of asanas and work for time tables, orVel, metabolic biotype, etc. "Not to mention all the theory and practice of hatha yoga, meditation and of course food and Ayurvedic daily routines, which together contribute to promote holistic health and the development of the self and consciousness".
In the modern world, increasingly more people suffering from anxiety, imbalance or stress, which is making a dent in the every day, undermining the mental balance and damaging the body, generating various psychosomatic disorders. Obviously the answer is within us: in consciousness, in own and conditioned mindsets, in a scale of values that triggers incorrect habits of life that ultimately get sick us, something as well as an erroneous and insatiable pursuit of happiness out of us, ignoring the real needs and existential purpose.
The Yoga It is a method of comprehensive development and human development which encompasses body, mind and spirit. The Ayurveda, for its part, is considered as the first system of health holistic view of the world, with more than 5000 years old. Both yoga and ayurveda are essentially ways of release from pain, in all their planes from the somatic or physical to the mental, and the best, do not require belief in anything other than your own fact-checking, invite you even question their techniques, testing them in your internal laboratory, not precise to join any group, are beyond ideologies and even concepts, only require practice and validation.
This book is an innovative project, join the practice of yoga with ayurveda because both are intrinsically related, because one cannot exist without the other... and because, ultimately, change our mindsets to be happier, healthier and live in harmony with the universe only possible through a integral processing system that cover all aspects of life and possible work on ourselves.
The author
Violet Arribas Alvarez is Director and founder of Padmasana Center. Professor of Hatha, Radja and Mantra Yoga. Training of teachers and therapist Ayurveda. Although he had practiced yoga sporadically, it wasn't to the reconnect with Ramiro Street after a sick leave by anxiety and agoraphobia, when he learned that his entire life would revolve environment to yoga.
After a long season, regularly attending its classes, Calle Ramiro you choose to shape it as a Professor personally, something that has only done with only a few people in 40 years. It subsequently decides to leave India for seclusion in an ashram in Rishikesh and during eight months receive several hours of yoga classes in different styles and with several teachers, to deepen in the yogic techniques and keep learning to obtaining the title of teacher of Yoga in the Parmath Niketan Ashram.
There he met at the Yogacharini Sadvi Aba Saraswati (Mataji)Director of the formations of Parmarth Yoga, who was his teacher of Pranayama, Mantra Yoga and Vedic chant, discipline the latter in which specialized and since then practice every day. During that stay, and over the subsequent years, also received classes with teachers as Swami Dharmananda (Meditation and philosophy), Kamal Singh (Asthanga Vinyasa Style), Surinder Sing (Advance Hatha yoga and Iyengar style), Swami Atma Ji (Philosophy and meditation), etc.
In 2006, he decided to create a center where share with all the lessons and benefits of yoga, and in early 2007 Padmasana Center is opened in Madrid with great success at the hands of his godfather Ramiro Calle. Travels each year to India twice to never leave learn and follow as well offering and sharing the best in their classes. He gives conferences, monographic and intensive yoga and ayurveda in different centers.
Performs retreats hatha and radja yoga combined with philosophy and hiking. He is a therapist Ayurveda passing consultation at the Center to treat all psychophysical desiquilibrios. He has anchored in the Eastern and Western psychologists to understand and deal with solvency of anxiety and panic disorders, in fact Center has a department specializing in these imbalances where altogether specialists work in Yoga, meditation and clinical psychologists of cutting humanist.
He has organized the annual calls for the Madrinelas days of Yoga, which has collaborated with Calle Ramiro and Danilo Hernández among others.