Vegetables of fall in sauce of coconut
We share great and sanisimas recipes blog 'Eat to live'. Type and kitchen Gauri, Professor of vegetarian cuisine of the Sivananda Centre of Madrid and the affiliated Centre Sivananda Vedanta of Granada.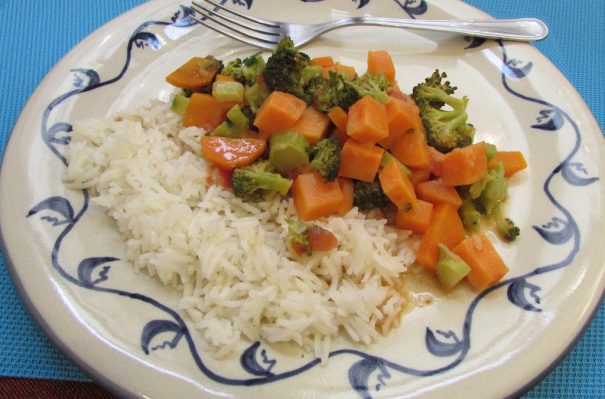 We prepare this recipe in a festive recipes cooking course, last year. Although the fall has been slow to arrive, potatoes are already in markets and broccoli timidly start to meet. It is a great recipe for a festive menu.

Ingredients for 2 persons
1 medium potato (100 g) diced
150 g broccoli in bouquets
2 carrots
100 g of tomatoes peeled and chopped
1 tablespoon grated fresh ginger
1 can of 200 ml coconut milk
2 tablespoons of olive oil
1 teaspoons cumin seeds
1 teaspoon coriander seeds
3 pods cardamom (seeds only)
2 nails
A handful of ground cinnamon
½ teaspoon ground ginger
The juice of ½ lemon
Salt and black pepper
4 tablespoons fresh cilantro for garnish
Preparation:
Toast the cumin and coriander seeds. Leave to cool and mash them in a mortar with cloves and cardamom seeds. Book and mix with the ground spices: cinnamon and ginger.
In the Pan put the oil and add the spices, fresh ginger, Saute ½ minute and then the tomatoes. Let it Saute a few minutes until a sauce forms. Add the vegetables, salt and mix. Put the coconut milk and cook with the pan covered, until the vegetables are cooked, about 20 minutes, and the sauce has thickened. Garnish with the lemon and pepper and if sauce has thickened much lightened with a little water.
Serve with fresh cilantro apart so each person put on whatever you want.