Stories to share / Quique Fidalgo, a true spiritual Warrior
Ramiro Calle nos cuenta con emoción la historia real de un alumno que superó un linfoma con la ayuda del yoga.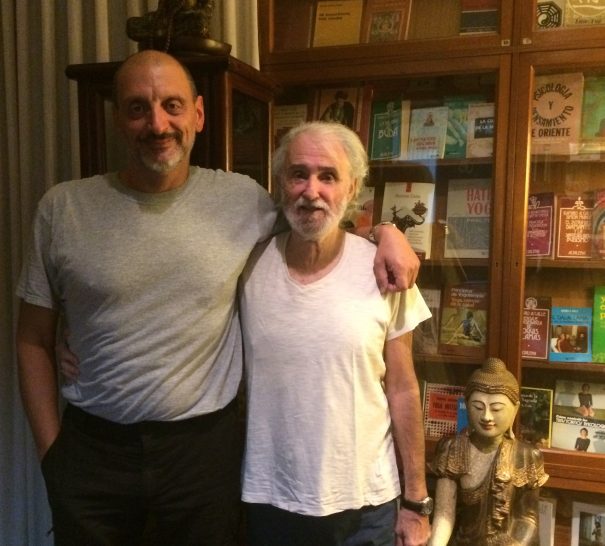 Nos conocimos hace catorce años. Era un fenomenal fotógrafo. Acudió al centro de yoga Shadak. Me llamó la atención su aspecto de noble corsario, su mirada intensa, su modo directo y sin ambages de decir las cosas a bocajarro cuando él consideraba que venía al caso, su capacidad para irse superando en las clases día a día.
Casi enseguida de conocernos, en una caliginosa tarde veraniega, nos tomamos juntos una horchata. Me hizo confidencias hondas, escuché con atención agradecida y sosegada. Era Quique de hombros anchos, porte atlético. Durante mucho tiempo solo nos veíamos en las clases. Poco hablar, casi nada que comentar. Pero el vínculo de amistad ya había nacido y se iría consolidando hasta hacerse fuerte como el bronce.
Fue a la India y le recomendé un mentor de yoga con el que se entrenó entusiásticamente en Rishikesh; en Benarés estuvo con Babaji Sibananda, empapándose del contagioso humor y la serenidad de este sadhu que me robó el corazón.
A su vuelta de la India empezamos a tratarnos más. La verdad es que entre nosotros no eran necesarias muchas palabras, ya nos entendíamos en los silencios meditativos de las clases. Luego vinieron las cenas de vez en cuando con otros amigos. Y fui conociendo al Quique profundo, el que de repente salía de su apariencia distante y te abrazaba casi hasta quebrarte los huesos. Ese es lado humano, sencillo, sincero de Quique que me hace comunicarme con él no a través de las engañosas palabras ni los ilusorios conceptos, sino de ser a ser.
Y cierto día llegó al centro de yoga y en el vestuario le pregunté qué tal iba todo. Venía de hacer footing. Tenía hinchada una parte del cuello. Viendo su fortaleza nada podía hacer pensar que algún trastorno le aquejase. Vinieron las pruebas médicas y al final fue diagnosticado de un linfoma.
Como el elefante camina aguerrido en solitario, dio comienzo su ruta. Iba a admirarnos con su fortaleza interior y su disciplina inquebrantable a todos los que le conocíamos en el centro de yoga. Empezaron las largas sesiones de quimioterapia, pero también dio comienzo un trabajo interior y psicosomático excepcional.
Quique hacía de sí mismo un laboratorio viviente a sus cincuenta años. Ya había trabajado mucho con las técnicas del yoga y con los métodos de introspección, pero ahora empezaba otra forma de vida. No dejó de meditar, ni de investigarse interiormente, ni de hacer sus ejercicios de pranayama y los asanas, ni de confiar en sus recursos internos y en las herramientas que el yoga le había procurado. Se tornó más sosegado, más consciente, sabiendo discernir entre lo trivial y lo esencial, recuperando el vivo interés por las pequeñas cosas que son las grandes, dueño de sí mismo, más humilde, humanizándose a cada instante, ganando en sabiduría.
Y hace unos días ha estado meditando con los demás alumnos en clase. Ha sido una sesión de intensa quietud, como si el sosiego nos impregnase a todos, creando, sin proponérnoslo, una sinergia de energías supremas. Y luego nos comentó, a instancias mías, con su habitual sobriedad, hasta qué punto se había preparado a lo largo de años con las herramientas del yoga para cuando llegaran momentos difíciles, y cómo estas preciosas herramientas le habían ayudado y confortado.
Él sí ha sabido aprovechar el sadhana o adiestramiento espiritual y comprender en sus propias carnes que, como reza el antiguo adagio, "un ser humano sin la Enseñanza (Dharma) es nada". Ha superado la enfermedad y ya nada será igual para Quique, porque ha aprendido a distinguir entre la joyería y la bisutería, lo banal y lo realmente importante. Y conociendo a Quique, conociéndole con almor (amor del alma), sé que ha accedido a another dimension of consciousness much more clear and bright. A veces para realmente sanar, hay que haber vivido la enfermedad.
Calle Ramiro

More than 50 years has been Calle Ramiro teaching yoga. He began teaching at home and created an Academy of yoga correspondence for all Spain and Latin America. In January of l971 opened its Yoga Center Shadak, that have already passed more than half a million people. His 250 published works include more than fifty devoted to yoga and related disciplines. He has made Yoga the purpose and sense of his life, having traveled a hundred times to India, the homeland of yoga.

Watch the Calle Ramiro Facebook:
https://www.facebook.com/pages/Ramiro-ACalle/118531418198874