Asanas to strengthen legs
Para robustecer las piernas primero hay que fortalecer la columna y ganar flexibilidad en las rodillas. Para ello trabajaremos con la postura del Guerrero o Virabadrasana, en tres variantes.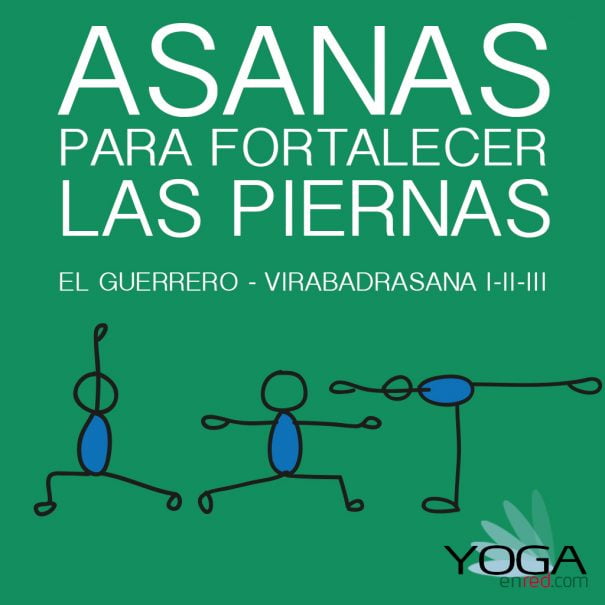 The posture of the Warrior is made of foot and a great concentration is required to be well aligned.
Guerrero 1. We began this practice from the point of view of Adho Mukha Svanasana o Perro boca abajo, apoya el pie izquierdo en el suelo y gíralo ligeramente hacia dentro, da un gran paso con el pie derecho y llévalo entre las manos, el tobillo derecho queda en línea con el tobillo y la pierna izquierda está totalmente estirada y el pie apoyado en el suelo. Eleva los dos brazos hacia el cielo, alinea tus caderas hacia delante y mira hacia los pulgares. Alarga la espalda y los costados. Mantener 5 respiraciones.
Guerrero 2. Desde el Guerrero I, mantén las piernas en la misma postura, pon los brazos en cruz llevando el brazo derecho hacia delante. Mira hacia la mano derecha y mantén muy activos piernas y brazos. Mantener 5 respiraciones.
Guerrero 3. Desde el Guerrero 2, comienza a deslizar tu pierna izquierda hacia delante y lleva todo el peso de tu cuerpo hacia la pierna derecha mientras elevas la pierna izquierda lentamente hasta dejarla a 90 grados en paralelo con el suelo. Alinea las caderas hacia delante y baja el tronco alineado con los brazos y la pierna. Mantener 5 respiraciones.
Repetir esta secuencia con la pierna izquierda.