Books / the essence of yoga (Astadala Yogamala volume VII), B. K. S. Iyengar
Fascinante testamento espiritual del "padre" del yoga moderno, un volumen, con formato de diálogos, particularmente ameno. Edita: Kairós. PVP: 24 €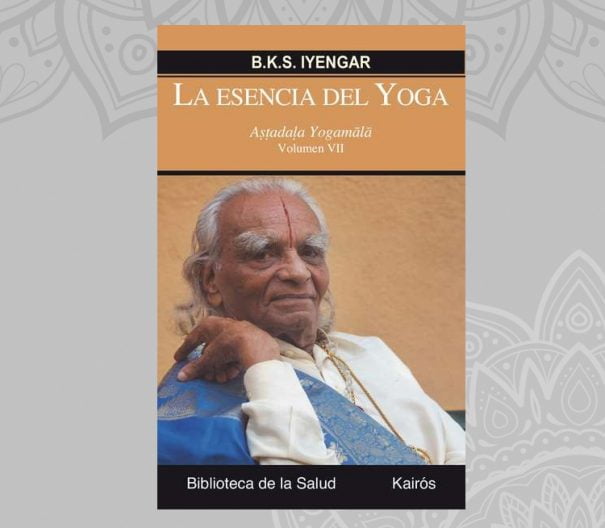 The essence of Yoga consiste en un vasto proyecto editorial cuyo objetivo es reunir todo el material de artículos, conferencias, entrevistas, sesiones de preguntas y respuestas y cursos de formación, ofrecidos por Yogacarya Iyengar.
This seventh volume opens the session of questions and answers that publishing B.K.S. Iyengarr fue concediendo durante sus años de enseñanza. Las preguntas y respuestas han sido clasificadas según sus contenidos, y en este volumen se presentan las que tratan del yoga en general, Patanjali y el yoga, los distintos estadios del astanga yoga, la psicología práctica del yoga y algunos ajustes particulares para la práctica de asana.
La obra, que fue seleccionada, corregida y supervisada personalmente por el propio B.K.S. Iyengar, está destinada a convertirse en otro referente indispensable tanto para los practicantes de yoga como para aquellos que deseen conocer y profundizar en esta incomparable tradición espiritual.
The author
B.K.S. Iyengar está considerado por muchos como el maestro de yoga contemporáneo por antonomasia. Su método es seguido por millones de personas en todo el mundo. Lo atestigua el éxito de obras suyas como Luz sobre el Yoga, La Luz del Yoga, Luz sobre los Yoga-sutras de Patañjali o Light on the life (todas publicadas por Kairós).