Practice of Yoga Therapy / pain lumbar frequent
I would like to ask about my lumbar region. It turns out that quite often I stay as "nailing" (between two and three times a year) and would like to know if yoga or other alternatives can be useful to avoid this. Thank you very much for this space in the magazine. Regards, Roberto Medina.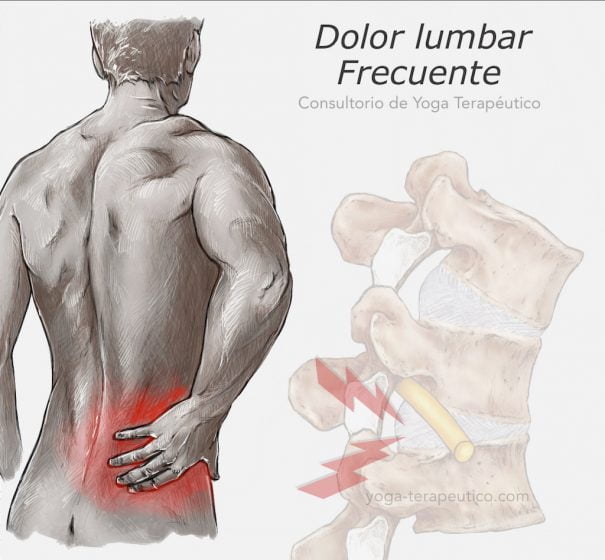 Answer:
Hello Robert. To situate ourselves, "staying stuck", in this case of the lumbar region, it means experiencing intense pain, to such an extent that makes it impossible to make normal life for a few hours, even days. In many occasions costs, or not is possible, keep the righteousness posture when one tries to put is upright. In these cases it is advisable the person let rest and often supplied injected painkillers and anti-inflammatories.
Which structures are those that are causing the pain? For us this is an essential keys that must be resolved to find out how to proceed, which professionals can help us understand if there are certain actions or gestures that one must change that they are directly related to the problem, know how to approach the therapeutic Yoga classes or other discipline which aims to improve body mechanics, etc.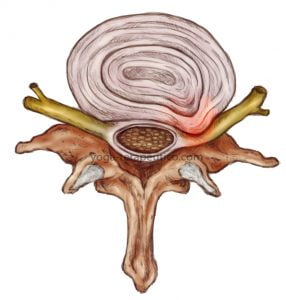 Behind a problem of this type, they often involved the intervertebral discs. These could be injured generating the known protrusions or Herniated discs triggering pain if themselves or by the strain experienced by the muscles located on both sides of the spine. Alternatively, on the other hand, there might be one or more blocks of joints located on the back of the spine, called joint interapofisarias, and can be directly responsible for the pain experienced by the person.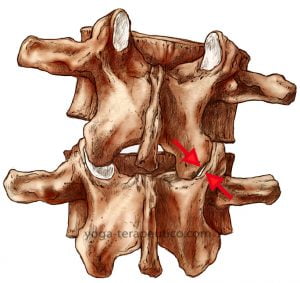 But, not only is essential that them professional health offer a diagnosis accurate on the structures that are involved but also must understand is them conditions that have generated the problem, in this case, ldisc disease or the locking joint. Here come into play many factors such as possible effects that cause. Among the most common, they tend to be:
The use of improper postural habits (sports, professional level or in activities of daily living) capable of causing a chronic degeneration of the lumbar discs. Especially dangerous are sitting without adequately support the lumbar region on the back of the Chair or crouch to the ground repeatedly bending the spine instead of bending the knees.
He made of having a leg more short that it again, phenomenon is relatively frequent, can both actively participate in the degeneration of the disc as in the production of the blocks that we mentioned before. It can also be the case that the person does not have a shorter leg but a difference in alignment (recurvatum, flexum, Varus or valgus) or in functionality between both legs that create dysfunction and stress of lumbar different structures.
The deviation scoliotic of the spine vertebral also can trigger the picture due to the imbalance in the alignment and to the stress mechanical to which are subjected both disks as joints interapofisarias
A time certain them causes of the problem, them professional health may take them measures appropriate for improve the balance and functionality of the column lumbar and, from the Yoga therapeutic, may establish is a program adapted to the needs of them structures affected and to them features biomechanical particular of it person.
Access to content teaching free of Yoga therapy in:

If you want that the experts in the adaptation of yoga to different diseases, injuries and disorders biomechanical, Alex and Or, respond to your questions, write a mail with your question a: info@yoga-terapeutico.com

Alex monastery and Or Haleluiya

Alex monastery It is physical therapist, ostopata and posturologist with wide experience in the field of health care and teaching. He has been Professor at the Ramon Llull University in Barcelona of physiotherapy for more than one decade and has worked about five years as a therapist at the Hospital Sant Pau (aside from having his private practice for 20 years where he sees cases of all kinds). He is the author of the book Spine healthy (translated also to the Russian).

Almost 20 years has taught Anatomy, Physiology and pathology to yoga teachers, must be one of the first in Spain, and no doubt has a lot to offer when it comes to teach the more than 40 pathological processes studied in the training jointly with Or, as well as how to deal with them all them with therapy through movement.

Or Haleluiya It is a Yoga teacher, acupuncturist, master's degree in Psychology (UAB). President of the Spanish Association of Yoga therapy. Or began his practice at age 22 in the Iyengar method intensively for seven years, traveling widely to study with teachers known worldwide in this method. It has certified in Anusara yoga, restorative Yoga, and Yoga therapy. Or has made a couple of courses of dissection human in the universities in London and Scotland. It's regular writer of articles in different journals.

Or classes are exceptional by their masters to refine biomechanical of people practice yoga according to the skills and needs. It also has an original ability to tell stories of the Indian mythology related to the biomechanical studied in their classes that move and connect with the heart.
Don't miss our Facebook (Yoga Therapy online).
We publish articles and images of Anatomy, Physiology and human pathology.
And everything related to therapeutic Yoga!