You walk wrong of time? Practice yoga at noon!
¿Emplear el descanso del mediodía para practicar Yoga? La Escuela Internacional de Yoga ofrece este otoño una nueva propuesta de clases dirigidas a practicantes con horarios ajustados, de lunes a jueves.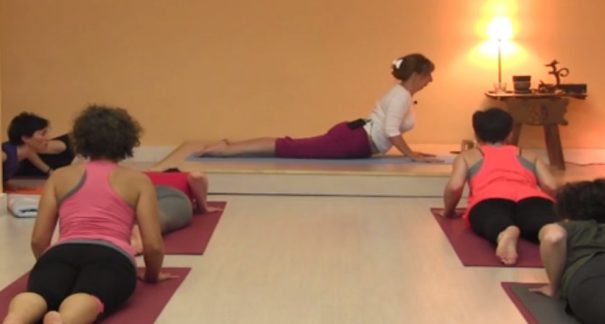 Ante la demanda general y en su afán de llegar a un mayor número de personas, la Escuela Internacional de Yoga amplía su horario de clases diarias de Yoga en la franja de mediodía. Estas clases suponen una renovación de energía, una pausa dentro del ritmo ajetreado diario, para después continuar con la actividad de la tarde.
Están dirigidas a practicantes cuyos horarios y ritmos de vida dificultan la práctica regular de Yoga en horarios habituales. Pueden acudir a ellas todo tipo de practicantes, siendo aptas para todos los niveles de práctica. Son propuestas dinámicas para aprovechar al máximo el momento energético del día, buscando la fluidez y la coordinación en los movimientos.
La parte final de la sesión está dedicada a la relajación, no sólo para compensar la práctica realizada, sino para preparar el resto del día y así proporcionar una actitud renovada y serena.
The proposed
Los lunes y miércoles puedes asistir a una clase de Hatha Yoga de 14:30 a 15:30.

Los martes y jueves tienes clase de Yoga Vinyasa a las 15:00 horas. Esta clase está pensada como un Yoga Break, es decir, dura 45 minutos.
Recuerda: es mejor 45 minutos de práctica que nada.
Todos los horarios: http://www.escueladeyoga.com/horarios/