It supports 'Indian Way', a film project which is worth
¿Nunca habías pensado en convertirte en cofinanciador de una película sobre amistad y supervivencia en la India? Pues te ofrecemos una muy hermosa oportunidad. Basada en hechos reales,
Indian Way
es la historia de superación de dos hombres que desean cambiar un destino que parece escrito de antemano. Aquí tienes toda la información y un elocuente vídeo.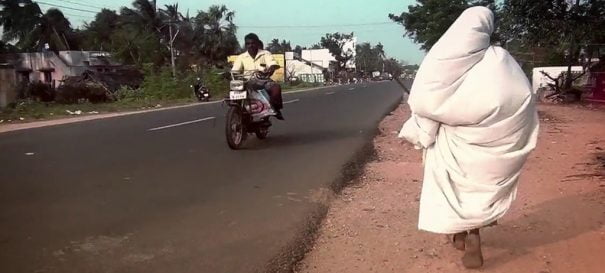 Indian Way es la historia de amistad y supervivencia de Anthony y Rama, dos indios que viajan a pie en territorio hostil durante una semana, desde la costa de Pondichery a la gran ciudad de Bangalore. Anthony es un campesino arruinado que va en busca de trabajo. Rama está huyendo de un pasado terrible. No tienen dinero, ni amigos, ni medios de subsistencia. A pesar de profesar credos distintos, hablar distintas lenguas y ser de distinta casta, deberán superar sus diferencias y ayudarse para poder sobrevivir. Durante el viaje un tsunami azotará el sur del país, obligándoles a enfrentarse a un nuevo dilema.
El siguiente vídeo, amenizado con varias entrevistas, analiza el contenido de Indian Way, desde el origen del proyecto, la escritura del guión, el diseño de la banda sonora, la búsqueda de localizaciones y actores en el Sur de India, mostrando sintéticamente el espíritu y el por qué de nuestra aventura cinematográfica.
Origin of the project
Durante más de dos meses en 2004, el cineasta David Blanco estuvo viajando en India recorriéndola de norte a sur. En diciembre, mientras visitaba la Fundación Vicente Ferrer en Anantapur, se produjo el desastre del tsunami. A pesar de que las costas de Tailandia fueron las más afectadas, la India también sufrió grandes daños materiales y la pérdida de miles de vidas humanas, sobre todo en la costa oriental. Fue entonces cuando David decidió emprender un viaje periodístico escribiendo artículos que fueron publicados durante las semanas siguientes en la sección internacional del periódico El Faro de Vigo. David Blanco visitó lugares remotos y campos de refugiados, entrevistando a pescadores y a personas afectadas por la catástrofe en Kerala, Andhra Pradesh y Tamil Nadu. Tras aquella experiencia personal, con los artículos que escribió, diversas vivencias propias y otras historias que le contaron, David decidió sentarse a escribir el guión de Indian Way.
Development
Since several years, panning Films SL works with enthusiasm to find the resources necessary to produce the feature film Indian Way. La situación socioeconómica actual en España y Europa es compleja, y más para producir proyectos de largometrajes independientes con un valor artístico y social. "A pesar de ello, en todos estos años de trabajo no hemos desfallecido y nuestra ilusión no ha decaído, más bien todo lo contrario", dicen los responsables.
Actualmente tienen confirmada parte de la financiación, confirmados los actores protagonistas indios (Virendra Saxena and Vikas Shrivastav), cerradas las localizaciones en India (Tamil Nadu y Karnataka) y confirmado el equipo técnico en India y España. Es decir, todo está preparado y sólo necesitan el último empujón y cubrir la financiación que les falta.
We are convinced that Indian Way será una película especial y diferente de la que todos nos sentiremos orgullosos.
¡Puedes participar en la financiación aportando desde 5 € en adelante! Mira en la web todos los beneficios que obtendrás…
All the information here: http://www.indianwayfilm.com/esp/inicio.html

(No te pierdas el shooting blog!)