Books / review of Javier Ruiz Calderón to ' pearls of the wisdom Vedic '
Review on Pearls of Vedic Wisdom, by Juan Carlos Ramchandani, with illustrations by Hari Dasa. Writejavier Ruiz Calderón (Shankara)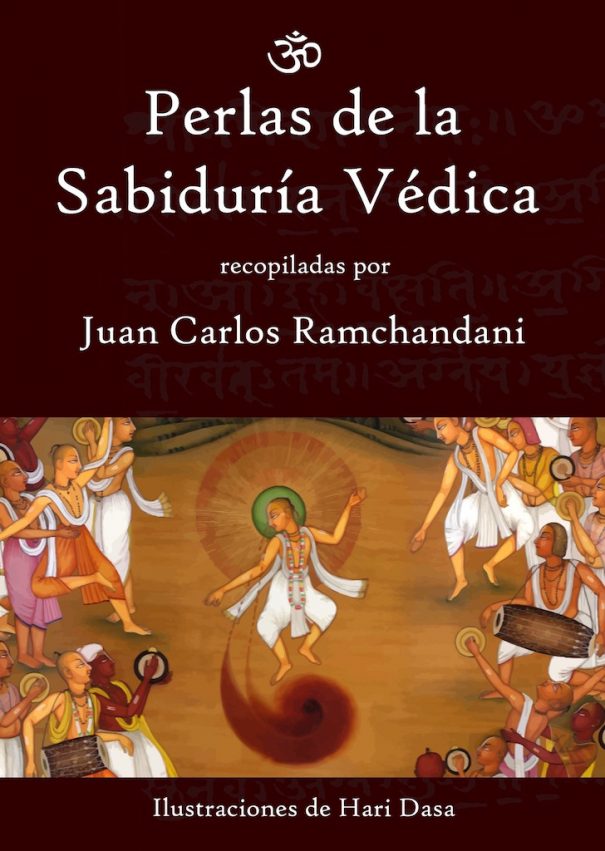 Juan Carlos Ramchandani, Hindu priest, yoga teacher and writer, has been fully committed for decades to the study, practice and dissemination of Hinduism and its teachings. Within the great Hindu family, he belongs to the Gaudiya tradition, originated in the holy devotee of Krishna Chaitanya Mahaprabhu (sixteenth century). As part of this great task he had already written fourteen books, to which he now adds a new title: Pearls of Vedic Wisdom.
In the introduction he clearly explains what he refers to by "Vedic": not only to the four bans in the strict sense, but to The Hindu scriptures in general, both "revealed" (shruti) and traditional (smriti). Ramchandani has collected more than four hundred short fragments from very diverse texts: tantrics, yoga, Mahabhárata, Puranas, apanishads, the vedas, the Manu Code, the Aphorisms of Nárada... and, above all, many Vaishnava and, specifically, Krishnaal and Gaudiya texts to which, as we said, the author belongs.
This is understandable: the author is not intended to make a general and neutral anthology of Hinduism, but instead makes his selection from the particular point of view of his tradition. This allows you to dig deeper into the topics covered by the texts. And, moreover, it does so in a non-dogmatic way, since it also includes general texts, accepted by all Hindus, and some even from other schools, such as advaita vedanta or Shakatism, thus showing that it is not exclusive but " inclusive," as he accepts that the truth can be found in traditions other than his own.
The range of topics covered is very wide and more than enough to get a general idea of the author's perspective on Hinduism: the soul, the guru, the scriptures, devotion, the name of God, Krishna, vegetarianism, liberation, duty, holy places, Vishnu, reincarnation, ethics, yoga... And the texts are very well chosen: they are representative, beautiful and can constitute a very inspiring spiritual reading (svadhyaya), not only for Krishna devotees but for anyone with spiritual sensitivity. A beautiful necklace in which hundreds of bright pearls of wisdom are set, as the proper and beautiful title says.
Al no tratarse de un libro académico, sino divulgativo, no se puede esperar que la traducción de los textos sea de una enorme precisión; basta que exprese de una manera clara lo más importante del significado del original. Y Ramchandani lo consigue sobradamente, porque, además de conocer el tema, escribe muy bien: tiene un estilo fluido, sencillo y transparente que nos recuerda a los que lo conocemos su manera de hablar. Su devoción y respeto por las cosas sobre las que escribe —y quizá también la influencia del inglés— le llevan a poner muchas más mayúsculas de las que es costumbre en castellano; y quizá sería útil que pusiera acentos en las palabras indias, para que el lector supiera cómo pronunciarlas; pero por lo demás no se puede poner ninguna pega a su estilo literario.
El libro concluye con un utilísimo "Glosario de textos y personalidades", en el que se dice algo sobre cada una de las obras de las que hay textos en la antología y sobre los personajes que aparecen en ellos.
En cuanto al aspecto material del libro: ha quedado muy bonito, muy cuidado. El texto impreso está enmarcado, lo que realza su belleza y subraya su carácter de escritura sagrada. Y las expresivas ilustraciones del gran Hari Dasa, colaborador habitual del autor, son la guinda del sabroso pastel que es este libro tan recomendable.
Javier Ruiz Calderón es doctor en Filosofía (1992. Universidad Pontificia Comillas. Madrid). Ha publicado numerosos artículos y libros entre otros: Breve Historia del Hinduismo, Vedantasara; la esencia del Vedanta. También ha traducido al castellano obras de Svami Sivanand. Es experto en sánscrito y filosofía Advaita.