Books / review of Javier Ruiz Calderón to ' pearls of the wisdom Vedic '
Reseña sobre Perlas de la Sabiduría Védica, de Juan Carlos Ramchandani, con ilustraciones de Hari Dasa. Escribe Javier Ruiz Calderón (Shankara)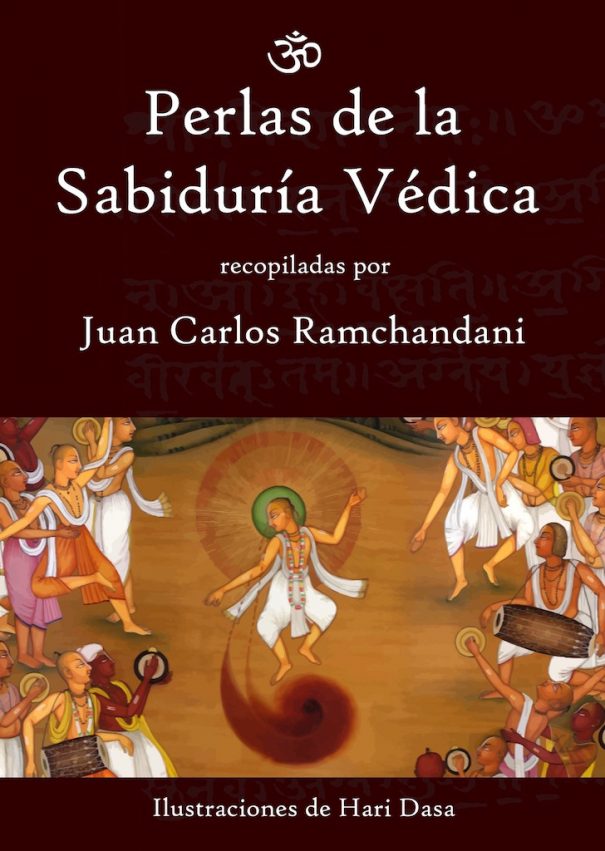 Juan Carlos Ramchandani, sacerdote hindú, profesor de yoga y escritor, lleva décadas entregado por completo al estudio, la práctica y la difusión del hinduismo y sus enseñanzas. Dentro de la gran familia hindú, él pertenece a la tradición gaudiya, originada en el santo devoto de Krishna Chaitanya Mahaprabhu (siglo XVI). Como parte de esta gran tarea ya había escrito catorce libros, a los que añade ahora un nuevo título: Perlas de la Sabiduría Védica.
En la introducción explica claramente a qué se refiere con "védico": no solo a los cuatro vedas en sentido estricto, sino a las escrituras hindúes en general, tanto "reveladas" (shruti) como tradicionales (smriti). Ramchandani ha recopilado más de cuatrocientos breves fragmentos procedentes de textos muy diversos: tántricos, del yoga, el Mahabhárata, los puranas, las úpanishads, los vedas, el Código de Manu, los Aforismos de Nárada… y, sobre todo, muchos textos váishnavas y, específicamente, krishnaítas y pertenecientes a la tradición gaudiya a la que, como dijimos, pertenece el autor.
Esto es comprensible: el autor no pretende hacer una antología general y neutra del hinduismo, sino que realiza su selección desde el punto de vista particular de su tradición. Eso le permite profundizar más en los temas tratados por los textos. Y, además, lo hace de una manera no dogmática, ya que también incluye textos generales, aceptados por todos los hindúes, y algunos incluso procedentes de otras escuelas, como el advaita vedanta o el shaktismo, mostrando de esa manera que no es exclusivista sino "inclusivista", ya que acepta que la verdad puede hallarse en tradiciones distintas de la suya.
El abanico de temas tratados es amplísimo y más que suficiente para hacerse una idea general de la perspectiva del autor sobre el hinduismo: el alma, el guru, las escrituras, la devoción, el nombre de Dios, Krishna, el vegetarianismo, la liberación, el deber, los lugares santos, Vishnu, la reencarnación, la ética, el yoga... And the texts are very well chosen: son representativos, bonitos y pueden constituir una lectura espiritual (svadhyaya) muy inspiradora, no solo para los devotos de Krishna sino para cualquier persona con sensibilidad espiritual. Un precioso collar en el que se engarzan cientos de brillantes perlas de sabiduría, como reza el adecuado y bello título.
Al no tratarse de un libro académico, sino divulgativo, no se puede esperar que la traducción de los textos sea de una enorme precisión; basta que exprese de una manera clara lo más importante del significado del original. Y Ramchandani lo consigue sobradamente, porque, además de conocer el tema, escribe muy bien: tiene un estilo fluido, sencillo y transparente que nos recuerda a los que lo conocemos su manera de hablar. Su devoción y respeto por las cosas sobre las que escribe —y quizá también la influencia del inglés— le llevan a poner muchas más mayúsculas de las que es costumbre en castellano; y quizá sería útil que pusiera acentos en las palabras indias, para que el lector supiera cómo pronunciarlas; pero por lo demás no se puede poner ninguna pega a su estilo literario.
El libro concluye con un utilísimo "Glosario de textos y personalidades", en el que se dice algo sobre cada una de las obras de las que hay textos en la antología y sobre los personajes que aparecen en ellos.
En cuanto al aspecto material del libro: ha quedado muy bonito, muy cuidado. El texto impreso está enmarcado, lo que realza su belleza y subraya su carácter de escritura sagrada. Y las expresivas ilustraciones del gran Hari Dasa, colaborador habitual del autor, son la guinda del sabroso pastel que es este libro tan recomendable.
Javier Ruiz Calderón es doctor en Filosofía (1992. Universidad Pontificia Comillas. Madrid). Ha publicado numerosos artículos y libros entre otros: Breve Historia del Hinduismo, Vedantasara; la esencia del Vedanta. También ha traducido al castellano obras de Svami Sivanand. Es experto en sánscrito y filosofía Advaita.