The value of yoga education
El nivel de exigencia que la sociedad demanda a los niños hoy en día hace que su vida no sea fácil. Un nuevo enfoque en la enseñanza del yoga a niños y a adolescentes es el propósito del
Course of specialization Yoga in it education
, mostrando las herramientas necesarias para crear y facilitar
sesiones educativas, creativas y divertidas
de acuerdo a los tiempos actuales.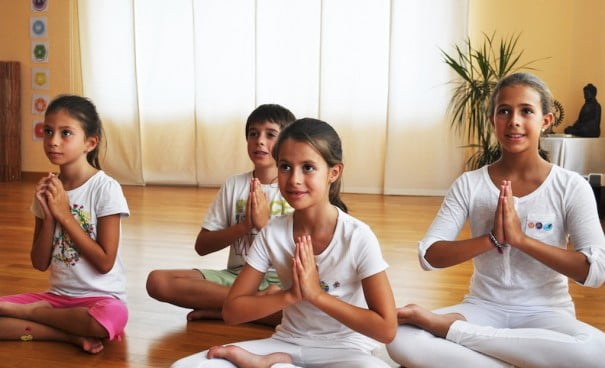 La sensibilización, el despertar de los potenciales personales, la toma de conciencia y, por supuesto, la diversión y la diversificación son algunos de los aspectos que derivan de los recursos que permiten al profesor de Yoga dinamizar una propuesta coherente de Yoga, y dirigirse a niños y adolescentes, ofreciendo un mayor bienestar y los espacios necesarios para crecer y conocer el mundo desde la comprensión, la aceptación y el autoconocimiento. Sus múltiples beneficios han sido explicados científicamente en las últimas décadas y estudiados por parte de las más importantes universidades del mundo actual.
New calls for specialization course of Yoga in education
Tras el éxito obtenido en anteriores convocatorias, la Escuela Internacional de Yoga (EIY) ha dado comienzo una nueva edición en Elche (24 y 25 de septiembre) y en Santiago (1 y 2 de octubre). Está previsto que este Curso de Especialización de Yoga en la Educación también se vuelva a impartir in Madrid, sede central de la EIY y lugar de nacimiento del mismo el 28 y 29 de enero de 2017 – estando el plazo de inscripción ya abierto. El Yoga ofrece a niños y adolescentes un mayor equilibrio y seguridad en sí mismos en la vida cotidiana. Su creador es Joaquín Castaño, responsable de la Escuela Internacional de Yoga en Galicia y Baleares, y profesor de Hatha Yoga y Yoga para Niños.
Actualmente, este Curso de Especialización Yoga en la Educación se imparte en cuatro Módulos. A lo largo de cuatro fines de semana se busca adaptar, a través del juego y la diversión, la práctica de Yoga a los niños, proporcionándoles la oportunidad de adquirir mayor conciencia de sus potenciales y capacidades, y así poder desenvolverse en la vida cotidiana con mayor equilibrio.
También busca profundizar en la propia visión, como adulto, del mundo de la infancia. Este proyecto busca ahondar en la transmisión y enseñanza del Yoga a los más pequeños mediante la sensibilización, la toma de conciencia y, por supuesto, la diversión. Lo hace ofreciendo la pedagogía para conectar con la esencia del niño. "Educar" significa "sacar a la luz lo de adentro".
Va dirigido a Instructores de Yoga (titulados con 200 horas) que desean obtener las herramientas para crear clases de yoga para niños, así como las instrucciones y pautas que los capaciten a ello. También este curso de especialización va dirigido a docentes, psicólogos, terapeutas y profesionales que deseen aplicar los conocimientos y las herramientas que el yoga aporta en la educación.
The International School of Yoga ofrece periódicamente Cursos de Especialización, buscando profundizar en aquellos temas que puedan aportar conocimientos de interés a profesionales del Yoga y disciplinas afines, y con el objetivo de completar la Formación del Profesor de Yoga.
For more information and reservations:

http://escueladeyoga.com/Yoga-En-La-Educacion.html

91 416 68 81 T - 648-078-824-677 253 399. Calle Fuencarral 134 - Alburquerque - 28010 entry. Madrid.