Interview with Didier Danthois: "Need to learn to live with our emotions"
What the figure of the clown with Tibetan Buddhism have in common? "Our job is to teach how to live with everything that arises in your body, your mind, your emotions from the presence, observation and acceptance". If you want to know more about the interesting work performed by Didier Danthois, read this interview of YogaenRed.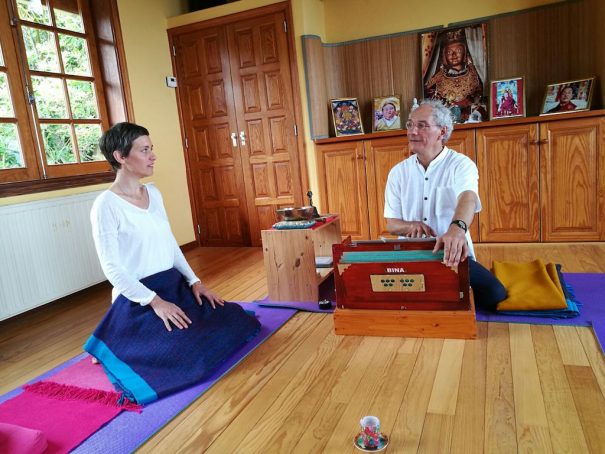 "All our work aims to reconnect our being with our deepest nature," said Didier Danthois, researcher, therapist and founder of the Theatre of the heart along with his partner Sara Rajzman, whose focus is on ahelp to recognize and transform the emotions using creative expression.
Its path began 33 years ago studying circus arts and clown in the Fratellini Circus School (Paris). Continued their training learning modern dance, MIME, and psychotherapy. That pursuit of creative expression within spirituality led him to follow the teachings of the Buddha and so, for the past 24 years Didier has deepened knowledge of the human being by the Buddhist teacher of the Tibetan tradition Sogyal Rinpoche. He also stayed for 10 years next to the Indian master of Calcutta, Rajeswara Lahiri, learning singing Raga.
How you you started on the road of emotional healing?
Didier: At the age of 20 I thought that he would not live long, ten years more and then... bye. As it was not happy, a day made the decision to find out where my Joie de vivre, it was because it was impossible that it was not in my own. So, so I left everything, my family, work, my city, my studies. At that time the universe manifested and I decided to study in a large circus school in Paris. At the beginning it was difficult because my body was not ready for so much work with him and so demanding. But nothing better than a circus school to lose all fears: Trapeze, acrobatics, Ballet, clown, tap... When I could free myself from fear, it was fantastic.
After a time in Paris, I went to live in London, where I continued studying humanistic psychology, later psychology biodynamics and psychotherapy. And I also did an intense training to be a teacher of yoga. All the work that I have developed is based on the attitude of deep listening to the body in a State of tranquility, feel their feelings and connect with the elements that are in the unconscious of the individual, for develop movements and emotions with the entire body to help communicate and express. This allows the recognition and release the emotional blockages.
When you decide to incorporate your knowledge of artistic expression, in particular MIME and clown, to your work?
For a while I was part of a company of theatre and dance for people with disabilities. It was a very interesting work, and the source of all my later work as therapist. I worked with people who could not see, hear or think logically. It was a very interesting experience to discover rare, other aspects of the mind and heart through performance and dance. I have learned a lot for these people who do not work like most I was taught that There are very rich forms of communication and expression through which you can reach directly to the heart.
These people with disabilities in general are more connected with their hearts, not disperse much expectations to the outside and most remain in contact with the interior. The sensitivity of these people, how to develop other creative, expressive and comprehensive capabilities in the skin, the sound is amazing...
This gave me a different angle to observe human beings and life. After twelve years working in the field of psychotherapy, I felt a call to offer this kind of work to all kinds of people. Once again at this moment the universe did that you cross my path in a workshop that was called "Dancing clown". When I wanted to do it, I had already spent, but the words made to arise an inner light.
How you develop your work with the Clown and mean exactly?
The Clown has a deeper meaning that is intended: the sacred aspect of the Clown. That was already inside of me naturally, didn't need to learn, but I was studying and working as a Clown teacher assistant for seven years, until he retired and I followed his work. This resulted in the school "Fool at Heart", that may not be literally translated in Spanish as "crazy heart", but that it must interpret it as the archetype that is.
The "Crazy" or "Buffoon" is an archetype that exists since there is the human being. Shakespeare, Einstein, Blake already referred to him and his wisdom. His figure derives in the Clown's much later, at the beginning of the 19th century, as the archetype of a very simple and naive man. The jester, fool or Clown it is not a quality of consciousness, of life itself, of the human being, that expresses the joy of living, the essence of the poetry of life, clara and naked. It is not an achievement of the intellect but the creation of the heart, of the genius of life.
Could you explain it more and tell us how it relates to a spiritual tradition as Buddhism?
The quality of purity and innocence of the archetype of the Loco itself no value it in our society because it does not generate money, but it is for the realization of the soul. But although it is very important to cultivate and nurture this purity and innocence of perception and consciousness, this cannot be a conceptual or intellectual level, but through one spiritual work more than thought, deeper.
Buddha taught us that there is in us a part much deeper than the activity of thinking. It is the nature of the mind and, according to Tibetan Buddhism, the pure perception. I have practiced meditation since 1993 according to the lineage of Tibetan Buddhism, and all his teachings about the nature of the mind are included in our way of working with the body, the mind, how we bring a situation to connect with our deep presence... Meditation is the root of all this work of 30 years.
Sara, how you benefited you and benefits to people the work that you develop?
Sara: When I discovered this work already practicing meditation, yoga, theatre... But in part it wasn't aware of everything I had to heal myself. Yes we can have a very good spiritual experience with yoga and meditation, but if we don't have a healthy base, fail to heal very deep wounds. What is very interesting in our approach is that we work at all levels: body, emotions, mind and spirit.
Spirituality is sometimes used to go beyond the own emotions, but this method will help you to return to your inner nature to connect with your emotions. The Clown is a very powerful archetype that allows many people, when they go with his red nose, connect with their emotions, and thus play, recognize, transform and heal.
That is the healing effect of your method...
Didier: To meditate you need to go beyond your emotions. But to do so it must first reach them, live them, feel them in the body, to express them. We must learn to play with emotions.
Sometimes we run away from an uncomfortable emotion, we challenging it, we we repress it, but then it multiplies, does not go away. We need to learn to live with the emotions and recognize them instead of repressing them. I.e. use consciousness to transform them.
In Buddhist teachings we taught to work with consciousness to be able to transform and to heal. When an unconscious aspect emerges to consciousness when we can change it. Therefore, full consciousness is the key that can open the door of the transformation. It is terrible for health trying to suppress a feeling, because it does not disappear, it has life. Our job is to teach how to live with everything that arises in your body, your mind, your emotions from the presence, observation and acceptance.
And the Clown helps us to achieve it...
The archetype of the Clown is fantastic for teaching and learning because you can you reflect on it and release parties that are unaware. It has great power to help recognize and discover parts of you that you've deleted.
There are people who discover with surprise a joy which had repressed, and others always smiling find sadness. But it is that we need to connect with sadness and with joy; It is the same energy and we need the two to be in balance. With the Clown we can experience, express and connect with the sadness and joy, observe how dance the two boards to express the real richness of the soul.
This work helps many people in today's world because We need a new way of being with life, more aware, open, appreciating what nature offered to each person. We need to purify our being to perceive it.
See the workshops offered by Didier and Sara in Madrid on October 8: click HERE