Interview with Yvan Trunzler: "spiritual music provides connection with our inner space"
The Dhrupad is the oldest classical music of Northern India (with a meditative component of incalculable value), which requires a lifetime of dedication to be executed correctly. Saturday October 8, Aushadhi School of Yoga brings from France to the Yvan Trunzler Dhrupad master, one of the very few heirs of this art in the West, with 37 years of experience. Interview by Eva Espeita (Swni. Radhananda) for YogaenRed.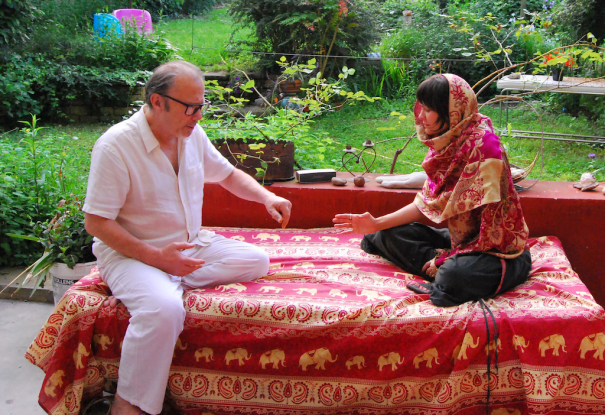 Precisely in order to bring this art to all, the concert is offered at price free (donation) and Jorge Lozano accompany the pakhavaj, one of the few musicians who know of this percussion in Europe. The master Yvan Trunzler responds to our questions:
How do you define Dhrupad?
It is a type of universal music. Often use syllables that have no mental meaning, instead of as in the compositions, in such a way that we're playing with sound. There is a taste (rasa) and devotion in the raaga (bhava), that has to do with the emotional state of the artist mixed with the own of the raaga, acceded also to the time of day that you are playing (in the North of India the Raagas are related to times of day, seasons of the year, etc.).
In the melodic aspect, the infinitesimal of the microtones, the maximum precision, generate a greater perceptual field opens in all directions, whose process seems to have no end.
If we look at how to breathe for singing, is like the waves of the sea: a rhythm that has the stillness at its Center. What what happens in tones and shades? It doesn't matter that you don't understand about Indian music, all understand this universal language, everyone brings tears to the eyes, it opens to all this field.
What is the link between an Dhrupad and Naada Yoga?
For me it is deeply related to the artist. If the person who makes it has a real spiritual development, then it is Naada Yoga. If this is not there, it can be like any other musical style and you can end up being a way of sinking in the ego. This is something that everyone can see when we listen carefully.
There are musicians who are not Naada Yogis and Naada Yogis who are not musicians (in traditional practices where a musical knowledge is not necessary). But if we look at only the own Dhrupad, it can be a form of Naada Yoga, which also has the aesthetics of the music itself, which is a wonderful addition that brings one dimension greater than other forms of Naada Yoga in its format.
How and when came the Dhrupad to your life?
I started to listen to Indian music in 1976, and whenever I heard it in concert or Studio, I felt balanced, focused and always broadcast me great peace: all the problems and anxieties disappeared when listening to it.
Then in India I did many Vipassana retreats and I realized at one point that what I wanted to do, more than anything in the world, was to dedicate myself to this music.
Then I heard the Dagar Brothers of Delhi and Bombay. Then I knew of a student of the latter who gave lessons in Varanasi, India, that was none other than Ritwick Sanyal. Spent two years studying with him while he helped me out of ignorance in the Dhrupad style. One day I traveled to Bhopal with him to perform a concert, and there was Ustad Fariduddin Dagar filming a movie about an Dhrupad; We went to her room and when the opened her mouth started to cry of joy for two hours without possibility of stopping this process in any way; I felt that I knew that music from somewhere lost in the night of time, far away… I knew then that it was the Guru Purnima full moon, the full moon being held in India in honor of teachers; Certainly, for me, a signal. The next day I learned that the Ustad were beginning to open the first Center for studies in the Dhrupad with the help of the Secretary of Bharat Bhavan in Bhopal, so I arrived at the time to the right place. From 1981 until 1986, I got the Foundation of my learning in the hands of the Ustad.
What is what the Dhrupad brings to the West?
As any spiritual music, brings to the listener, musician or not, the connection with its interior space: You can play them directly in the heart as happened to me when I was not even a musician.
The space between the tones, as I said at the beginning, that it is becoming smaller in our thorough approach, paradoxically leads to spaces increasingly older inmates, and thus infinite shape in a path that only culminates in silence: This silence is the objective of meditation in all traditions, vacuum, the totality of presence, the absence of thought. To achieve this we need the maximum concentration, it is exactly the same as what happens in any meditation technique, letting the thoughts, remaining ever deeper into the himself.
A musical level, the distance between twenty-two shrutis or intervals (in contrast to the twelve of the heated Western music) it is not equitable, and opens a universe of wealth unknown to the West.
You can tell us about learning with teachers, the legendary Mohiuddin Dagar and Ustad Fariduddin?
Every day we woke up before sunrise for practice two hours only in the lower key that we could perform (kharaj), then were another three hours of practice with our teachers accompanied the pakhavaj by Shrikant Misra, Manik Munde and her master Pandit Amarnath Misra (also called Mahantji) Varanasi, the largest musicians of this ancient percussion instrument.
After this, all afternoon we practiced what we asked teachers, and this constantly happened six days a week eleven months a year for several years. My fellow students were Ramakant and Umakant Gundecha and Uday Bhawalkar, currently recognized masters of Dhrupad in India and internationally.
Ustad refused to grant a diploma as the University, which often do not relate to reality, so they organized a public concert, a kind of exam like practical experience, in which they appreciated if our level was sufficient. Each year they watched this together with other great masters of others gharanas (different families within the musical style) and showed us if we could continue the following year. Thus accompanied us slowly in each step of the way, making sure the learning.
As for our teachers, treated us as to their family members, as their children, because we got with them finding a very intimate relationship that allowed them to clearly understand our true progress. We wore to accompany them in small concerts playing the tanpura in unforgettable travel the length and breadth of India, where beautiful experiences we shared. We always protected, and always we feel protected by them.
They were considered with a high level of mastery and undoubted at all India references, even though Dhrupad was then considered as a minority. This, fortunately is changing currently, growing slowly but clearly, both in India and in the West. Today, as we observe that there are great teachers of Yoga in the West, little by little is going to go observing this, without a doubt, in relation to the Dhrupad.
Eva Espeita (Swni. Radhananda) a student of Dhrupad and founder of Aushadhi Yoga school, which has become, together with Sangitarasika in Barcelona, in one of the two key centers of outreach and official study of this musical and meditative art in Spain.
Biography of Yvan Trunzler
Yvan Trunzler has 37 years in the way of the Dhrupad. From 1978 to 1979, Yvan settled in Varanasi (India) to begin his apprenticeship with Sri Ritwick Sanyal, University Professor and one of the leading scholars and promoters of the Dhrupad internationally.
In 1981, after having met their masters, the legendary Ustad: Fariduddin (voval) and Mohiuddin Dagar (Rudra Vina), joined them in Bhopal in your centre of studies in the Dhrupad in 1986.
Between 1987 and 1990 he entered an intense practical study and gave his first concert with his teacher Fariduddin Dagar.
Gets his first official post at the Conservatory of Rotterdam and the music schools of Amsterdam, where he was for three years inviting teachers to carry out the tests.
Between 1990 and 1995, after the death of Ustad Zia Mohiuddin Dagar, He returned to live in Delhi and Bhopal, gradually acquiring the professional level, one of the few Westerners who have succeeded.
Soon he also acquires the subtlety and rigour of their teachers when it comes to teaching. Regularly attending them both in India and in Europe. This has become part of its activity, developing a study deep in the Dhrupad, based on his personal experience, he has become a method of teaching.
How musician, Yvan has been able to receive the teaching of their teachers, the subtle magic of the old Dhrupad and the unique interpretation of the Ustad (unique even in India), but heir as it is the spirit of the seventies in the West, is capable of uniting this ancestral knowledge with the total exploration of the boundaries, which can be seen in the mode of approach to their music.
The master of Dhrupad Yvan Trunzler concert:

When: Saturday, October 8, to the 20: 30 (opening doors 20:00)

Where: Aushadhi Yoga school. Paseo de las Delicias 47-51 (pedestrian passage). Madrid

Contact: 91 539 16 69 T; 615-986-339