Books / essential collection of Mindfulness, with Thich Nhat Hanh
This series of five books collects brief meditations and practices of mindfulness that can apply them to the life everyday. They are intended for all those advanced meditators or beginners who want to harmonize your life. Edit: Kairos. Price of each one: 9 €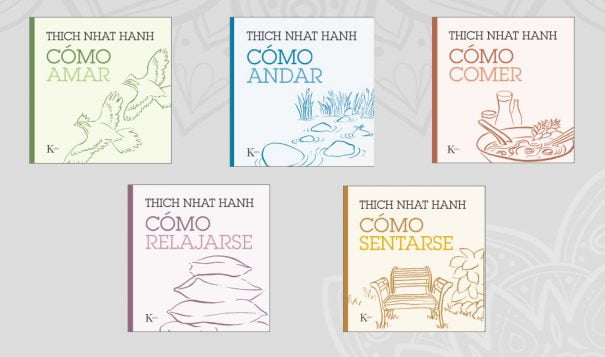 Titles of the collection: How to love, how to walk, how to eat, how to relax and How to sit.
Them manual contain exercises of breathing, visualizations, stories personal, technical for taste them food or how prepare them, for experience something so wonderful as the simple walk, until meditations on the solitude or on the relationship of couple and the life in family.
Five gems of wisdom within the reach of everyone who synthesize perfectly the teachings of Thich Nhat Hanh, one of the main Buddhist masters of our time.
At popular prices and Pocket format. Beautifully illustrated.
The author
Thich Nhat Hanh is one of those master zen more known in the world. For 70 years, he has taught meditation and the practice of full consciousness (or mindfulness). Among their books more acclaimed highlights Fear, happiness, are here o Planting seeds; the practice of mindfulness with children.