Chickpea Burger
The falafel was the starting point of the garganzo Burger. Instead of flour we used oat flakes, so the gluten-intolerant can consume it without problem.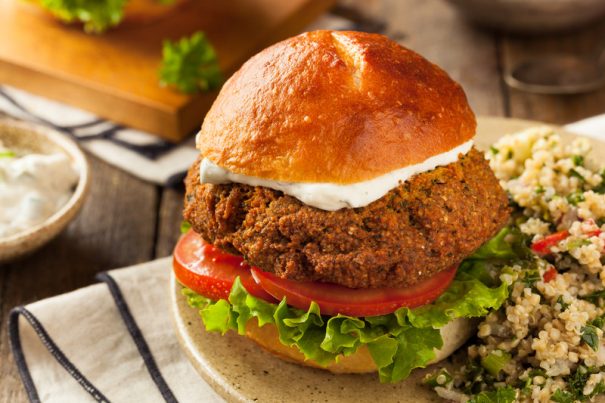 Ingredients
400 g of cooked chickpeas
1 teaspoon of: cumin, ground coriander seed, paprika
1 spring onion
1 clove of garlic or, if you prefer, grated ginger
50 g of oat flakes
1 tablespoon tahini or sesame paste
fresh parsley, leaves fresh mint leaves
zest of 1 lime, juice of half lime
1 tablespoon sesame seeds, salt, ground black pepper
extra virgin olive oil
Preparation
We went through the mortar the cumin and coriander and roast it in a pan together with the paprika, oil, onion and garlic chopped.
Grind the flakes of oatmeal and reserve the half. Add the mixture of spices along with the tahini, chopped parsley and mint leaves, the zest of lime, salt and ground black pepper onion and garlic. Mix until you obtain a homogeneous before add chick peas and mash well paste.
We stand for the mixture in the fridge for a few hours. After shaping and coat it in mixture of flour, oat flakes and sesame seeds. FRY in a pan with a little oil and serve.