A myth to test: Yoga for all
A few months ago I contacted from XL Promodoro, brand of sportswear for people with overweight, requesting an interview. They wanted to dismantle the topic of practitioner of yoga, young woman, slender and flexible, and have an opinion that democratizara it. Writes Carmen Yagüe.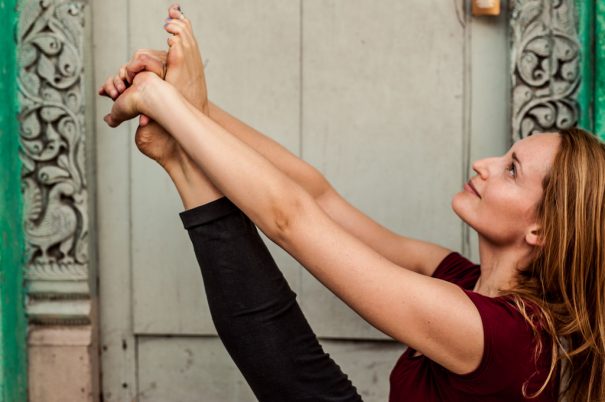 It is true that the great popularization of yoga in these years and its diffusion in the West have contributed to this image of certain exclusivity and elitism. However, yoga is not only aimed at those with a slender and strong body. Even that is their ultimate goal. These, still valuable aspects, are nothing more than side effects, steps in the pyramid of evolution posed by yoga.
Let's take a look at the myth. Yoga in ancient India used to be reserved to the Brahmin, this breed is considered protective of sacred and knowledge away from the obligations of the worldly life for the study and spiritual growth. The heads of the family and women was completely alien to this world.
While yoga spread to other social strata, women's access was not immediate. In the tradition of ashtanga, Indra Devi She was the first woman to which Grandmaster Krishnamacharya, father of modern yoga, agreed to welcome as a pupil after undergo a rigorous and unique selection process.
Our idea of yoga type practitioner begins to be.
Another disciple of Krishnamacharya, Sri K. Pattabhi Jois You should the great popularization of ashtanga yoga, which was known to work with all kinds of bodies, from the Western first arriving in the 1960s thirsting for a style of pure yoga in Mysore city and without another task to do yoga, until the residents of the neighborhood where the yoga room, was loaded with family and work obligations.
Pattabhi Jois was also working with sick and used yoga as therapy. In fact the first series of ashtanga is known as Yoga chikitsa What yoga therapy. It has as its main objective to cleanse the digestive tract of toxins, area where, according to the Indian medicine all diseases have their origin, and restore the natural mobility of the body, to thus free the individual from ailments.
David Swenson, one of the first Western students of Pattabhi Jois, note how one day saw him working with a quadriplegic boy. Pattabhi placed the body of the boy in different positions, since it was impossible to move and asked it to breathe. In these lines, Pattabhi used to say: "Ashtanga yoga is for everyone. The young and old, healthy and sick, the strong and the weak. Everyone can do ashtanga. "All but the vague".
The ultimate aim of yoga is human Liberation through love, honesty, faith and the will to work. In fact, according to the Yogasutras, one of yoga's reference agreements, discipline, willingness to study and devotion to define the practice of yoga. That the student can do the pine or the bridge grasping the ankles is a nice added, but irrelevant in the end.
Yoga postures are only a first step, a starting point to purify and strengthen body, mind and nervous system. We develop calmness, concentration, stability and our health is a problem, so that we can focus on higher, including expansion and full expression of our own objectives.
Don't get intimidated by yoga. Don't think that by having an age, sex, weight or physical condition determined this discipline is not for you. If you care about your health and your evolution as a person and you're willing / or to invest time and effort in them, yoga greet you with open arms, or not you are able to touch the toes.
Carmen Yagüe He is teacher of ashtanga yoga in the tradition of Mysore (India). After years of training and education in London, regular trips to Mysore (KPJAYI) and intensive studies with some of the best teachers in the world, as Tim Miller (California), Adam Keen and Hamish Hendry (London), Kino McGregor (Miami) and Sharath Jois (India), returns to Madrid to share his teachings.

-Next course of initiation to the Ashtanga Yoga City:

First test session 30 September. 5 weeks beginning October 7. For those wishing to engage in the practice of ashtanga to which, despite having an established practice, they want to homogenize it with the traditional guided format.

More information: http://www.city-yoga.com/servicios/yoga/ashtanga-yoga