For the first time in Madrid, the heart of theatre
See more authentic emotions, play, laughter in its purity, the beauty of your heart with two precious workshops: ' the Indian Raga singing meditation' and 'the wisdom of the Clown, taught by Didier Danthois. A very special opportunity that deserves to take advantage. October 8 in Yoga Anandamaya.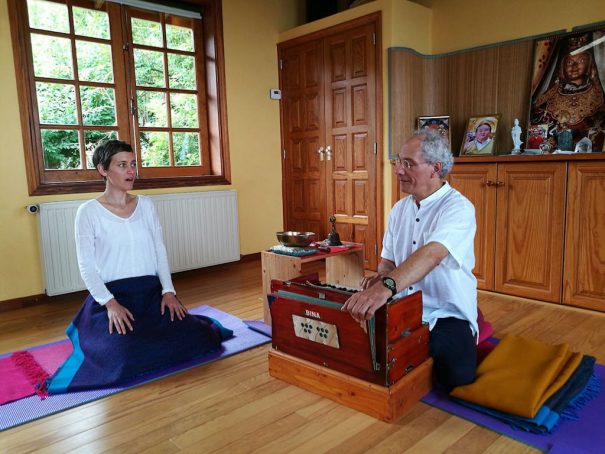 Didier Danthois It is a prestigious Professor, researcher and therapist, known in Europe for his work on creative expression directed to spirituality and emotional health. Together with Sara Rajzman you have created Theatre of the heart, whose focus is on develop creative expression which celebrates the emotional authenticity, the beauty that is in all things and compassion.
Didier and Sara arrive in Madrid the October 8 to delight us with two workshops that will be taught in Yoga Anandamaya (C/Alcalá 68):
Workshop ' of the singing Raga Indian to the meditation '
It teaches to experience the ancestral song of India which will take you to stillness and creative freedom. Singing Raga is a practice to cultivate the heart through the sound, a wonderful exploration of colors and textures of the emotions. It transforms and expands our perception of reality and relieves our heart with everlasting joy.
Through the Indian approach to hear and repeat simple scales you can develop:
Deep listening.
Give the sound a full presence.
Free breathing and voice.
Develop attention and consciousness.
As we rested in sound mind, the qualities of the heart arise naturally.
Opening hours: from 11:00 to 14:00 h

Workshop 'The wisdom of the Clown'
This workshop combines the work of full consciousness, with MIME and clown. MIME is a form of communication that is born of silence; a non-verbal adventure into the present moment and inner listening. From this simplicity comes creativity, freedom, and the game of the clown.
The Clown, with his humanity and simplicity, it will help us to open our eyes to a new way of perceiving life and its obstacles, revealing the beauty and humor that lies within all things, what we might call the "wisdom of the clown".
In Spain the figure of the clown not known well. It's an archetypal ancestral, also called the "crazy heart")Fool at Heart), whose simplicity and innocent wisdom connect us directly with that eternal child is hidden on the inside of each person. On trust and innocence of the "sacred Clown")Sacred Clown) resonates soul music and the most pure and genuine joy.
Didier will guide us toward that Sacred Clown that remains asleep in each one of us as an expression of our true nature, which is generous, loving, creative and in peace. Embodying this Clown, disclaim the shadows of old habits and the fear of the unknown, and it reveals the beauty and humor that there is in all the things.
Opening hours: from 16:00 to 19:00 h
Price of the workshops: €30 per each workshop or € 50 for two workshops.
Place: Anandamaya, C / Alcalá, 68 1º right yoga. Metro: Príncipe de Vergara. Madrid
Registration: For registration and payment method, please contact: info@teatro-del-corazon.org or info@yogaanandamaya.com
More information: https://sites.google.com/a/teatro-del-corazon.org/teatro-del-corazon-es/
Didier Danthois He started his way 33 years studying circus arts and clown in the Fratellini Circus School (Paris). Continued their training learning modern dance, MIME, and psychotherapy. That pursuit of creative expression within spirituality led him to follow the teachings of the Buddha.

For the past 24 years Didier has deepened the knowledge of the human being by the Buddhist teacher of the Tibetan tradition Sogyal Rinpoche.

It also remained for 10 years next to the Indian master of Calcutta, Batthacharya Rajeswara, learning singing Raga.

His work led him to found the Association Theatre of the heart whose focus is to create an art that celebrates the authenticity, the beauty in all things, and compassion. A form of performing arts that combines the presence and the transformation of emotions with creative expression.

Sara Rajzman It is Mindful Hatha Yoga teacher after completing their training in "Mindful Hatha Yoga & MBSR Yoga Therapy" Mindful Yoga Academy school.

There are already more than 15 years that Sara has been dedicated to the study, understanding and practice of Buddhist meditation. For some years she was linked to the tradition of Vipassana, subsequently to Thich Nhat Hanh and today, together with Didier and heart theater, follows the teachings of the Tibetan master Sogyal Rinpoche.

Their aspiration is to bring full consciousness to the creative expression of the singing, dance, MIME and clown.

In 2010, Didier and Sara created the retreat center House Saraswati, on the island of Tenerife. Space, nature, 800 metres from the level of the sea, with magnificent views of the ocean and it has rooms to stay and a beautiful room, meditation and yoga.

To learn more about their upcoming workshops and retreats, visit www.teatrodelcorazon.es