The two new books of Ramiro Street
Ramiro Calle ha publicado dos nuevos libros:

Yoga: El método Ramiro Calle

and

El dominio de la mente.

Ambos, de la colección Vivir Mejor, están editados por Booket/Planeta.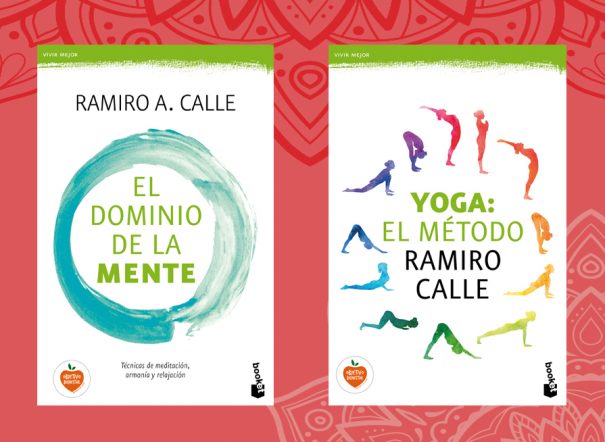 Yoga: El método Ramiro Calle
The work Summit of Calle Ramiro sobre una de las disciplinas más importantes que la milenaria cultura india ha transmitido a Occidente: el yoga.
Adéntrate en su estudio como actitud vital para alcanzar el equilibrio, conoce su influencia positiva sobre nuestro cuerpo y aprende múltiples posturas, ejercicios, técnicas de respiración, relajación, concentración y meditación para hacer frente a los problemas cotidianos. Un punto de vista innovador con el que combatir el estrés, la ansiedad o los malos hábitos tan propios de nuestra cultura. Un método infalible que procura bienestar a nuestra mente y sosiega el espíritu.
Ramiro Calle, maestro yogui con más de cincuenta años de experiencia en técnicas orientales y cuyas enseñanzas han influido en miles de personas en todo el mundo, nos conduce de forma sencilla y natural por los principales secretos del yoga.
PVP: 9,95€
The domain of the mind
Técnicas de meditación, armonía y relajación.
La mente es nuestro mayor misterio y el camino para llegar a conocerla es necesariamente gradual. Con técnicas de meditación, armonía y relajación, entre otras muchas, reeducando la atención y desterrando aquello que nos produce sufrimiento, lograremos hacer realidad esa sabia reflexión que afirma: «No odies tu mente; si no te gusta, transfórmala».
Ramiro Calle, experto en yoga y psicologías orientales, nos enseña en este libro cómo gobernar los pensamientos para estimular lo mejor de la psiquis humana; cómo trabajar en el camino de la salud y el perfeccionamiento de la mente con el fin de contribuir a nuestro bienestar personal.
PVP: 6,95€