Amma's darshan will be in Barcelona
This year, Amma will offer her hugs for the first time in a crowded space of the city of Barcelona, the Palau Sant Jordi. an event that will be memorable. On 3, 4 and 5 November. Would you like to become a volunteer?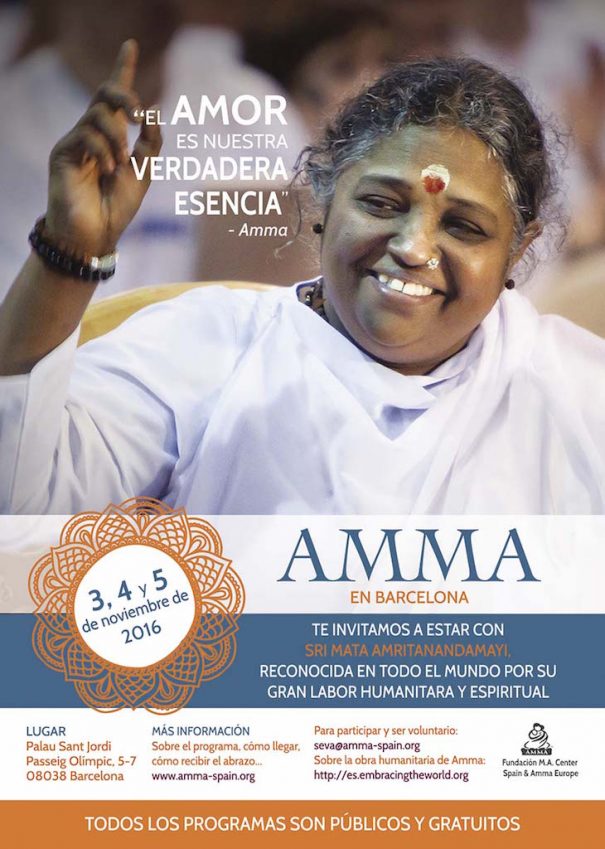 In all countries of the world, both in the East and in the West, all Amma programs are organized through volunteers who offer their time and their efforts so that anyone who wants can inform Amma and enjoy the experience.
From the welcome in the tail until the time of the hug, it person that wants to approach is to Amma can occupy the time of expected meditating, listening to bhajans, in them shops of books, CDs, clothing or crafts Indian, make is an adjustment chiropractic or a session of acupuncture, eat delicious specialties Hindu, fantastic pizzas or tasty sushis vegetable, receive information on them programs social youth or ecology, consulted the astrologer, or buy him a wreath of flowers to Amma.
All the collection of all the services that are offered during the visit of Amma is dedicated to charitable purposes through ETW, Embracing the world"Embracing the world" the NGO founded by Amma.
Why your support is so important because programs become increasingly large and we need people in all areas. For little that you think, any help will be welcome. There are plenty of areas where you can help, surely one is yours! And perhaps discover skills that do not know that you had...
If like give you the experience of offering your time to them others and collaborate in the programme of Amma in Barcelona 2016,fill in the form by clicking here, or write directly to seva@amma-spain.org