CD / "Cosmic Connections Live", what's new in Deva Premal & Miten with Manose
The new work Cosmic connections Live,
que fue grabado durante la gira mundial 2014-2015 por el popular grupo de world-fusión
Deva Premal & Miten with Manose
, ofrece la oportunidad de experimentar la trascendente energía de sus conciertos en directo.
Writes Paul Rego.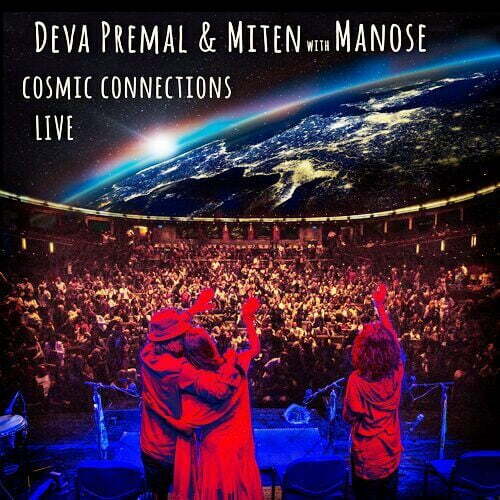 Desde sus grabaciones iniciales juntos en los 90's, Deva and Miten han sido considerados pioneros y líderes en el desarrollo de un nuevo estilo de world-fusión music, mezclando mantras ancestrales con elementos contemporáneos, lo que les permitió introducir el poder transformador y sanador de los mantras en el siglo XXI.
Deva y Miten ven a su propia música como una invitación a tomar un descanso de las incesantes turbulencias de nuestros conflictivos días conduciendo al oyente a un espacio de paz interior, armonía y meditación. Su nuevo trabajo es otro hermoso puente con la conexión cósmica.
The Cosmic connections Live begins with the Mobilizer interpretation on the part of Deva mysterious mantra without time"OM" (Deva y Miten lo llaman "el sí cósmico"). Una corta versión coral abre la grabación y una mayormente instrumental versión de diez minutos cierra la experiencia dando la oportunidad a la banda completa de brillar instrumentalmente. En medio de eso se desarrolla un viaje encantador a un mundo místico que incluye mantras previamente disfrutados por los fans de las grabaciones en estudio que aquí han sido reversionados y grabados en vivo, incluyendo el mantra "Nam Myoho Renge Kyo", "Om Kumara" and "Mangalam".
Estos antiguos mantras están incrustados en los paisajes sonoros de fusión Este-Oeste que se elevan con las voces trascendentes mezcladas con notas luminosas del bansuri, cortesía del maestro nepalí Manose. Entre los sanadores e inspiracionales mantras, Miten aporta intimidad y profundidad con sus baladas ("White Cloud White Swan" and "Native Son") dando equilibrio a la propuesta musical.
Deva toca tanpura y teclados, Miten agrega guitarra y a Manose se lo puede oír tocando la flauta de madera bansuri. Los tres cantan. El trío se une a otros maestros de la música en estos conciertos de colección, como Joby Baker (bajo, percusión y voz) y Spencer Cozens (piano y teclados) que se suman a otros invitados especiales. Además participan de manera destacada público de los conciertos de Budapest, Frankfurt, Edmonton, Bath y Ámsterdam.
Durante sus años juntos, el dúo Deva Premal & Miten, ha presentado su música alrededor del mundo, desde New York hasta Los Ángeles, desde Buenos Aires hasta Río de Janeiro, desde Moscú hasta Kiev y Tel Aviv, desde la prisión de San Quintín a conciertos en halls de toda Europa, proveyendo esos mantras tradicionales trascendiendo todo tipo de culturas y límites religiosos. En los últimos tiempos Manose se suma al dúo aportando el sonido del bansuri de una manera magistral, aportando un ambiente único a las versiones.
Cosmic connection Live is available in Amazon
Paul Rego. Crítico Musical. Profesor de Yoga. Masajista-Terapeuta integral. Diplomado en Medicina Ayurveda de India.