Vegetarian recipes / cordobes Salmorejo
We share great and sanisimas recipes blog 'Eat to live'. Type and kitchen Gauri, Professor of vegetarian cuisine of the Sivananda Centre of Madrid and the affiliated Centre Sivananda Vedanta of Granada.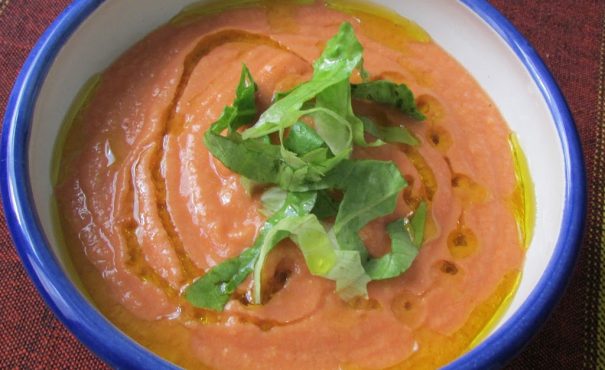 This is a typical dish of my land which was taken in the summer. We propose it as an accompaniment because it is a substantial dish. This recipe is in videoso you can see the step by step. Now we bring it again with quantities for two people.
Very important you prepare and eat it at the time, a couple of hours, after cooling. Does not save it because the ingredients are oxidized, like gazpacho. It is a dish for lunch, not dinner.
Ingredients (serves 2):
White bread of the day above 100 g. (approximately)
2 ripe, fleshy tomatoes (400 g approx.)
A small piece of green pepper (5 cm or less)
A piece of 2 cm. approximately small cut fresh ginger
A little water
extra (better biological) Virgin olive oil 50 ml
½ teaspoon salt

Accompaniment:
Serve with a few leaves of lettuce, cut thin...

Preparation:
Cut the bread into small pieces and place it in a bowl.
Wash and Peel tomatoes. We remove the seeds and the chop small. Wash and chop the green pepper. We mix everything: bread, tomato, pepper, ginger and salt.
Put it in the blender and it grind everything together, adding a little water at the beginning to help beat it. When everything is beaten slowly add oil so it emulsifies well with the ingredients.
Put in the fridge to cool and serve garnished with the lettuce leaves.
More recipes: http://comemosparavivir.blogspot.com
Yoga Sivananda Vedanta Granada-afiliado. T 660288571