Book / pearls of the wisdom Vedic, of Juan Carlos Ramchandani
It is a compilation of quotes from the major Scriptures of the sacred literature of the India, as the Vedas, the Upanishads, Puranas, Bhagavad-gita and Yoga-sutras among others. It also has phrases drawn from the teachings of great masters of the past like Shankara, Ramanuja, Chaitanya, Patanjali and more recent in time as Swami Prabhupada.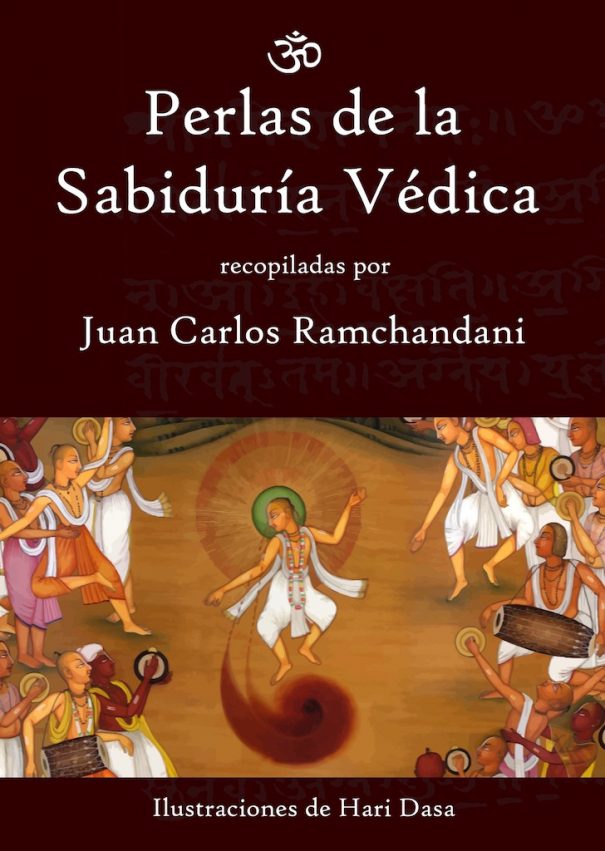 The book begins with an introduction where the author explains the origin and meaning of the term "Vedic wisdom". Citations are grouped around 17 themes, some of these are: the soul, reincarnation, yoga, holy name, vegetarianism, places of pilgrimage, moral values. Some of the quotes have been translated by Ramchandani directly from Sanskrit, bengali and English, others were already translated in a very rudimentary Spanish that has been "polished" by the author. He has counted with the revision of the text and advice of the famed writer and orientalist Alvaro Enterría.
The book is 224 pages and includes a full glossary with the terms, names, personalities and writings to which reference is made. Also counts with illustrations original and design of the cover of the artist graphic Hari Dasa, who is an expert in religious iconography of the India, who already collaborated with Ramchandani on its three latest publications.
It is a publication recommended for yoga practitioners, scholars of Hinduism, and teachers interested in philosophical thinking of other cultures, and especially for those who seek positive inspirational quotes in their lives, regardless of their religious beliefs.
He is the fifteenth book written by Juan Carlos Ramchandani (Ceuta 1970), I published his first work in 1999, and has written more than 200 articles on hindu spirituality and yoga in newspapers and journals since 1994.
All those who purchase the book, will give away it a Cd with mantras of power protection.
How to place your order

Contact: 638-738-662 T Only WhatsApp (Juan Carlos Ramchandani)

e-mail: ramchandanijc@gmail.com