11th you are + peace
A year more, share the call to the XI with you are + peace, that this year will take place the Sunday 25 of September starting from them 11 of it tomorrow in the theatre new Apollo of Madrid. Involved three speakers for not losing is: Fernando Diez, Pablo D'Ors and the father Angel. Organized by the Fundación Ananta.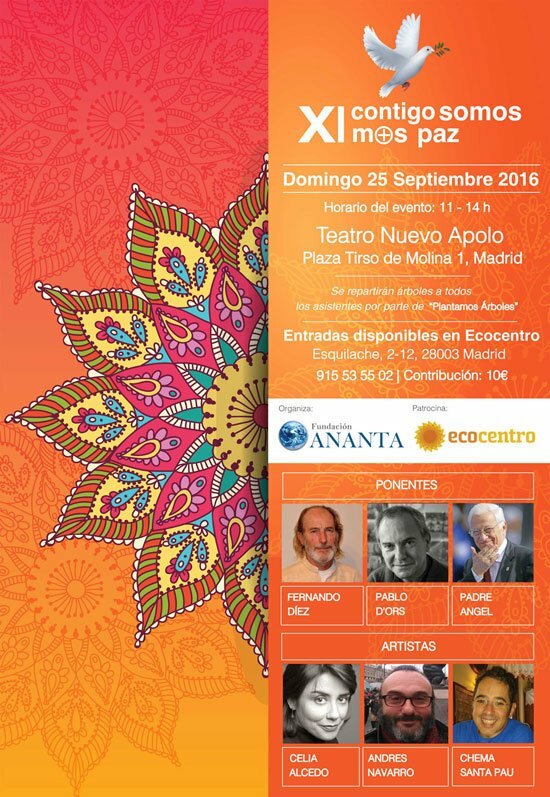 They will participate as speakers the Father Angel, Paul D'Ors and Fernando Díezthat us will talk about finding inner peace in a troubled world, the first two from a Christian focus and Fernando Díez as great Hindu which is.
There will also be two musical and poetic interpretations in charge respectively of Celia Alcedo and Andrés Navarro, and the narrator of the meeting will be the magician Chema Santa Pau.
To the output them attendees will receive the gift of them friends of planted trees, that delivered to each one a tree that have planted and made grow lovingly during a year, with the idea of that each one of us it plante in a place already definitive and it care, contributing thus with 1,150 new trees to the planet.
Them speakers, artists and volunteers of planted trees participate without receiving remuneration any, and les thank its delivery and generosity.
The donation to attend this gathering is €10. The benefits will be allocated to finance the solidarity causes of Fundación Ananta. The event will last until 14: 00 and opens the box office to the 9.30 and doors at 10. Guaranteed punctuality at the beginning and the end.
More information: http://www.fundacionananta.org/web/