Family Yoga Festival Om Shee Om en Almería
Imagine a different holiday for the whole family, with children or without children, for adolescents, uncles, aunts, grandparents, grandmothers, children with special needs, all together. A holiday to grow and learn, filled with activities to discover the body, do yoga, pool and baths in the mud, concerts, excursions, therapies, cinema, friendship, love.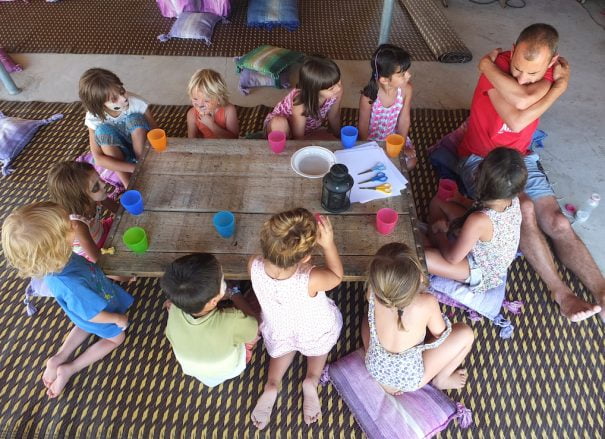 The OM Shree Om Festival It will be held from 22 to 28 August in Almeria. Christine McArdle -teacher of teachers of yoga for children - is the soul of this meeting. We will learn about and practice many kinds of yoga: Shridaiva with Christine McArdle, Acroyoga family with Susann Mayer, Bioyoga, Kundalini yoga and yoga moms and babies with Alba ballad...
We will discuss the different alternative pedagogies with Sara Velazquez and we will offer workshops to apply them to all that we do with children. There will be many artistic activities, play and sensory experimentation with Miriam David Alvarez and Manuel Expósito.
We will offer different sound therapies with Sole Rodriguez, Rafi Fisher, Drago Teruel and Nahua Bilian e invite you to musicians recognized as Ricardo Passos and Abelardo Oquendo, whose work healthy and brings joy...!We are going to vibrate!
The Dr. Odile Fernández will draw us into healing and healthy food and Carlos Gonzalez will offer us a full-day workshop to learn part of the festival to educate from the spirit. Attending continuous training of the Festival workshops you'll get a certificate Om Shree Om.
But where? In the Cortijo Los Baños-Hamam, a magical place, safe, privileged, with farm school and many corners to discover. There we can disconnect, feel nature, create community, and share real potential of all who are in the Festival.
More info: http://omshreeomyogafestival.com/
Reservations: http://omshreeomyogafestival.com/precios-y-reservas/