Through the mist of dreams
Compartimos este poema dedicado a Amma escrito por Hiria Bernal. Mata Amritanandamayi se dice que ha abrazado a más de 34 millones de personas. Su obra social
Embracing the World
es reconocida en el mundo entero.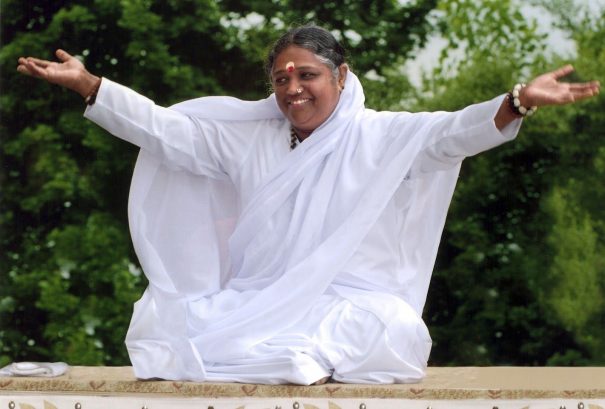 Through the mist of dreams
your body is drawn and sale
como de ningún sitio.
Con agua de lluvia lava su pelo,
mar de carbón puro, con vetas blancas que pinta el tiempo.
Sus pequeñas manos se enroscan en él,
y con la sencillez y gracia de un niño escurre el agua,
which plays Merry in his hands...
Cuando termina, recuesta su cabeza sobre una mesa de patio,
secando el carbón al sol, cierra sus ojos y una sutil sonrisa se adivina en su rostro,
solo Ella sabe dónde está, y así en reposo , emana la luz de un nido de estrellas, y su paz se respira por todos los cuerpos.
Separa sus párpados y amanece dulcemente, mientras te mira,
con un amor que no es de este mundo,
de algún lugar oscuro, que no puedo ver con claridad,
saca unas sábanas blancas, recién lavadas, una a una las tiende en la cuerda del infinito,
con pinzas de amor las sostiene, con atención exquisita, como engarzando almas,
hasta aquí llega el perfume de rosas y sándalo,
cada tela que toca dibuja un Om, que como un holograma puedo ver cuando el sol las atraviesa,
las pinzas son Om, también el suelo que pisa es Om, las plantas que la rodean , los pájaros
que pasan son Om, las nubes… todo a su contacto se deja ver, como la esencia divina que son…
¡Y deseo que ese instante no se desvanezca!
¡Que se quede ahí eternamente! Tendiendo y tendiendo Oms…
Le pido, le ruego, que mi torpe mirada no deje jamás de percibir Om, que los momentos fugaces de éxtasis al contemplarla se vuelvan eternos, que la mirada de mi corazón se despierte y que mis pinzas de tender sean Om, siempre Om, que mi forma de servir se impregne de Om… Om y solo Om, no hay nada más.
Hiria Bernal es profesora de yoga y fundadora de la Escuela de Yoga de Las Tablas. Seguidora fiel de Amma.