The teacher of yoga
Titles are important to prove the knowledge of techniques. In yoga there are also the hours of practice, since the experience in this field is essential to transmit this discipline. But own consciousness and responsibility are crucial in achieving the minimum State required to teach or lead a session. Writes Paul Rego.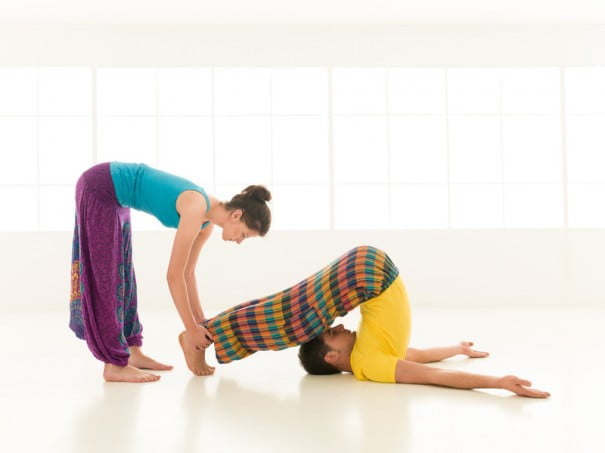 There are different levels of practice and training. Instructors, teachers, siromani, acharya, etc., are title"recognition" of the yogic community and the various schools or associations to determine the knowledge of each practitioner, become guide of yoga sessions after completing a course training.
At present, the yoga boom creates an upward flow in the number of these guides. Frequently arises an abyss, a contradiction, between the spirit of the master Sage which transmits a spiritual discipline with depth and superficial knowledge of those just beginning to practise and are already forming to transmit the yoga.
Before sharing you have to cultivate
In the case of be preparing ourselves to teach as to finding someone with whom our internship, is fundamental in yoga to keep in mind that before that share must grow.
If the teacher, instructor or teacher has not grown over a period of time sufficiently long to mature concepts and acquire wisdom what to share in their daily practice, hardly can transmit these values and lead to fruition to practitioners who follow him.
Wisdom is what is built by merging experience with knowledge. Therefore temperance, observant attitude, the service location, which occupies a real guide during a yoga session, appears naturally in the sadhana as a result of the process of assessment of knowledge applied to practice and learning from this.
Care, containment and care
When people come to a yoga Guide, they have the best predisposition so the session occur the best experiences. Even when someone has difficulties to relax, be guided or trust, sooner or later waiting to happen since, in its interior, is looking forward to be able to get rid of these limitations.
Therefore it is very important to the climate that reign in the place of respect and careful with each being and his inner world. He is not restraint or vacuous free, is the consideration of every presence and that the indications and the transmission of knowledge are filled with tolerance and understanding towards each other.
People go into practice trusting because naturally this attitude in yoga. This brings with it a great responsibility by who stands in front of a practice, since a heart open and ready to receive is vulnerable to the bad energy or traps of the ego and therefore must be extremely careful and respectful with each being.
The demonstration and the correction
Many times it happens that an instructor close in their own practice and is transformed into an image of itself that aims to dazzle with his skill. Never someone who takes many years of practice or having a physical body favoured by weather or genetics, must force or require a practitioner to do what he does, but, rather, must observe and understand each practitioner to help you evolve in their own way.
In all cases it is important that the relationship between the sample and the example, correction and the transmission of knowledge and techniques, are well balanced. A teacher must find the time, the day and the best way to explain and show one asana or particular exercise, but also accompany and corrected with the single aim of helping the practitioner to find their best possible posture, that day, at that moment.
The rhythm within the session
Even though the session of yoga is a space for the disconnection of the intensity of the everyday world, who guides the practice is part of that world and may occur circumstances from abroad from entering the room of yoga from his hand. The same occurs with practitioners, but is the responsibility of the teacher or instructor free circumstances beyond the practice atmosphere.
Therefore it is essential that the use all resources at its disposal, all what he has learned during his own sadhana, to avoid that the session attendees worry about situations created by himself.
Fundamentally, what It must be limited, in all possible cases, it is the presence of the rhythms of the mind, both instructor and practitioner. And that gets sensing session and their times, managing the mental clock time in a lateral fashion, without rushing or trying to include exercises in a given time or fill the time in any way.
The mind times mark almost all of the specific activities of our society. In the yoga room, the teacher must carry everything to the rhythm of the body or emotions, creating a climate of calm and leisurely, but certainly not boring or soporific.
Training
It is not only important to attend a training school. Commitment and confidence in our inner master, perseverance and personal practice are as important as finding a guide that will help us acquire knowledge. The title of Professor, instructor, siromani or acharya without having acquired elements as the awareness in our own routines, little will serve at the time of transmit what we have managed to learn.
It is important not to rush to begin teaching, Let the knowledge to decant, What are able to transmit has a minimum of rooting in our interior and While Let's take him to our own practice will be enough to balance knowledge and experience.
Only when we are able to perceive the transmission of what has been learned from a place of humility, love and understanding of the other, we will be ready to put us at the forefront of a practice. Perceive these qualities in a guide is a good sign to conclude that this being is ready to help other evolve in Yoga.
Paul Rego. Yoga teacher. Integral masajista-Terapeuta. Diploma in medicine Ayurveda of India