The big jump
En una ocasión un visitante le preguntó a Buda por qué unas personas llegaban a la meta espiritual y otras muchas no. Buda puso un buen ejemplo. Si alguien le pregunta a otra persona cómo ir a un lugar y recibe todas las indicaciones perfectamente pero no las sigue, es obvio que no llegará al lugar que se había propuesto. Escribe Ramiro Calle.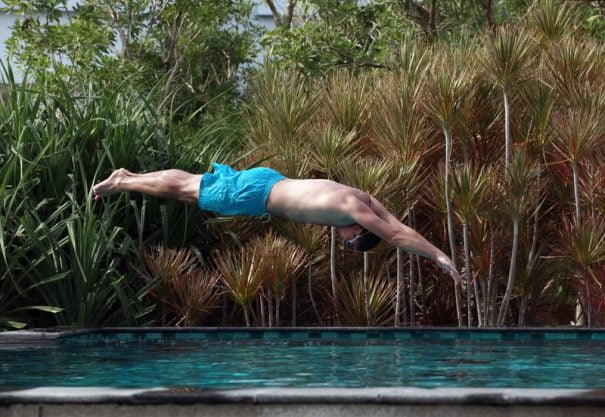 En la búsqueda de la libertad interior y la Sabiduría sucede a menudo lo mismo. Aunque hay una ruta que han señalado todos los más grandes iniciados y maestros, después son muchos los que no la siguen. Eso no quiere decir la la ruta o el mapa no sean totalmente fiables, sino que es el aspirante el que no ha sabido provechar las enseñanzas.
Estas enseñanzas son milenarias y han sido perpetuadas por las mentes espiritualmente más brillantes y de todas las épocas y latitudes. Son enseñanzas prácticas y tendentes a mutar la consciencia, despejar la mente y abrir el ojo de la sabiduría realmente transformativa y liberadora.
El mapa (o estrategia) está muy definido: nada le sobra y nada le falta. Está ahí para quien quiera de verdad encontrar toda la información y métodos adecuados. Pero el antiguo adagio lo deja muy claro: "No basta con pronunciar la palabra luz para que la lámpara se encienda".
La erudición, el saber libresco, el conocimiento conceptual son por completo insuficientes. Las creencias tampoco acercan a la Sabiduría. What counts is the practice that develops the experience that transforms and frees. Hay que combinar el cuerpo de enseñanzas con los métodos prácticos.
La vida cotidiana se vuelve una maestra. Cada momento podemos hacer que cuente en la senda de la evolución consciente, y las adversidades se pueden tornar aliadas en la vía del autodesarrollo. He resumido a continuación una serie de técnicas a incluir en nuestro proceso de transformación:
– El trabajo consciente sobre el cuerpo como método para estabilizar la mente y potenciar las energías. El mejor sistema es el verdadero hatha-yoga, donde nada queda librado al azar y que cuando se efectúa correctamente incide sobre la corporeidad, las energías y la mente.
– La práctica asidua de la meditación.
– El adiestramiento del discernimiento puro para aprender a priorizar en nuestras vidas y poder discriminar entre lo aparente y lo real, lo superfluo y lo esencial, la personalidad y la esencia. Mediante el discernimiento aprenderemos a darle la bienvenida a lo que nos ayuda a desarrollarnos y a descartar lo que retrasa o estanca nuestra evolución consciente.
– La acción más lúcida, consciente, diestra y desinteresada, haciendo lo mejor que uno pueda en todo momento y circunstancia pero sin dejarse obsesionar o encadenar por los resultados, actuando por amor a la obra y no solo por sus frutos, centrando la mente en cada instante como si fuera el primero y el último, valorando el proceso y no solo la culminación del mismo.
– Observar en lo posible la triple disciplina: ética, de cultivo mental y de desarrollo de la sabiduría o entendimiento correcto.
– Explorarse, vigilarse y observarse para irse conociendo más allá de autoengaños, pretextos, subterfugios o enmascaramientos. Estar más atento a la mente, la palabra y los actos.
– No dejarse absorber en demasía por las influencias externas ni por preocupaciones, disgustos, apegos o aversiones.
– Poner bajo sospechas las reacciones egocéntricas, tratando de mitigar el sentido de autoimportancia. Acechar y tratar de superar los hábitos psíquicos insanos o tendencias nocivas.
– Estar en el intento de permanecer más consciente y retomar el hilo de la consciencia cuando se pierda, pero sin autocoacción.
– Mejorar las relaciones con las otras criaturas, valorarlas y sentir su esencia como la propia esencia, desarrollando compasión genuina y buenos sentimientos.
La tarea no es fácil, porque representa un gran salto y es el de pasar de ser un homoanimal a un ser humano. Pero ¿se le puede dar un mayor sentido a la vida que el de humanizarse? Como decía mi muy admirado amigo el gran sabio Nyanaponika Thera: "Si lo quieres, no es un sueño".
Calle Ramiro

More than 50 years has been Calle Ramiro teaching yoga. He began teaching at home and created an Academy of yoga correspondence for all Spain and Latin America. In January of l971 opened its Yoga Center Shadak, that have already passed more than half a million people. His 250 published works include more than fifty devoted to yoga and related disciplines. He has made Yoga the purpose and sense of his life, having traveled a hundred times to India, the homeland of yoga.

Watch the Calle Ramiro Facebook:
https://www.facebook.com/pages/Ramiro-ACalle/118531418198874