Vegetarian recipes / millet with vegetables
We share great and sanisimas recipes blog 'Eat to live'. Type and kitchen Gauri, Professor of vegetarian cuisine of the Sivananda Centre of Madrid and the affiliated Centre Sivananda Vedanta of Granada.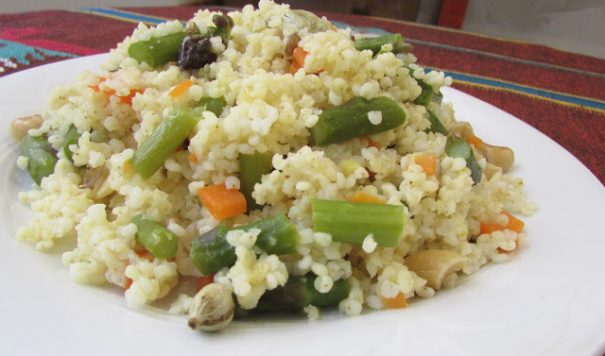 This recipe is a full plate for the midday meal. You can accompany it with a gazpachito or a salad and you have a whole lunch. You can change the vegetables by others that are ground or like you more: Zucchini, green beans, peas...
Ingredients (4/6 people):
2 Tablespoons extra virgin olive oil
200 g. millet (1 cup)
500 ml of boiling water (3 cups)
50 g cashews
1 teaspoon of coriander in grain
½ teaspoon cardamom seeds
½ teaspoon grated ginger
100 g carrots into small squares.
200 g of asparagus.
Salt and freshly ground black pepper
Preparation:
Wash the millet thoroughly with cold water and let it dry.
Put the oil in the Pan and fry the cashew nuts. Remove and reserve.
In the same Pan saute the coriander and cardamom a couple of minutes. Then ginger, carrots and Asparagus Sauté a few minutes more. Add millet and carefully stir all ingredients. Pour the water boiling and when it recovers the boil, cover, reduce heat and cook for 20 minutes, or until the liquid has been consumed.
Put cashews and mix gently to release the millet. Serve hot.
More recipes: http://comemosparavivir.blogspot.com
Yoga Sivananda Vedanta Granada-afiliado. T 660288571