Advaita retreat in August with Swami Satyananda Sarsawati
From 3 to 14 August Swami Satyananda held a retreat dedicated to deepening the practice of Jnana Yoga, or the yoga of knowledge, with the teaching of the Supreme jewel of discernment (Viveka Chudamani) of Adi Shankara. By Mireia Fresno (Shivani).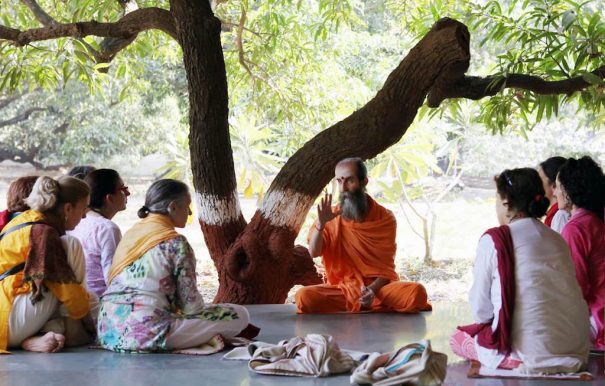 In this masterpiece Shankara It exposes in detail all steps of the process of discernment to knowledge of the reality. It describes the State of self-realization in the form of dialogue between the master and his disciple. Delving deep into the methods of meditation and level, step by step the disciple learns to recognize as the Atman, the self.
The traditional education of Swamiji, direct and uncompromising, is nectar for a deep understanding and experience of the advaita (non-duality).
How will the withdrawal be?
11 days of life of the ashram in nature with morning and afternoon teaching, 2 daily practices of hatha yoga, meditation, singing of kirtans, vegetarian food and places of contemplation and silence. An experiential retreat with all the requirements to facilitate understanding of teaching is revealed little by little the participants inside. An opportunity for share a few days in the company of Swamiji and receive the benefits of this ancient wisdom.
More information and registration: Advaitavidya)www.advaitavidya.org) T. 619 261 773 (Yogeshvari)- inscripcions.advaitavidya@gmail.com
Deadline to sign up to the July 18, 2016
Swami Satyananda Saraswati has lived most of his life in India, dedicated to the study and practice of yoga, the Shaivism of Kashmir and the advaita vedanta. Disciple of Swami Muktananda Paramahamsa, lived for years with direct disciples of Sri Ramana Maharshi who had the opportunity to delve into the philosophy of non-duality.