The celebration of yoga, thanks to schools
About one thousand people participated Saturday, June 25 in the masterclass of yoga which was officially held the 2nd international day of Yoga. This celebration might be, above all, thanks to the efforts of the 16 participating schools.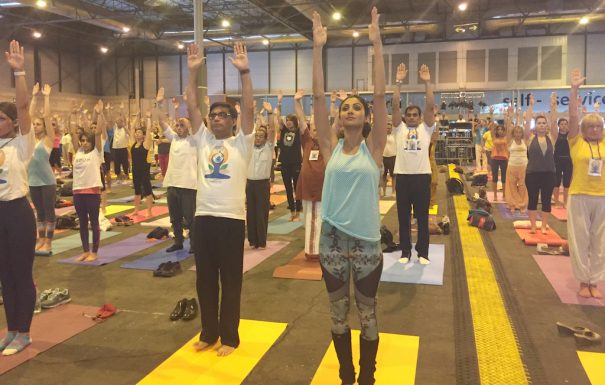 The actress of Bollywood and yoga teacher Shilpa Shetty Kundra He practiced with the Ambassador of the India, Vikram Misri, and much of the media attention was. However, the so-called "week of yoga" could become Thanks to the work of the 16 schools and associations involved, that they opened their doors to free classes throughout the week, and also organized, convened, conducted practices, offered information and moved to its volunteers so the official ceremony Saturday shine and come out perfect, as it was.
Rigour is recognize this work of the 16 collaborating schools, mostly in a "difficult place" as Madrid, it seems that it is easier to divide than consensus, and where - it will not be casual-no there is an annual event, Congress, event or as you want to call it, to celebrate together and share our love and appreciation to yoga between all those who practice them.
In his speech opening the event, the Ambassador recalled that the International Yoga day It was recognized for the first time and officially by the United Nations last year. Thousands of people from different countries have joined mass practices, events and classes to celebrate this ancient system of health and self-fulfilment. Vikram Misri also named all the cities of Spain in which it celebrated the international day of Yoga.
He then presented to the Indian actress Shilpa Shetty Kundra yoga teacher, who on Saturday night would go to the IIFA awards gala)see article of The country), the awards of the Academy International of cinema of the India, along with other Bollywood stars, held for the first time in Madrid.
YogaenRed Thanks once again their work to 16 schools and associations, who after the masterclass led by a 30-minute video, continued sharing teachings and information with stakeholders.