Weekend plans to welcome the summer
¿Qué mejor que practicar al aire libre? Todas las actividades se van "retirando" a la naturaleza, para disfrutar de este comienzo del verano. Pero si no piensas salir fuera de la ciudad, recuerda que en Madrid hay una Master Class en celebración del Día Internacional del Yoga, dentro de los actos oficiales, en IFEMA. Y también un estupendo concierto de Dhrupad con Yvan Trunzler.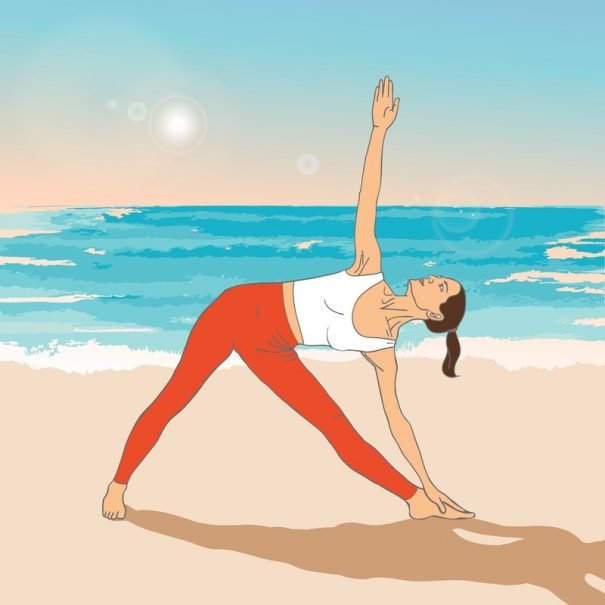 Viernes 24 de junio
Concert of Dhrupad with Yvan Trunzler
Training kids yoga: Cuentinos
Del 24 al 26 de junio. Este taller práctico-teórico-creativo es el resultado de los 28 años de experiencia de Lisa Howe (Harlal Kaur) trabajando como docente con niñ@s, adolescentes y adultos, primero como profesora de inglés, después como formadora de maestros de primaria y secundaria y finalmente como profesora de yoga. Sabemos que l@s niñ@s son muy creativ@s y muy curios@s por naturaleza pero hoy en día reciben muchos estímulos externos y les damos todo masticado así que su creatividad y su curiosidad innata se van apagando.
El resultado es que piden cambios de actividad y apoyos externos para que sigan participando en una clase a lo largo del curso escolar. Teniendo en cuenta estos factores, Lisa empezó a adaptar cuentos para usar en las clases de yoga y después acabé escribiéndolos ella misma. Al practicar el yoga y la relajación consciente a través de los cuentos, integrando las asanas en los cuentos, descubrió que l@s niñ@s se concentran mucho mejor y su creatividad e imaginación se activan.
Where: Centro Yogui Ji, Granada
More information: http://www.yogacuentos.com/?page_id=10
Functional Yoga
Del 24 al 26 de junio. Un fin de semana ideal para disfrutar de una cómoda estancia, descubrir todos los encantos de la naturaleza, profundizando en la practica de Yoga.
They offer: Mihaela Veltan (monitorade yga) y Daniel Barrera Santos (entrenador personal)
Where: Albergue de Bolico. Tenerife
More information: http://yogaya.es/retiro-yoga-yoga-funcional/
Yoga Retreat for educating: 'Wake up the energy to educate the conscience'
Del 24 al 26 de junio. La escuela El Yoga Educa ofrece formación sobre la aplicación del Yoga Consciente y Creativo en diferentes contextos educativos: familia, escuela, educación social, educación en el tiempo libre, espacios de atención terapéutica.
Esta formación está dirigida a todas las personas interesadas en la educación integral de niños y jóvenes desde la perspectiva del yoga y las nuevas pedagogías.
They offer: Lídia Serra López y Ramon Muntanyola Culebras. Organiza: Escuela de formación El Yoga Educa
Where: Cala Morlanda. Mallorca
Information and registration: info@elyogaeduca.org / T 606 974 889
More information: http://www.elyogaeduca.org/es/formacion-el-yoga-educa-bloque-1-me-reencuentro-con-mi-ninonina-interior/?lang=es
Removal of Yoga and emotional management
Del 24 al 26 de junio. A retreat is a great opportunity to be with yourself, to take care to physical, mental and emotional level of learning new tools, experience emotions as never before had done, perceiving the natural surroundings as a gift that gives you life, meet wonderful people who have in common more things than you can imagine.
Whether you've already gone to retreats ever as if this is your first time, you wait with open arms. We will practice hatha yoga to stretch and strengthen the body; meditation and mindfulness for calming the mind and learn to live here and now, fully and consciously; yoga nidra and regressive hypnosis, so what you need to know, and that is in your subconscious, to surface to your conscious mind; laughter therapy, to experience the laughter in a conscious manner, body language, so your emotions emerge from the music, dance and movement.
Where: Hospedería de silence. Robledillo de la Vera (Cáceres)
More information: https://www.facebook.com/events/260999600909220/
Intensive Yoga training for children
Del 24 al 26 de junio. Aprender todas las técnicas y herramientas para enseñar el yoga a los niños, pero sobre todo es una apertura del corazón, es una transformación a nivel personal, es un abrirse a todo tipo de emociones. hay muchas muchas risas en los cursos, pero también lágrimas. Y ya el poder tocar tantos corazones que se conectan en un mismo objetivo, no tiene palabras ni expresión posible, hay que vivirlo…
It teaches: Cayetana Rodenas
Where: Yoga el Galpón. Carrer de la Providència, 63. Badalona (Barcelona)
More information: http://www.yogakidsworld.es/calendario-de-cursos.html
Saturday, June 25
Celebración Día Internacional del Yoga con Master Class en IFEMA
The celebration of the international day of Yoga at IFEMA will start with a one-hour Master Class. During the first half hour will be screened a video produced by the Government of the India that will be practiced by all the millions of people that are going to celebrate this day in all countries.
La segunda media hora, se propondrán diferentes prácticas de Yoga por parte de las escuelas organizadoras. Al finalizar esta Master Class tendrás la oportunidad de obtener información sobre el Yoga, conocer centros y escuelas, y disfrutar de diferentes actividades llenas de alegría.
Program
10.00 - Reception of participants.
10.30 - Inauguration of the international day of Yoga.
11.00 - 30 minutes from the Yoga Master Class screening.
12.00 - Schools representatives of the Organization will then offer a class in different areas of the Pavilion; You can go to the class you want, looks for your school. You can also find training on Yoga and the different proposals for centers and participating schools at the tables enabled inside the Pavilion.
More information: http://diainternacionaldelyoga-madrid.es/
Removal by the Camino de Santiago
Del 25 al 30 de junio. Con yoga, meditación, silencio y técnicas de crecimiento personal. Seis días, para sentir los pasos andados, para conectar con caminos que ya fueron transitados por miles de peregrinos.
Pregúntate: ¿Qué quieres encontrar en el Camino? ¿Cuál es tu propósito? ¿Por qué este es el momento para to para hacer el Camino? ¿Qué es ser peregrino? ¿Quién fue Santiago? Estas y otras preguntas importantes surgen al iniciar un camino de peregrinaje. Es por ello que el camino de Santiago es místico y mágico, pero este será un camino diferente porque será un camino directo hacia el interior a través del cultivo del silencio.
Para ello utilizaremos el yoga, la meditación y técnicas de crecimiento personal para ir sumergiéndonos en este silencio a lo largo de cada etapa. La conexión con la naturaleza también será una herramienta imprescindible para esta interiorización. Estarás, además, bien sostenida por profesionales que te acompañarán a lo largo de tu camino. Una oportunidad de auto conocimiento, para que salgas de este viaje, con otros paisajes en tu mente y en tu alma.
Where: Roncesvalles (Navarra)
More information: http://www.santiyoga.es/
Domingo 26 de junio
Yoga Retreat in nature
Del 26 de junio al 2 de julio. 7 días en la Reserva Natural de Grazalema, Cádiz. Con El Reino de Nita. Alojamiento en una gran casa andaluza con jardines infinitos y tres piscinas en medio de la naturaleza. Cada habitación o apartamento tiene su propia terraza. Empieza tus mañanas con Ashtanga Yoga estilo Mysore combinado con clases guiadas de Ashtanga.
El estilo Mysore es la forma más segura de aprender a practicar yoga o de llevar tu práctica a otro nivel, y contarás con tres profesores en la sala. Esta forma de Yoga te permite desarrollar tu práctica de forma individual además de poder practicar en cualquier lugar tú sólo. Además todas las tardes contarán con diversos talleres desde masaje tailandés, introducción al acroyoga, yoga entre dos, meditación con malas y guiada o yin yoga entre otras actividades.
Tres comidas vegetarianas al día incluidas (adaptable para veganos). Actividades extras que puedes realizar en el tiempo libre: senderismo, canoa, escalada, rapel, kayak, aerodelta (no incluidas en el precio).
Where: Reserva Natural de Grazalema (Cádiz)
Price: 895€ por persona
Contact: info@elreinodenita.com
More information: http://www.luciayoga.com/ashtanga-yoga-retreat-with-nita-june-south-spain/
Celebramos el Día Internacional del Yoga: Master class + almuerzo
Nos sumamos a la celebración, es tanto lo que le debemos al Yoga. Gracias de todo corazón. Habrá una secuencia generosa y larga de asanas bien escogidas, tiempo de sobra para disfrutar de variados pranayamas y una relajación profunda y completa. La Meditación fruto de la quietud natural coronara la práctica. Música & Mantras, siempre… para endulzar el corazón.
Entrada libre. Todo el mundo es bienvenido. Ven a disfrutar. Tráete el almuerzo para compartir entre yoguis
Inscriptions: info@yogaartstudio.com / Eva Klimberg T 645584395
Where: Parque de la Manguilla, C/ Lepanto, s/n. El Escorial (Madrid)
More information: http://www.yogaartstudio.com/