It is celebrated the international day of Yoga in conscious Trafalgar
Para conmemorar el Día Internacional de Yoga, se celebrará un encuentro de maestros de varias escuelas y países en Caños de Meca (Cádiz). El 21 de junio habrá clase de yoga gratuita para todos los asistentes.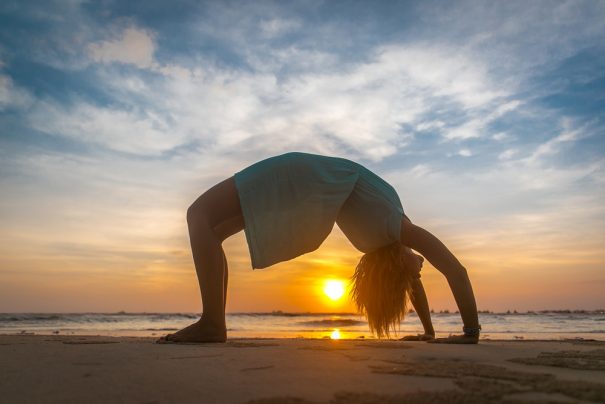 Coinciding with the second edition of the Día Mundial del Yoga, se celebra en Caños de Meca (Cádiz)el Festival Trafalgar Consciente, entre los días 22 y 26 de junio. El día 21 de junio la profesora Silvia Jaén will conduct a free class para todos los asistentes. Esta iniciativa está organizada Televisionconsciente.com, patrocinador del Festival.
La clase tendrá lugar a las 11 de la mañana y será retrasmitida a su vez en streaming por Televisión Consciente.
Trafalgar Consciente contará con la presencia de profesionales y aficionados de diferentes ámbitos, tanto de Yoga, Meditación o Tantra, entre muchas otras prácticas.
To culminate the celebration of the "mes del Yoga", Trafalgar Consciente contará con varios conciertos, entre ellos, Mirabai Ceiba, grupo destacado de la denominada música consciente, con gran éxito internacional.
Por todo esto y mucho más, Conscious Trafalgar será el punto de encuentro ideal para los amantes del Yoga y prácticas conscientes uniendo en un mismo evento la celebración del Día Internacional del Yoga, la noche más larga y mágica del año y la posibilidad de encontrar un intercambio real entre profesionales y aficionadas de una de las prácticas más antiguas de la historia.
21 de Junio Yoga Day – Clase Gratuita con Silvia Jaen

11.00h en Las Dunas C/ Cabo de Trafalgar 258, 11159 Los Caños de Meca
Conscious TV es el primer canal de vídeos online en español con contenidos dedicados en exclusiva al desarrollo de una vida saludable y consciente. En la plataforma encontrarás contenidos de diferentes disciplinas cómo puede ser yoga, meditación, tantra, alimentación saludable, vedanta, cine y documentales conscientes. Podrás disfrutar de contenidos gratuitos y cursos de pago grabados con los mejores profesores en entornos naturales. Televisión Consciente es un proyecto multipantalla disponible desde cualquier dispositivo: ordenador, móvil, tablet y Smart TV.