Plans for the weekend
Have you ever thought what do this week end? If you have not yet decided but want to connect with your inner, we recommend these activities. There are quotes in all Spain, for all tastes, for all the encouragement, for all levels. If you dare, grab your mat and are looking for your place in the Sun!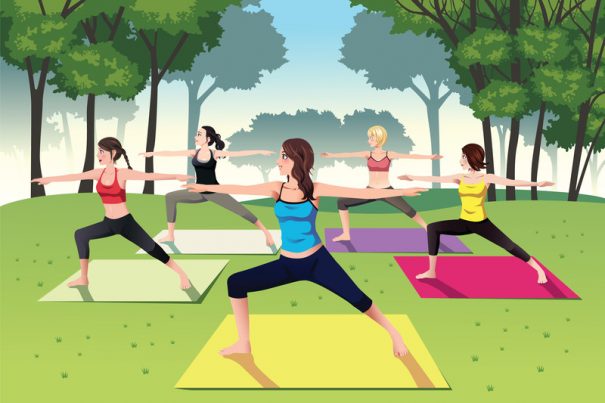 Friday, June 10
Yoga training for children with different capabilities
10-12 June. City Yoga and the Yoga school kids Om Shree Om, les are pleased to present for the first time in Spain this training in order to better serve the children all. This training consists of three modules. For who? Parents, yoga teachers, school teachers and professional pediatricians. It is not necessary to have had experience in yoga.
Module 1 in this session of Friday afternoon is trabajran scenes feared to work with special needs and technical factors to consider to develop the beginning of the session.
It teaches: Arantxa Bermejo
Opening hours: Friday, 10 June, 18.00 - 21.00 and Sunday, 12 June, 10.00 - 18.30
Arantxa will address the issue of disability from a systemic point of view, in order to understand that we are all part of a whole and that we are United (basic principle of Yoga). Thus, that everything is expressed individually and internal in the body, as a unit, and externally as an interconnected system of which we are all part (Social Yoga)
Arantxa Bermejo bust, Bachelor in environmental sciences, psychotherapist of Gestalt, an expert on various alternative therapies used in their work with children and adults. Arantxa is already formed in Yoga for the Special Child and has been sharing the yoga therapy with children in Spain during the past four years.
Topics:
Fundamentals and recent discoveries of science and neuroscience of autism, down syndrome, dyslexia and attention deficit hyperactivity.
Neurodevelopment. Basic concepts. Cerebral laterality.
Neuroplasticity. Concept and applications.
Theory of mind and mirror neurons.
More information: http://www.city-yoga.com/servicios/formacion/yoga-para-ninos-con-distintas-habilidades
Retirement: yoga & conscious dance circle
10-12 June. Enjoy a spiritual retreat weekend with energy practices of Hatha, Kundalini and Vinyasa yoga in pairs. We will explore powerful techniques of pranayama and meditation in nature. And also have the opportunity to merge with the aware dance art. In a natural setting of incredible beauty, Casa Venera, in the heart of Sierra de Aracena, villa of chestnut of Robledo, Huelva province. 1 hour 15 minutes from Seville. There will also be a theory but more importance will be given to the practice. Check out nature, hiking and good ecological vegetarian food of the place. All levels from beginners to experienced Yogis
Info and reservations: GEMA Delmo and Maria Leria the Sisters of the Sun
More information: http://www.casavenera.es/
The Network of Love, aware relationships workshop
10-12 June. In The Network of Love you will you embark on a journey of discovery of your true capacity to love. With the help of enlightening lectures, fun exercises, and group discussions, you can achieve a true and deep transformation.
Discover your Sexual essence. Do you feel a person more balanced, male or female? Do these words mean exactly? Are you satisfied with your intimate relationships, or feel that there is a mismatch between what you want and what you get? Knowing your "sexual essence" is a fundamental information for your intimate life, and help you understand why they attract certain people and not others in your privacy.
Where: Chandra Ibiza, C / Vara del Rey 9 1st floor. Ibiza
More information: http://fragmentsofevolution.org/the-network-of-love-es/
Removal of opening: Rise & fly
10-12 June. Meeting in nature to expand the vital energy and open to the trust. -AcroYoga, Kundalini Yoga and massage Thai - music live in charge of Shunya Sangeet - diet eco-vegetariana of proximity is not required previous experience or turn with partner.
They offer: Sonia Lindia, Yoga and AcroYoga teacher | Daniel Gomis, Yoga teacher
Contribution: €190 all included
Contact: danielgomis@gmail.com | T 617 16 83 92
Where: Gîte Cabanya Boscana. Borredà, Berguedà (Barcelona)
More information: https://yogaycreatividad.com/
Train you as a teacher of Yoga for niñ@s
10-12 June. Parents, teachers, and teachers of yoga of all traditions can benefit from these ideas, games and techniques, fun and cheerful. For adults, this course is the opportunity to connect with your inner child, key to enter into the magical world of children. A creative and expressive program of yoga for children created by Gurudass Kaur Khalsa. It consists of 22 hours of deep training.
You will learn and experience the different components that can be mixed and United to create dynamic and sensitive kinds of yoga for children. Learn how to inspire children to participate, maintaining their interest and attention while having fun. Experience a wide range of creative games, exercises, postures, meditation, etc. in person to incorporate into your classes. You will learn to create and encourage an atmosphere of enjoyment and acceptance where children will discover their own sense of harmony. You will learn how to organize a class to ensure your success. You will learn from a professional with extensive experience what works and what doesn't!
Note: You will receive a manual, 2 music CDs, 1 DVD with 3 kinds of music and movement and a Childplay Yoga certificate.
It teaches: Gurudass Kaur Khalsa (USA)
Price: €295
Contact: info@enlazaconciencia.net / 650-481-845 T
Where: Jania c / Costa, 8, 4º izq, Bilbao
More information: http://www.enlazaconciencia.net/childplay-yoga/
Photography as a tool for personal development
This workshop is an opportunity for personal growth through self-knowledge, creative development and discovering your own photographic identity. Photography allows us to reflect, explore and express our interests through the result of images. Compared with spoken language, images can establish a direct connection with the emotional through his character symbolic and metaphorical, allowing us to develop a unique approach and find creative solutions to our ideas.
From this point of view, the photographic activity facilitates the own discovery. In this workshop, all issues are treated in a practical and applied way with the use of psychological resources on the work of each participant; proposing a space for reflection that ensures adequate and effective expression of our photographic identity. In addition, enjoy the process of developing analog, recovering the pause and the consciousness of work light to turn it into a work of art, using the physical process as a metaphor to reveal your own look. The workshop includes all the necessary equipment so that you get your own reproduction on photographic paper. The photographic technique will not be a problem in the development of your project, we will resolve all the questions so you can get the picture that you imagine. Three days of coexistence in Calima, enjoying nature, rest, gathering and pool, in a marvellous setting.
The workshop is especially aimed at people searching for new tools for self-discovery and personal development. As well as, interested in photography wishing to enhance their creativity, discover your photographic identity and develop their own project. People interested in start in the process of developing analog.
Contact: 626-917-801 / calima@centrocalima.com
Where: C/Nova Malvarrosa, n. 46149 - Gilet (Valencia)
More information: http://centrocalima.com/
Removal of yoga and kirtan
10-12 June. What you'll find in this recall? -Practice: Hatha Yoga, breathing (pranayamas), technical relajación(Yoga Nidra), meditation and Kirtan (singing of mantras).
Soft trekking in the surrounding area.
Nature: free time to discover and enjoy the environment.
It includes two nights in a room with a private bathroom. Homemade vegetarian food.
They offer: Aksara, Professor of hatha yoga and meditation formed in the school of Satyananda. Susana (Subhadra), Professor of hatha yoga and meditation formed in the school of yoga G.F.U and Satyananda school.
Contact: info@vrindayoga.com / T 615475750
It organizes: Vrindayoga
Where: Villanueva de la Vera (Cáceres)
More information: http://vrindayoga.com/es/
Weekend ' Yoga of summer '
10-12 June. Do you want to deepen your yoga practice and kick off your summer? Treat yourself to this dip in yoga (Hatha Vinyasa Yantra - Tibetan - and in pairs). In addition, it disconnects in the mountain. Tibetan meditations for healing and purification, hiking, power satvica, zen walk, bathing in the River, Hindu tales... We met in the mountains of Madrid, in a setting perfect in nature, surrounded by mountain, which will allow us to disconnect and enjoy both activities and free time.
Contact: 686 92 16 75 WhatsApp t / ruthdelamano@gmail.com
Where: Camorritos. (Cercedilla) Madrid
More information: http://delamanodelyoga.blogspot.com.es/2016/04/fin-de-semana-de-yoga.html
Saturday 11 June
Seminar Yoga Nidra: technique for deep relaxation, with Danilo Hernández
11 to June 13. Yoga Nidra is a systematic method to induce deep relaxation physical, mental and emotional. Yoga Nidra means "conscious dream", is a State between wakefulness and sleep. "Practicing yoga Nidra opens the deep layers of the mind (conscious and unconscious), and this way it is possible to transform the nature of the mind, developing his creative genius and its healing potential" (words of Swami Satyananda Saraswati).
"There are many techniques that perform the purification, transformation and development of the human being. Some are very attractive, spectacular or demanding. Others include complicated rituals, symbolic elements or paraphernalia. There are also very striking promise wonderful effects and the end result tends to be 'much ADO and ADO' practices. Others are on the other hand, deeply from the silence and naturalness. The admirable method of Yoga Nidra is that it transforms and develops the individual in a gentle and simple manner by all the structures of mind-body relaxing." (Swami Digambarananda).
It teaches: Danilo Hernandez (Swami Digambarananda)
Opening hours:
Friday from 19:00 to 21:00 h
Saturday from 10:00 to 14:00 and from 17:00 to 21:00 h
Sunday from 10:00 to 14:00 h
It organizes: Akhanda Yoga space
Contact: Maria Hernandez 653 384 452 T / akhandaespaideioga@gmail.com
Price: €135 Akhanda alumn@s – €150 the rest of participants
Where: House of spirituality C / Reverend Gabriel Bestard, nº 3 - to are rock, Palma de Mallorca
More information: http://www.yogabindu.net/escuela-yoga-madrid-chamartin/event/676/?instance_id=2655
Intensive Yoga and meditation 'fuego'
An intensive day of practical yogic environment to the third chakra and the element fire. Meditations, extensive sessions of yoga and circle of work on our relationship with this element and its implications. Fire governs our ability to decide and act to purify. The spiritual practitioner works so that of the personal self will follow the will of the spiritual self.
Association for the harmonious development of being human "Ahimsa top Andalusia".
Teacher: Carmen old heir (Ahimsa), a degree in information sciences and entitled by the Yoga Vedanta Academy (School of Sivananda) and by the Spanish Association of practitioners of Yoga (school Manuel Morata).
Where: Youth Hostel of Viznar, Granada
Information: TF. 620549192 / ahimsayogandalucia@yahoo.es
Intensive Vinyasa Power Yoga Flow
The practice will accommodate different purposes and capabilities adapted to the audience, so that each starts from where it is and moves in a conscious way as it progresses from asanas simple to more complex ones; Since most basic scripts to athletic and demanding sequences on the physical level. Of all the disciplines that the contemporary yogas are enriched include dance sequences (yoga dance, sacred dances of Gurjieff...), martial arts (Budokon yoga...) and group yoga and couples that allows the execution of asanas joint and acrobatic. Thus creating creative scripts and original that motivate and will surprise the student during the whole practice.
Where: Yoga Center Muladhara. Avda Cabo de Gata, 275, C, Almeria
More information: http://yogamuladhara.com/taller-intensivo-de-vinyasa-power-yoga-flow/
Training kids yoga: Cuentinos
11 and 12 June. This practico-teorico workshop - creative is the result of 28 years of experience of Lisa Howe working as a teacher with niñ@s, adolescents and adults, first as an English teacher, then as a trainer of teachers in primary and secondary education and finally as a yoga teacher. We know that niñ@s l@s are very creativ@s and very curios@s by nature but today receive many external stimuli and give all chewed so your creativity and your innate curiosity are shutting down.
The result is that ask for changes in activity and external support so continue participating in a class throughout the school year. Taking these factors into account, I began to adapt stories for use in yoga classes and then I ended up escribiendolos. To practice yoga and mindful relaxation through tales, integrating the asanas in fairy tales, I discovered niñ@s l@s concentrate much better and your creativity and imagination are activated.
It teaches: Lisa Howe (Harlal Kaur), teacher of Kundalini yoga, trainer of yoga for niñ@s, writer of children's stories, English teacher, co-founder of the Association yoga school and creator of the Cuentinos training course.
Where: Center intimate, Murcia
More information: http://www.yogacuentos.com/?page_id=10
'Open your Heart Yoga' workshop
During the session we will practice various techniques in connection with the deeper spheres of being. We will combine asanas (yoga postures) work emphasizing the opening chest and shoulders, along with deep exercises to improve your breathing capacity (pranayama) and a special meditation to open Anahata Chakra (heart chakra). Anahata Chakra is a guide along the path of the unconditional love and through a conscious work we can strengthen the bond of compassion with the rest of the beings. We invite you to discover the silence that rests in the center of your chest.
Opening hours: from 12:00 to 14:00
It teaches: Shahar Abiad, experienced therapist and yoga teacher. It provides classes, courses and retreats of yoga in Europe, Israel and Argentina
Price: €25 / €20 (Katymandu subscribers)
Reserve: katymandu@gmail.com / T 622 210 866 (Shahar), 618-190-201 (Katy) Shahar Abiad
Where: Katymandu Yoga Poblenou c / Taulat 77, Poblenou, Barcelona
More information: https://katymandu.wordpress.com/taller-open-heart-yoga-barcelona/
Hatha Yoga Workshop
"Building the āsana grassroots II." The importance of the center of gravity,"the practice of āsanas of foot, prānāyāma and relaxation complete session, will be one of 1 h and approximately half, in the first hour of the program explain the foundations and concepts of reference, which will be applied in practice. The implementation of explained will start from the āsana component. Once correctly installed position. The practice began. The last 15 minutes for questions and comments.
Where: Hospitalet de Llobregat. C/Ebre 18. Barcelona
More information: http://www.yogasuryachandra.es/
Sunday, June 12
Session of Yoga Nidra
Yoga Nidra and the power of innocence.
It teaches: Juan Peláez
Registration: T 630.95.21.22 / yoganidracanarias@gmail.com
Investment: €15
Where: Development Center Armonic. Calle Diego de Alcalá, 1. Palmas de Gran Canaria
More information: https://juanpelaezescritor.wordpress.com/