Vegetarian recipes / fast Cupcakes with Mint chatni
We share great and sanisimas recipes blog 'Eat to live'. Type and kitchen Gauri, Professor of vegetarian cuisine of the Sivananda Centre of Madrid and the affiliated Centre Sivananda Vedanta of Granada.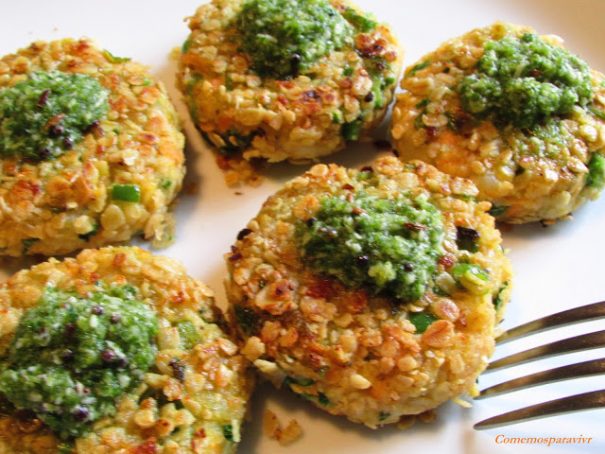 Esta receta también es una buena para los niños y las niñas, suprimiendo el jengibre y la pimienta para que no tenga un sabor picante. Puedes poner en su lugar una cucharadita de sésamo molido.
Ingredients (4 personas):
1 taza de copos de avena
½ Cup shredded carrots
1 taza de patatas peladas, cocidas y desmenuzadas
½ Cup grated cheese
¼ cup chopped cilantro leaves
1 cucharadita de zumo de limón
½ green pepper minced very
1 cucharadita de jengibre rallado
½ teaspoon freshly ground black pepper
Salt to taste
Extra virgin olive oil
Preparation:
Combinar todos los ingredientes excepto el aceite en un bol y mezclar bien.
Dividir la mezcla en 8 partes iguales y hacer bolas del tamaño de un limón. Aplastar la bola hasta que quede en forma de disco.
Rebozar los discos en copos de avena hasta cubrirlos completamente por ambos lados. Engrasar una sartén anti-adherente con ¼ de cucharadita de aceite y poner los discos sobre ella.
Cocer durante 2 o 3 minutos hasta que los discos se doren a fuego medio. Voltearlos y rociar con más agua si es necesario. Servir calientes con un chatni de menta.
Mint Chatni
Ingredients:
1 taza de hojas de menta
1 taza de hojas de cilantro
1 cucharada de coco rallado
2 cucharaditas de aceite
The juice of ½ lemon
1 pimiento verde (opcional)
1 poquito de agua para hacer el chatni
¼ teaspoon of mustard seeds
¼ teaspoon of cumin seeds
Salt and sugar to taste
Preparation:
Poner en una batidora las hojas de menta, el cilantro, el coco rallado, la sal, el azúcar y los trozos de pimiento verde. Mezclar bien y añadir el zumo de limón.
Calentar el aceite, freír las semillas de mostaza, esperar a que salten y seguidamente las semillas de comino. Añadir a la mezcla batida.
More recipes: http://comemosparavivir.blogspot.com
Yoga Sivananda Vedanta Granada-afiliado. T 660288571