Dharana, tighten the bow
El practicante de yoga es un guerrero, un luchador que busca la conquista de sí mismo, hacer de su cuerpo y de su mente hábiles y resistentes instrumentos para la superación de los obstáculos que le separan del Ser.
Carmen old writes.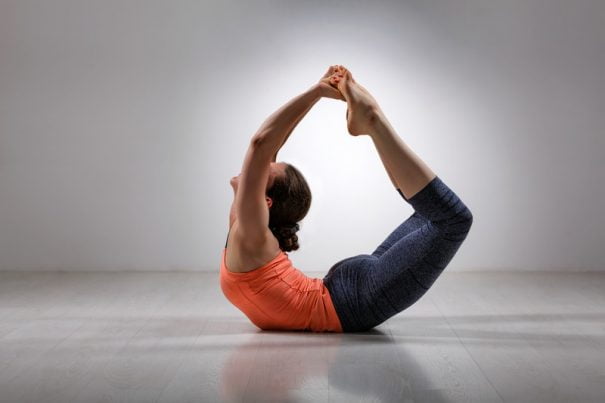 In the Adi Parva of the Mahabharata It tells us about the feat of Arjuna (asimilable al alma del iniciado), junto a Krishna (el Maestro Interior o Conciencia Crística), cumpliendo con el encargo de quemar el bosque Kandava, sede de los pensamientos, deseos y reacciones del ego.
Arjuna accepts this assignment you proposing Agni, señor del Fuego, pero solicita para poder cumplirlo un arco suficientemente poderoso. Este arco en el Yoga es Dharanâ, la capacidad de concentrarse, asegurar la mente, libre de fluctuaciones, "banda cittasia", asida, sujeta, dominada.
Dhàranâ, tensar el arco, es todo un proceso que requiere fuerza física y mental, y señorío en la técnica. El arquero debe tener suficiente equilibrio personal para mantenerse libre de distracciones, deseos o huellas del pasado.
Un arco no se tensa en un día; precisa años. Su técnica no se improvisa; requiere una cadena probada de iniciado a iniciado, protegida por la tradición maestro-discípulo, que no se compra ni es objeto de consumo, sino que se obtiene por superación personal, purificación y constancia.
Tensar el arco capaz de lanzar la flecha de nuestra alma a la diana final del Ser, convierte al practicante en héroe, al buscador en cazador, al humano en iniciado.
La casualidad o la suerte no cuentan. Los méritos solos los conoce la esterilla personal. De la técnica nada sobra ni falta. Viene definida, sistematizada y conservada desde tiempos inmemoriales.
Tensar el arco no es para flojos, vacilantes, impacientes o impulsivos, sino para la afortunada alma guerrera del yogui, modesta, sencilla, calmada y trabajadora, que dedica su vida a la práctica íntegra de las disciplinas yóguicas a través de sus ocho miembros, ocho pasos en los que se avanza en espiral, hasta conseguir una strong and precise mind como el arco que Agni regaló a Arjuna. Un arco de nombre Gandiva: "Luego tensó el arco; el sonido de la cuerda era terrible y estremeció a Arjuna como nada le había estremecido hasta entonces…".
Carmen old heir (Ahimsa). Yoga teacher, a degree in information sciences and entitled by the Yoga Vedanta Academy (School of Sivananda) and by the Spanish Association of practitioners of Yoga (school Manuel Morata).

Workshops and retreats in Granada. Próximas fechas: 11 de junio "Fuego. Tercer chakra".

Retiros del 28 al 31 de julio en Válor y del 17 al 22 de agosto en la Loma de Gualchos.

Information: 620549192 Tf. ahimsayogandalucia@yahoo.es