June retreats
June is a month that lends itself to short but intense, retreats in environments always natural beauty and enjoy good weather. YogaenRed has made this selection with the information, incessantly reaching the drafting. They are arranged chronologically.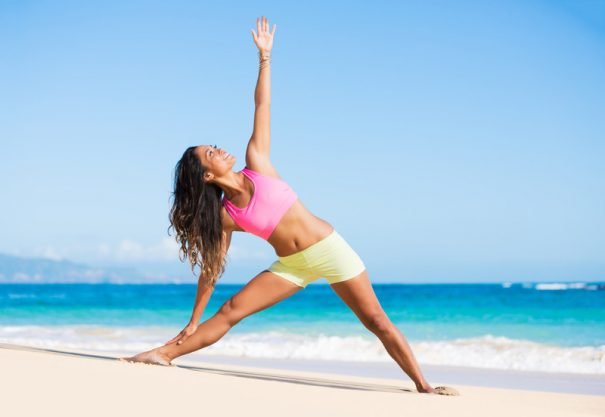 Removal of Hatha Yoga life. Know the heart
From 3 to 5 June
Where: Natural Park of the Strait. Tarifa (Cadiz)
Taught by Andi Riley. It has its roots in classical Hatha Yoga from the tradition of India where "Ha" means the breath of the Sun and "Tha" the breath of the Moon (in Sanskrit). It is the union of these opposing energies (male and female, light and darkness, heat and cold, active and passive) which helps us to find balance, strength and flexibility in all parts of life through the regular practice of postures (asana), conscious breathing (pranayama) and meditation. It includes techniques and Tantra Yoga exercises that is focused on spiritual growth and the evolution of consciousness both personally and collectively.
The vital part has its branches spreading upward, opening up to receive and incorporate other esoteric teachings and practices, which support the growth and well-being in a world that is evolving for Andi. Includes (among other things): meditation and guided imagery; work with the mandalas; sacred silence; the energetic principles of polarity therapy; the touch of your hand; the vibration of the sound and the voice; as well as the immense simply consciously living benefits and in harmony with nature.
The withdrawal is aimed at people of all levels of yoga. Each one will work according to their capacities and its limits. Each person will have proposals and variations of asanas depending on experience and ability.
The goal of the retreat is that, through the connection with Anahata chakra, each person return home knowing better the collective heart and his heart so that it continues to grow in love and peace. Also that every person comes out of the seed more relaxed, revitalized and balanced.
In June already feel the power of the Sun, especially here in the South: wherever we look we find evidence of new life and rebirth. We will be able to take advantage of the heat and spend time in the beautiful beaches of the area even swim in the Atlantic Ocean.
More information: http://www.lasemillabolonia.com/agenda/retiro-de-hatha-yoga-vital/
Removal of Yoga Vinyasa Krama
From 3 to 5 June
Where: Posada Real days of moon, Sena de Luna (Leon)
Taught by Oscar Montero. The retreat begins Friday evening and ends on Sunday after eating. Them classes is combine with time free: to enjoy of the environment with the five senses, of the company or simply rest or stroll. Becomes a practice before breakfast, before eating and another before dinner. Practices combine practical work with lectures on philosophy or concerns that are of any type. It is a time to deepen and meet us in a very relaxed and friendly atmosphere.
More information: http://www.yogavinyasakrama.com/
I Bhakti Yoga Karma weekend
From 3 to 5 June
Where: Masia Can Gori, Peralada (Girona Alt Emporda)
When we develop the consciousness of the heart we realize that the quality and quantity of our mind-stream changes. So it is when we can develop the consciousness of an I different from that we identify in the mind, not subject to constraints and unmet needs. It is then when it starts the real transformation of the person, the true Karma and true Bhakti Yoga.
What are your relationships like?
Your thoughts, do around what turn?, are you the center of your mental activity? Not the answer immediately, see.
Which component of fear is there in your life?, do you ever stopped to think what frightens you and why?
If we suffer are asleep, what degree of suffering is there in you?
We have problems if we are asleep and the psychological self who created us: does your self psychological, your mind create problems?
Awakening is reborn, a new person, let the mind spilling in the heart.
It organizes: Centre de Yoga Siddharta
More information: http://www.centredeioga.com
Removal of initiation to the Vipassana meditation
From 6 to 10 June
Where: Ashram of the Mahashakti Yoga school, Sierra de Ujué (Navarra)
For five days we propose an intensive meditation Vipassana Integral in silence, a profound work freed from religious aspects, which enables the use of this technique in everyday life.
More information: http://escuelamahashakti.com/
Retirement: yoga & conscious dance circle
From 10 to 12 June
Where: Casa Venera, in Castaño del Robledo (Sierra de Aracena, Huelva)
Enjoy a spiritual retreat weekend with energy practices of Hatha, Kundalini and Vinyasa yoga in pairs. We will explore powerful techniques of pranayama and meditation in nature. There will also be a theory but more importance will be given to the practice. And we will also have the opportunity to merge with the aware dance art.
In a natural setting of incredible beauty in the heart of Sierra de Aracena; Chestnut of Robledo, Huelva province. An hour and 15 minutes from Seville.
Check out nature, hiking and good ecological vegetarian food of the place.
All levels from beginners to experienced Yogis
Info and reservations: GEMA Delmo and Maria Leria
More information: http://www.casavenera.es/
Removal of opening: Rise & Fly
From 10 to 12 June
Where: Albergue rural Cabanya Boscana, in Borredà (Berguedà, pre-Pyrenees, Barcelona)
They impart Sonia Lindia, yoga and AcroYoga teacher and Daniel Gomis, Yoga teacher. Meeting in nature to expand the vital energy and open to the trust.
AcroYoga, Kundalini Yoga and massage Thai
In charge of Shunya Sangeet live music
Diet eco-vegetariana of proximity
No previous experience required or go with partner.
Contribution: €190 all included. (€175 for bookings until June 1) Seats limited
Reservations: danielgomis@gmail.com | T 617 16 83 92
More information: https://yogaycreatividad.com/
Removal of Yoga and Kirtan
From 10 to 12 June
Where: Villanueva de la Vera (Cáceres)
They offer: Aksara, Professor of hatha yoga and meditation formed in the school of Satyananda, and Susana (Subhadra), Professor of hatha yoga and meditation formed in the school of yoga G.F.U and Satyananda school. What you'll find in this recall?
Practice: Hatha Yoga, breathing (pranayamas), technical relajación(Yoga Nidra), meditation and Kirtan (singing of mantras).
Soft trekking in the surrounding area.
Nature: free time to discover and enjoy the environment.
It includes two nights in a room with a private bathroom. Homemade vegetarian food.
Contact: Vrindayoga. info@vrindayoga.com / T 615475750.
More information: http://vrindayoga.com/es/
Weekend ' Yoga of summer '
From 10 to 12 June
Where: Camorritos. Cercedilla (Madrid)
Do you want to deepen your yoga practice and kick off your summer? Treat yourself to this dip in yoga (Hatha Vinyasa Yantra (Tibetan) and in pairs). Also disconnected in the mountain: Tibetan meditations for healing and purification, hiking, power walk Zen, satvica, Hindu tales, baths in the river...
We meet in the sierra de Madrid, in Camorritos (Cercedilla) a perfect environment in the countryside, surrounded by mountain, which will allow us to disconnect and enjoy both activities and free time.
Contact: 686 92 16 75 whatsapp t / ruthdelamano@gmail.com
More information: http://delamanodelyoga.blogspot.com.es/2016/04/fin-de-semana-de-yoga.html
Yoga Retreat, relaxation and transcendental philosophy
18 and 19 June
Where: In Sanxenxo (Pontevedra)
Taught by Santiago Pazhín. Seeks a yogic experience in a natural environment at hotel located on the Rías Bajas, practicing in beaches and cliffs. Organized by the CEYSI (see course place https://www.youtube.com/watch?v=E7a-sWg63eE)
Contact: cursos@yogaceysi.com
More information: http://www.yogaceysi.com/
Removal of Solstice: flowing with the elements
23-26 June
Where: Farmhouse in the Vall de Llémena, Girona
Come and deepen the meaning of the Solstice of summer with Yoga, Ayurveda and meditation and consciousness games. Leverages the energies of the Solstice to flow with the elements: Earth, water, fire and air. They are the basis of life on Earth, and with them you can heal you and create your own reality.
Activities: Ayurveda (the science of life, power and knowledge of your dosha) / celebration and ritual Pagan of the Solstice / Kundalini Yoga and meditation / dance cosnciente / shamanic chants / forest, volcano and baths in the river rides / games and dynamics of personal growth / rituals... and much more!
In a beautiful and spacious country house in Vall de Llémena (Girona), will have a river and pools of crystalline water right next to refresh ourselves!
Price: €250 (includes pagan ritual of the Solstice, stay, vegetarian and organic food and according to criteria of ayurveda, workshops, insurance and dossier)
Reservations: Anant Tek (Laia) anantekaur@gmail.com / T 649 621 030-Sat Sansar (Renata) satsansarkaur.barcelona@gmail.com / T 638 924 249
They provide:
Sat Sansar - land: Yoga Kundalini, rituals and chants
Anant Tek - water: Kundalini Yoga, games and dance aware
Shanti - fire: cooking and Ayurvedic medicine specialist
Karam Prem - air: DJ, music and ambiance
More information: https://www.facebook.com/events/479923275538489/
Vidagenia adventure summer
23-26 June
Where: Calle Ribasot, 13, Arfa, Alt Urgell. Lleida
Removal in the Pyrenees to connect with your own nature through the practice of yoga, hiking in mature forests, kayaking in channel of quiet water with views of the mountain, coaching and vegetarian food. All this while staying in a cottage with pool private, fully renovated and divided into comfortable apartments, located in a beautiful and quiet village beside the river.
Contact: info@vidagenia.com
More information: http://vidagenia.com/
Removal of San Juan in the nature
From 23 to 26 of June 2016
Where: Baix Empordà-Costa Brava. Cruïlles
Celebrate with us a different midsummer Festival, an evening full of magic where you can not miss the ritual of fire.
June 23 is the longest day of the year (close to the summer solstice, around June 21) and ancient traditions have paid always tribute to the Sun through the fires to "give strength", since from June 23 day goes by shortening up to the winter solstice. Another important aspect of the celebration with fire, is the symbolic aspect of purification.
We offer you three days full of magic and activities, in a beautiful setting in the Baix Empordà, near beautiful coves of the Costa Brava and waterfalls.
More information: https://laluzdelyoga.wordpress.com/
Removal of Yoga and emotional management
From 24 to 26 June
Where: Hospedería de silence, La Vera (Cáceres)
A retreat is a great opportunity to be with yourself, to take care to physical, mental and emotional level of learning new tools, experience emotions as never before had done, perceiving the natural surroundings as a gift that gives you life, meet wonderful people who have in common more things than you can imagine.
Whether you've already gone to retreats ever as if this is your first time, you wait with open arms. We will practice hatha yoga to stretch and strengthen the body; meditation and mindfulness for calming the mind and learn to live here and now, fully and consciously; yoga nidra and regressive hypnosis, so what you need to know, and that is in your subconscious, to surface to your conscious mind; laughter therapy, to experience the laughter in a conscious manner, body language, so your emotions emerge from the music, dance and movement.
More information: https://www.facebook.com/events/260999600909220/
Yoga Retreat for educating: 'Wake up the energy to educate the conscience'
From 24 to 26 June
Where: Cala Morlanda, Mallorca
Taught by Lidia Serra López and Ramon Muntanyola snakes. The Yoga educates school offers training in the application of conscious and creative yoga in different educational contexts: family, school, social education, education in leisure time, spaces of therapeutic care. This training is aimed at all those interested in the comprehensive education of children and youth from the perspective of the yoga and the new pedagogies.
Other dates and locations: more than Noguera, Castellón: 1, 2, 3 July. / Mas La Plana, Barcelona: 22, 23 and 24 July.
It organizes: The Yoga education training school
Registration: info@elyogaeduca.org / T 606 974 889
More information: http://www.elyogaeduca.org/
Yoga retreat in English
From 24 to 26 June
Where: Valle del Tiétar. Avila
This is the idea: https://www.youtube.com/watch?v=w7xBAI9TukU
The House of the waterfalls is simply spectacular.
200 euros (accommodation, all the meals home and vegetarian and all the activities in English included-with Professor native teaching that you accompany during all the weekend-)
Come to swim and do yoga! Kundalini yoga, Hatha yoga, meditation, bowls, its pure nature... Practice your English while you relax. Total immersion! With participants from other countries, which also offers different accents.
Reservations at: info@yogamente.com
Removal by the camino de Santiago
25 of June 30, 2016
Where: Roncesvalles, Navarre
With yoga, meditation, silence and personal growth techniques. Six days, to feel the steps walked, to connect with paths that were already trodden by thousands of pilgrims.
Ask yourself: what will you find along the way? What is your purpose? Why is this the time for you to make the way? What is Pilgrim? Who was Santiago? these and other important questions arise at the start of a pilgrimage path. Therefore, the camino de Santiago is mystical and magical, but this will be a different path because it will be a direct path to the interior through the culture of silence. We will use yoga, meditation and techniques for personal growth to go by immersing us in this silence through each stage. The connection with nature will also be an indispensable tool for this internalization. You are, Furthermore, well supported by professionals who will accompany you along the way.
An opportunity of self knowledge, so leave this trip with other landscapes in your mind and in your soul.
More information: https://www.santiyoga.es/
Yoga Retreat in nature
From June 26 to July 2
Where: Nature reserve of Grazalema, Cadiz
Start your morning with Ashtanga Yoga Mysore style combined with guided Ashtanga classes. The Mysore style is the surest way to learn and practice yoga or bring your practice to the next level, and you will have three teachers in the room. This form of yoga allows you to develop your practice individually as well as to practice anywhere you only. also evenings will have workshops from Thai massage, introduction to the acro yoga, yoga between two, meditation with bad and guided or yin yoga among other activities.
Accommodation in a great Andalusian infinite gardens with three swimming pools surrounded by nature. Every room or apartment has its own terrace. Three vegetarian meals a day included (Adaptable for vegans).
Extra activities you can do in your free time: hiking, canoeing, climbing, rappelling, kayaking, aerodelta (not included in the price).
Price: €895 per person double room (+ €195 single room) for each friend @ bring - €50
Contact and reservations: info@elreinodenita.com / 2016 06 26 T - 26-06-2016
More information: http://www.luciayoga.com/retiro-de-ashtanga-yoga-con-nita-junio/
Jivamukti Yoga and Play holiday
Of the 27 of June to the 3 of July
Where: Wooden houses. Caños de Meca (Cadiz)
We have prepared for you a wonderful holiday in an idyllic location in Andalusia, Canos de Meca, Cadiz province. A place where tranquility and power are the two pillars of this reconnection time.
Kitchen Ayurvedic, made with organic and local products from the point of view of the healing of the body, custom yoga sessions, meditations in spectacular locations, free time to enjoy at your own pace. Optional leisure activities, surf, kite - surf, paddle tennis, hiking, biking and a long etcetera.
You can also enjoy therapies holistic, such as Reiki, massages etc... enjoy unforgettable days where the tranquility and calm are the protagonists.
Contact: Miriam Ag / T 627486261 / contacto@espacioparaelyoga.com
It organizes: Space for Yoga Seville
More information: http://espacioparaelyoga.com/retiros-y-vacaciones/
Ashtanga holidays
From June 30 to July 4
Where: The farmhouse to the Hamam, Cabo de Gata, Almería
Living Valencia Yoga and Yoga in the suitcase, we invite you to participate in holiday of Ashtanga at Cortijo Al - Hammam baths, a lovely place between the desert of taverns and the Cabo de Gata (Almeria) and one kilometre from Lucainena de las Torres, one of the most beautiful villages of Spain.
In this holiday we will enjoy a vegetarian meal with products from the garden of the farmhouse, a daily practice of Ashtanga Yoga, Pranayama and meditation with Cosmin, pool, trips to the beach and much more beside fellow Yogis.
During the stay in the farmhouse we will practice Ashtanga Yoga (guiadas+Mysore practices).
For those who have never practiced Ashtanga or who have never practiced in Mysore style, this is the traditional way of teaching practice. Each student will be introduced gradually in the positions that make up routines (series), developing his own practice in a healthy way, according to their abilities and limitations lim. Everyone can practice when you are ready to start, but respecting the timetable of the shala. Classes are open to all kinds of practitioners, whether beginners or advanced.
We want to give a chance to everyone to approach of the practice of Ashtanga Yoga in a healthy and effective way to enjoy more freedom and balance in life. With joy we invite you be part of our great family of "ashtanguit@s" and enjoy the sea, beach, pool, Sun, relax areas and delicious food, prepared with love by people who work at Cortijo los Baños.
Price total withdrawal: 385 euros - 425 euros in double room (355 EUR / 395 euros for the Ashtanguitos and those involved in other retreats organized by Living Yoga).
Reservations: T 676255686 - 667 815 377
More information: http://www.cortijo-al-hamam.com/