Why do a yoga retreat in your holiday
Are many them options that is open at the time of choosing a place holiday when arrives the time of the deserved rest: Beach, mountain, a village hidden... Behind these elections is the need to find calm, serenity, silence, peace. Written by Elena Gutierrez and Nerja Rodriguez.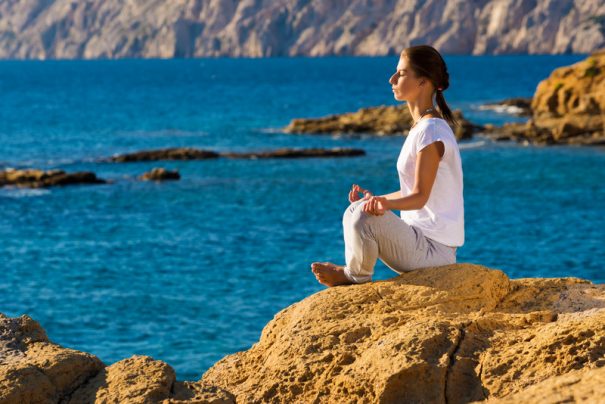 Each time are more them people that feel the stress in the day to day and mostly trying to is of which live in the jungle of the big city. Sometimes there is a sensation of feel us trapped, overwhelmed by the traffic, the rush and the obligations daily. Many times in those moments have not wanted to run away, shouting "enough" and lose us literally in an idyllic place which we welcome and wrap us in a gentle energy where stops time and be exempt from duties.
Currently there are numerous retreats that lead us to find peace and, at the same time, to find us in it. The practice of Yoga helps us to soothe and relax the nervous system, balance our energy, sleep better, in addition to intervene and improve on each and every one of the systems that govern our body (endocrine, digestive, cardiovascular, respiratory, locomotor, etc.) If all this is combined in suitable places seeking to provide greater connection with ourselves given its characteristics for harmonic places, being surrounded by nature, far away from cities, where the simple fact of being already opens us to tranquility, this already is a gift not only for the body... also for the soul.
In them retreats of Yoga there is a programming in which apart from them activities is is time free for enjoy of one same without more or intimacy and know to them others participating, where integrate what is is experiencing in the day or where simply to rest.
Them activities that is proposed from the meditation to first hour of it tomorrow, the practice physical of Yoga and the different proposed seek that be with you, you are you, that you finally spend that time that you both deserve and crave. It's having time to connect with you, to connect with nature, that sometimes we forget that we belong because of asphalt and buildings that surround us. In other words, so that you may live a few days of authentic peace, rest and transformation through Yoga.
For this reason there are many the benefits you get when attending a Yoga Retreat:
Provides welfare and you returned your balance natural.
It gives you physical, mental and emotional serenity to provide you with a wonderful and quiet space in which to be with you, in silence, in contact with nature and without noise or time.
It focuses on providing you with a healthy and delicious food that nourishes your body and delight your senses.
You regain your fullness and natural joy.
The practice of Yoga helps you to be more and more in touch with your true essence, where concerns and personal problems are beginning to see a lighter perspective.
A removal you provides the tools and the technical so can feel you well with you same of a way easy and natural.
Know people new that have your same concerns with who share.
Why attend a retreat is one of the most beautiful and rewarding gifts you can offer yourself because you mainly treat time. A time in which are with you, free of your obligations, responsibilities and routine daily, a time in which rest, relax you and take care of your body, mind and spirit is what truly matters.
Elena Gutiérrez and Nerja Rodriguez are teachers of yoga and organized a retreat in Lanzarote.
Yoga Retreat in Lanzarote "Connecting with the four elements"

Through the work with the four elements; Earth, fire, sea and air, are going to re - connect us with nature and therefore with ourselves. They will do practice outdoors: hiking, visit and fisico-energetico work in a volcano, on the beach, in the water... In addition to the practice in the interior of the Villa that has been chosen for this meeting)www.villa-amatista.com) that has a luminous room work. The rooms are small houses where everyone will share harmoniously. This place also has swimming pool for our use and enjoyment.

Lanzarote is an island unique and special, energetic, strong and authentic nature that if you don't know will not leave you indifferent, and if you already know you can again enjoy it. We will have internal transport across the island.

Date: 7-August 14

Price: 850€ (300€ of booking and the rest is paid to the get)

Includes: Six nights at half board: food type buffet, airport transfers and vice versa, internal transportation during the stay, tours, hiking in volcanic landscape.

Does not include: flights and dinners (the houses feature a kitchenette to prepare something if necessary)

Information and reservations: T 646 541 987 / 669 521 749 /shanti.karana@hotmail.com