Vegetarian recipes / Brown rice with spring vegetables
We share great and sanisimas recipes blog 'Eat to live'. Type and kitchen Gauri, Professor of vegetarian cuisine of the Sivananda Centre of Madrid and the affiliated Centre Sivananda Vedanta of Granada.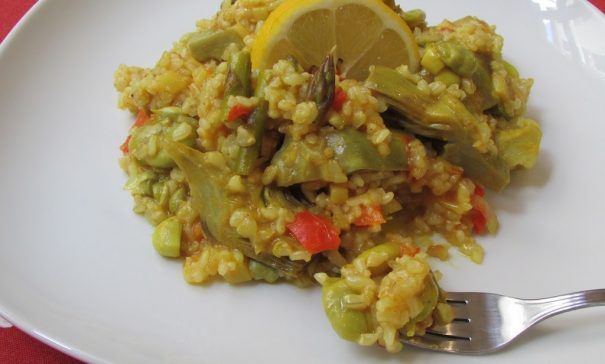 This is one of our favorite recipes in the spring. Gardens and markets offer plenty broad beans, asparagus and artichokes. A marvel! It is as if you bring the garden to the House; In addition, they are vegetables that or you eat them now or already you can not return them together until the next spring.
Ingredients: (4/6 people)
1 cup of brown rice already cooked. Basic Brown rice Cook
2 tablespoons of olive oil
8/10 artichokes midsize
½ Kg of fresh beans in pod
150 g of asparagus.
½ red pepper cut into brunoise
1 turnip, chopped brunoise
1 tomato medium, without skin and chopped
1 teaspoon grated fresh ginger
½ teaspoon turmeric
½ teaspoon ground cumin
½ teaspoon ground coriander
1 handful of strands of Saffron soaked ½ hour in water hot
½ Cup of water or broth vegetable (that do not arrive to cover the vegetables)
Salt and dried thyme (optional)
Preparation:
Preparation: remove the beans from the sheath; from studs by hand until the stem resist, not follow cutting and washing time. Clean and prepare the artichokes. Put them in lemon water so they do not darken. Cut into quarters at the time of putting them in the pan.
In a skillet wide and of background thickness put them two tablespoons of oil of olive and skip to fire medium high: the ginger grated, the pepper red and the turnip chopped, until the pepper release their color and is soften.
Lower the heat and add the spices, turmeric, cumin, coriander and saffron, sautéing ½ minute and then put the chopped tomatoes. Wait to Saute a little. Add beans, asparagus and artichokes chapped, mix well with sauce. Put the water, cover and let Cook over medium-low heat 10 minutes until vegetables are slightly softened.
Before consumed all the liquid, put the salt and add the cooked rice. Mix well all the ingredients and leave to finish make 10 minutes more so all the flavors to mix.
Serve immediately sprinkled with thyme. And decorated with a slice of lemon.
More recipes: http://comemosparavivir.blogspot.com
Yoga Sivananda Vedanta Granada-afiliado. T 660288571